Vang og Vangså

Dialektforskeren Torsten Balle
Lærer og arkivar Torsten Balle er ophavsmand til tusindvis af dialektord, der indgår i THY-ORDBOG, der blev udgivet i november 2023.
Se her en lille introduktion til, hvorledes Balle arbejdede:
Strandfoged i Vangsaa
Ole Nystrup Andersen er født og opvokset i Vangsaa. Han blev udlært som landbrugssmed, og han har arbejdet som smed, indtil han gik på pension. Han købte missionshuset i Vangsaa, og da han senere blev gift med Jette, blev huset rammen om deres familie. Der kom snart to børn til. I 1993 blev han udnævnt til strandfoged. Et erhverv, som han hygger sig med den dag i dag. Ole er stadig meget aktiv, og tilbringer mange timer med lystfiskeri med båd fra stranden Klitmøller.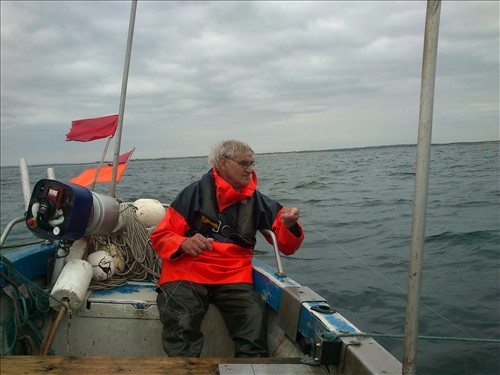 Hør ham her fortælle sin historie:
En aften med comedian Carl Nielsen
Carl Nielsen har selv sammensat denne lille cocktail med klip fra hans optrædende med
Sommerrethyerne 1983-1984, Thisted 475 års Købstadsjubilum 1999 - og det store jubilæumsshow fra Thisted Musikteater med 3 generationer.
Nordisk Venskabsbyfestival i Thisted 1989
Danmarks Radios timelange udsendelse fra festen i Thisted - blandt andet med Dronning Margrethes deltagelse i festen - samt en længere reportage fra Grundlovsfesten i Friluftsteatret med taler af prominente personer, musik ved Kim Larsen, Thykoret og teatergruppen Tumult.
Nordisk Venskabsbyfestival i Thisted 1989
Danmarks Radios timelange udsendelse fra festen i Thisted - blandt andet med Dronning Margrethes deltagelse i festen - samt en længere reportage fra Grundlovsfesten i Friluftsteatret med taler af prominente personer, musik ved Kim Larsen, Thykoret og teatergruppen Tumult.
Snedsted Station ca. 1980
Amatøroptagelser af Ulla L. Nielsen. Varer ca. 1 minut.
Købstadsjubilæum 1999

Det tredje jubilæum for Thisted Købstad blev afholdt i 1999. Altså et 475-års jubilæum! Ikke et voldsomt markant jubilæumsår! Men måske trængte folk bare til at holde en stor fest. Sidst, det var sket, var i 1989 ved Nordisk Venskabsbyfestival, der floppede i forhold til forventede antal gæster og efterlod Thisted Kommune med en kæmpestor ekstraregning. Men Dronningen troppede dog op som aftalt og kastede sin glans over arrangementet.
475-års jubilæet blev også arrangeret som en folkefest - og festen varede fra den 25. august til 11. september. Hver dag var der arrangeret en "event" af den ene eller anden art for at markere jubilæet. I weekenderne var henholdsvis Store Torv og havnearealet ved Markedshallen på havnen rammer om musikarrangementer m.v. Byens forretninger blev forsynet med plancher, der fortalte om butikkernes historie. Enkelte af disse plancher kan man stadig finde i butikkerne! Idéen bag det store arrangement var - på selvfinansieringsbasis - at involvere foreninger, institutioner og virksomheder omkring arrangementer – og skaffe finansiering af fællesudgifter via salg af øl og fødevarer. Ligesom ved den traditionelle byfest! Og det lykkedes at få økonomien til at hænge flot sammen i kraft af donationer fra blandt andet landbrugets organisationer! Plus et rådighedsbeløb på kr. 100.000 som kommunen bevilgede.
En hel central rolle spillede Thisted Dagblad/Thisted Posten, der i anledning af jubilæet lavede flere særaviser (uden annoncer) i tæt samarbejde med Lokalhistorisk Arkiv, der også fungerede som sekretariat for jubilæet!
Programmet så sådan ud: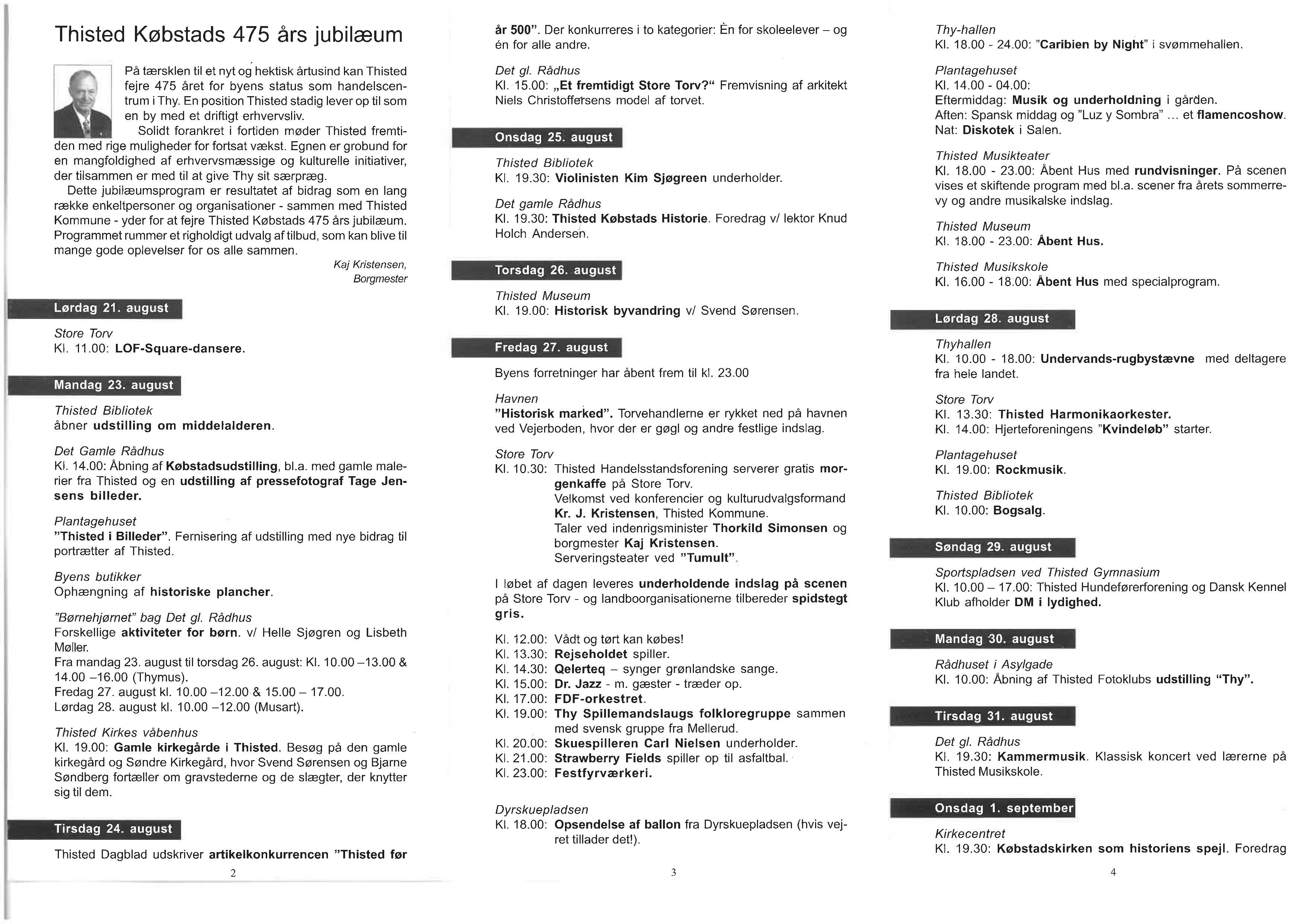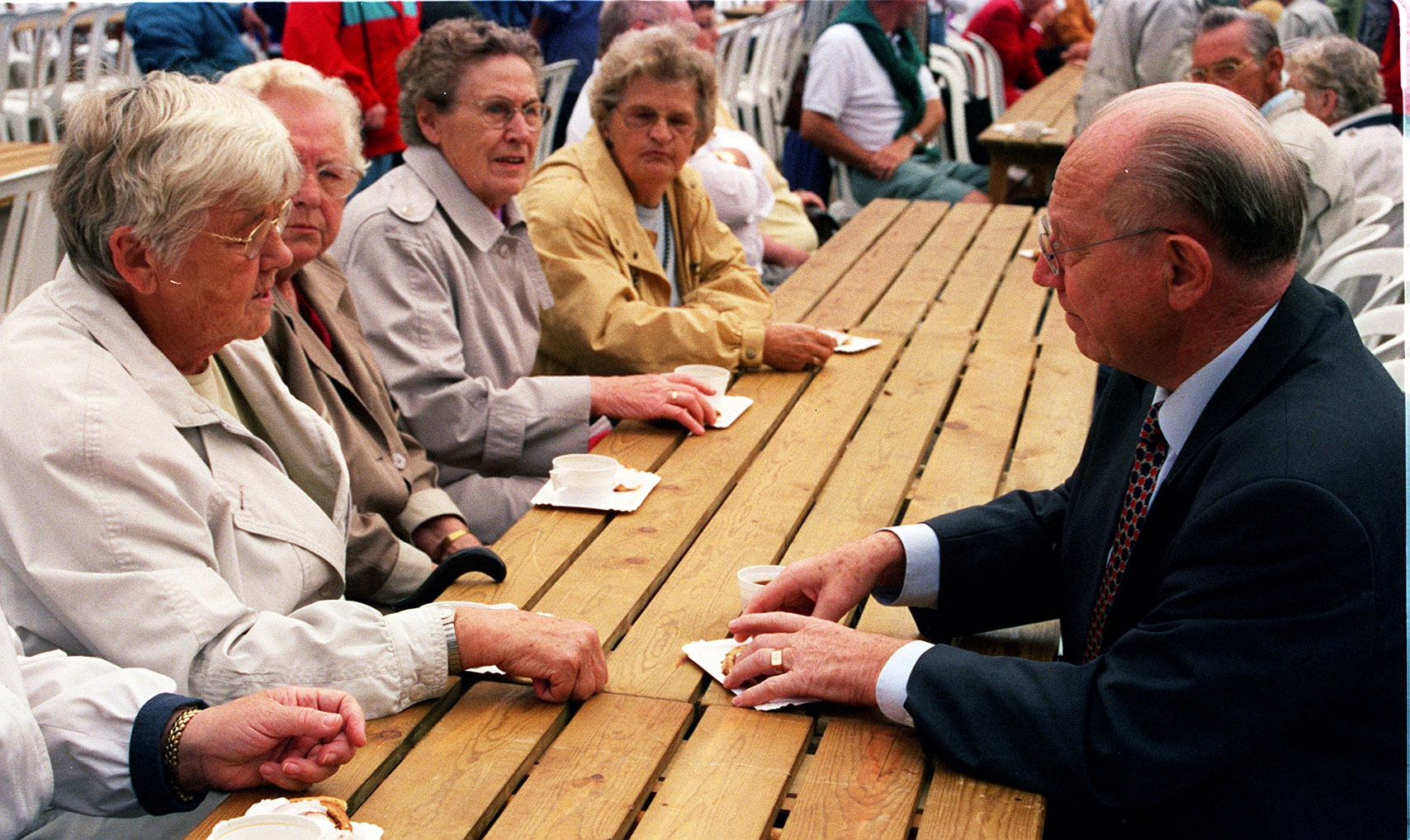 Indenrigsminister Thorkild Simonsen var indbudt som taler.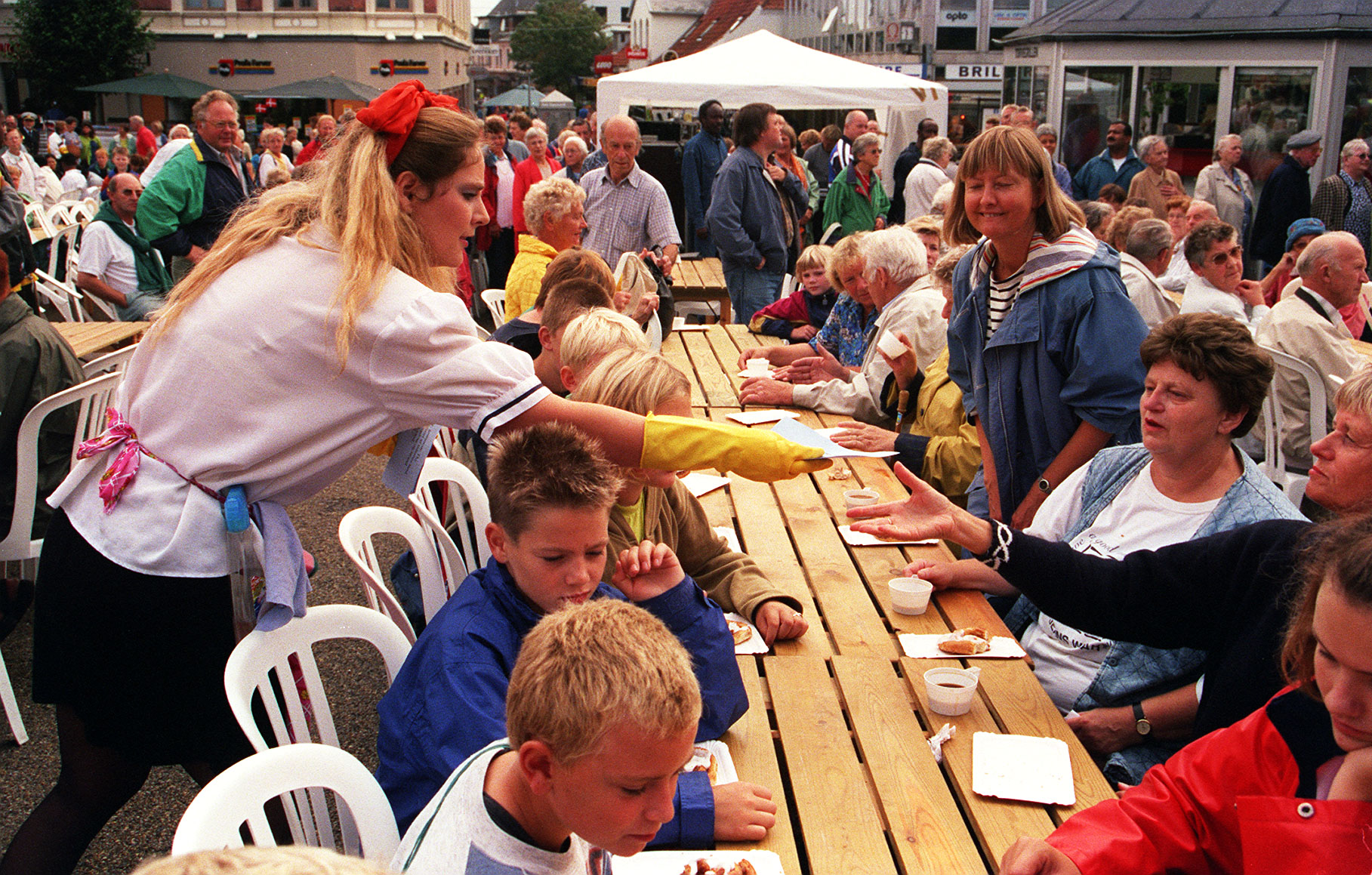 Serveringsteater ved TUMULT PÅ TORVET og gratis kaffe!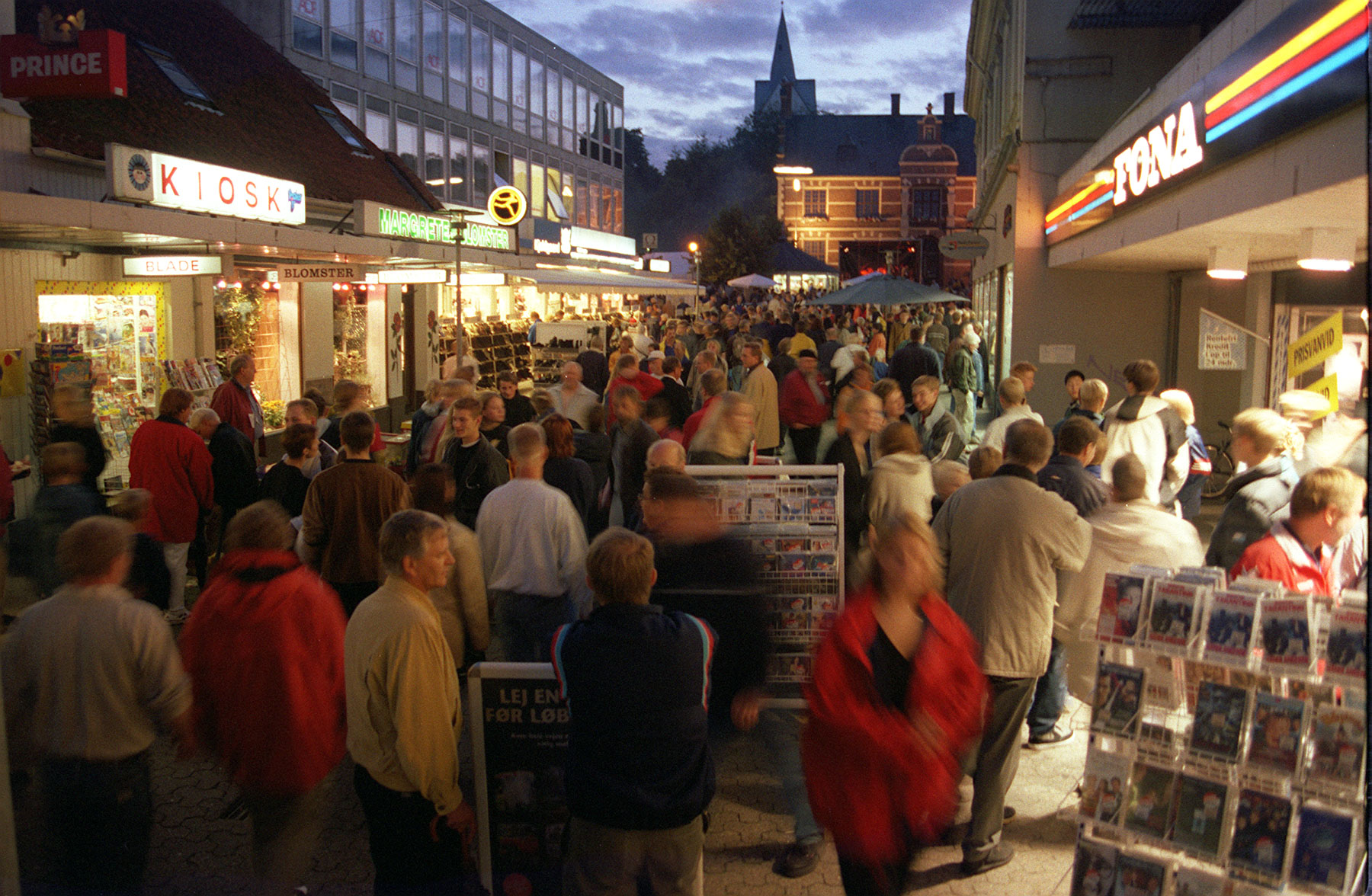 Trængsel i centrum ved aftenens asfaltbal på Store Torv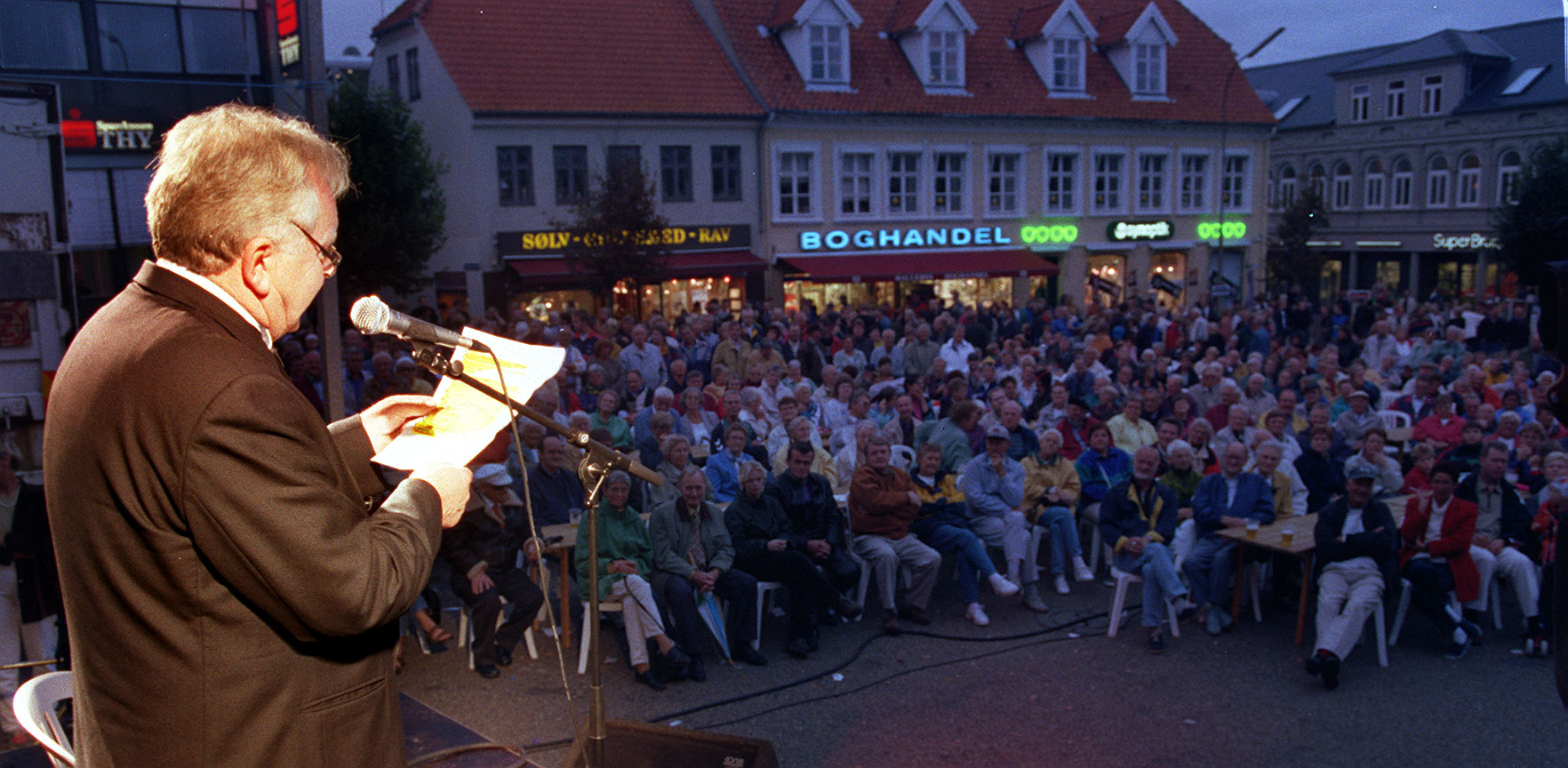 Underholdning ved skuespiller og bysbarn Carl Nielsen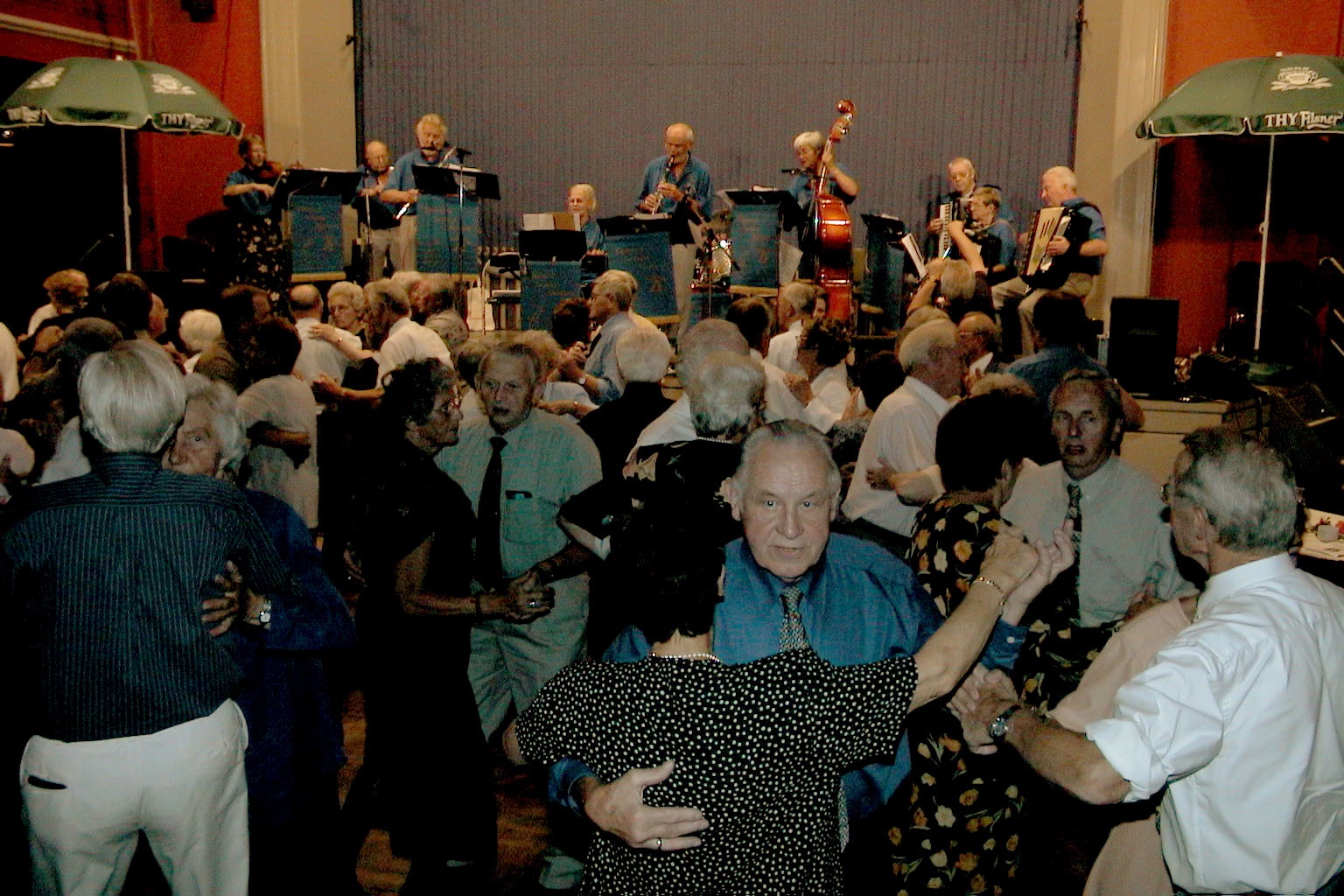 Ældresagen genoplivede "Pariserhaven" på Hotel Aaalborg.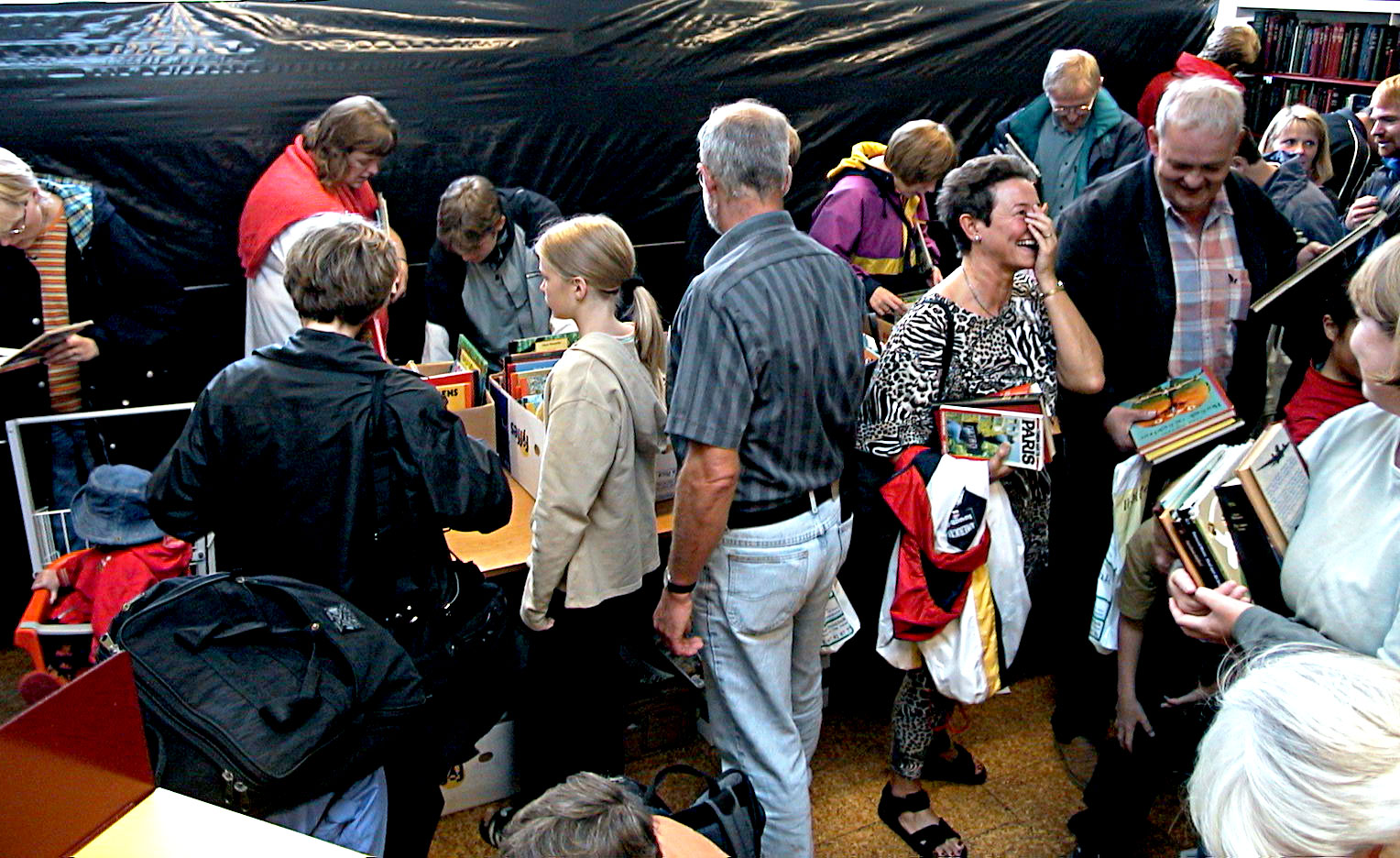 Udsalg på Thisted Bibliotek af brugte bøger.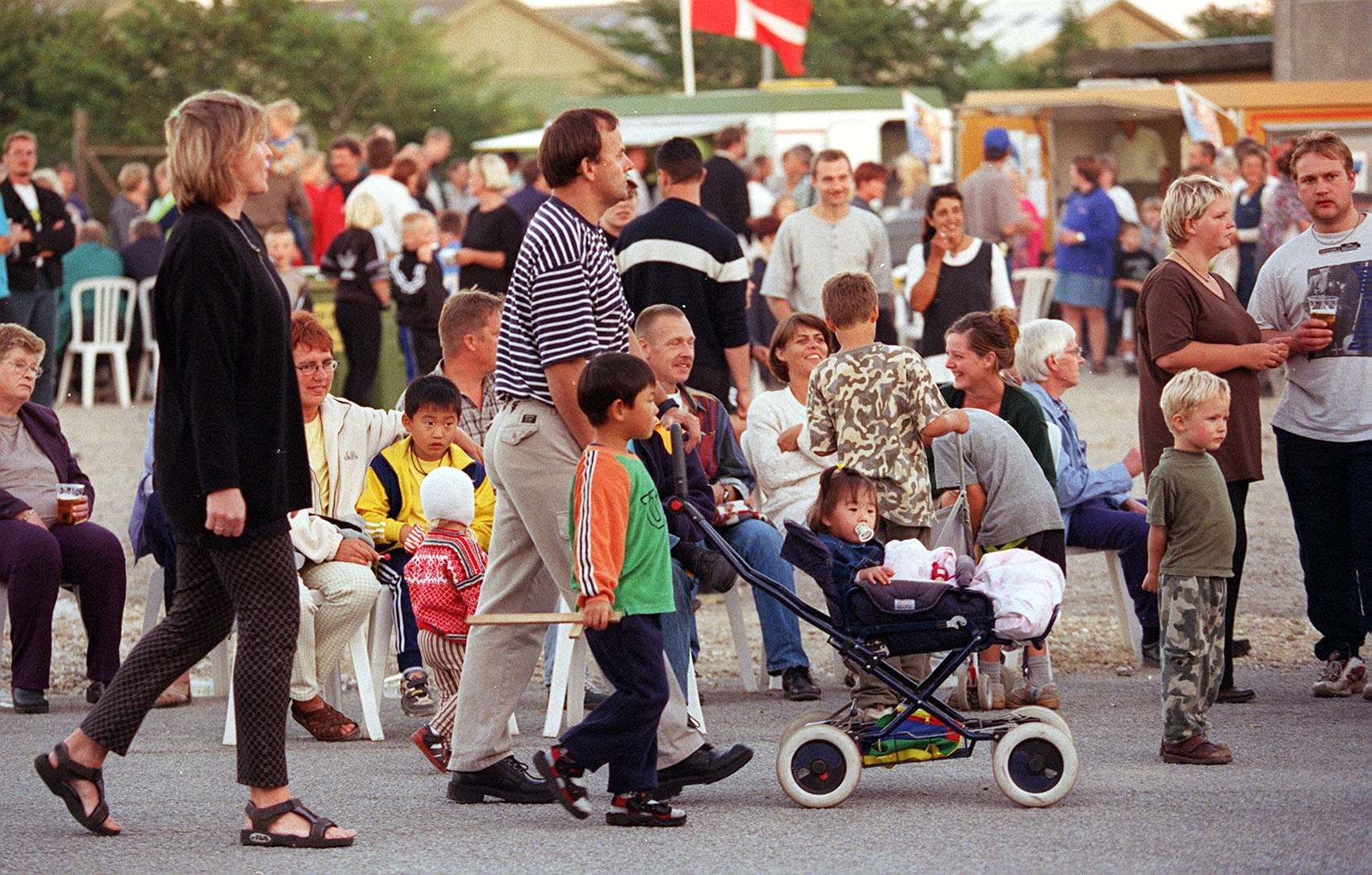 Havneområdet ved den nu nedrevne Markedshal blev omdannet til festplads og skueplads for The Big Bang.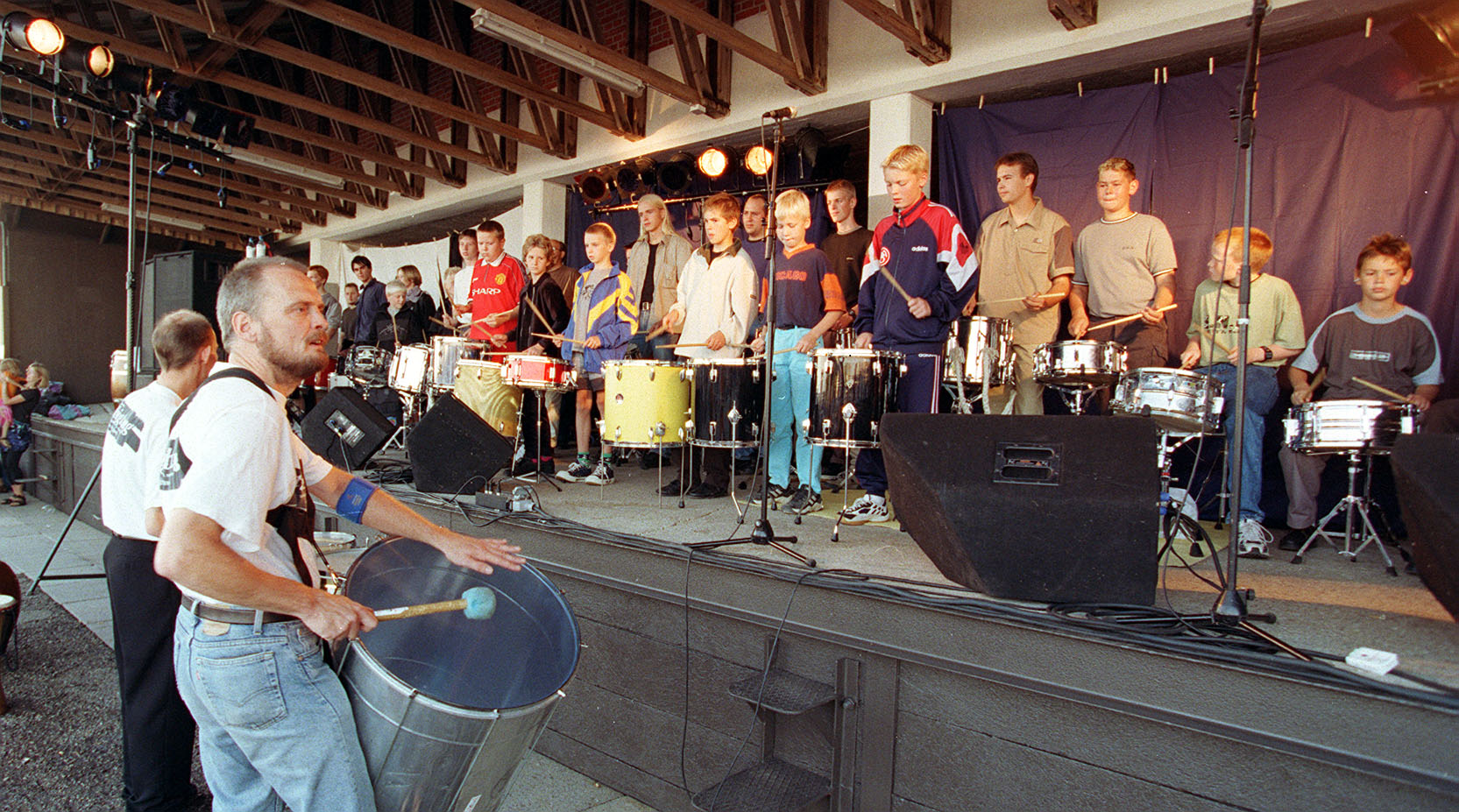 Nogle af de mange trommeslagere bliver instrueret af musiker Jørgen Østergaard.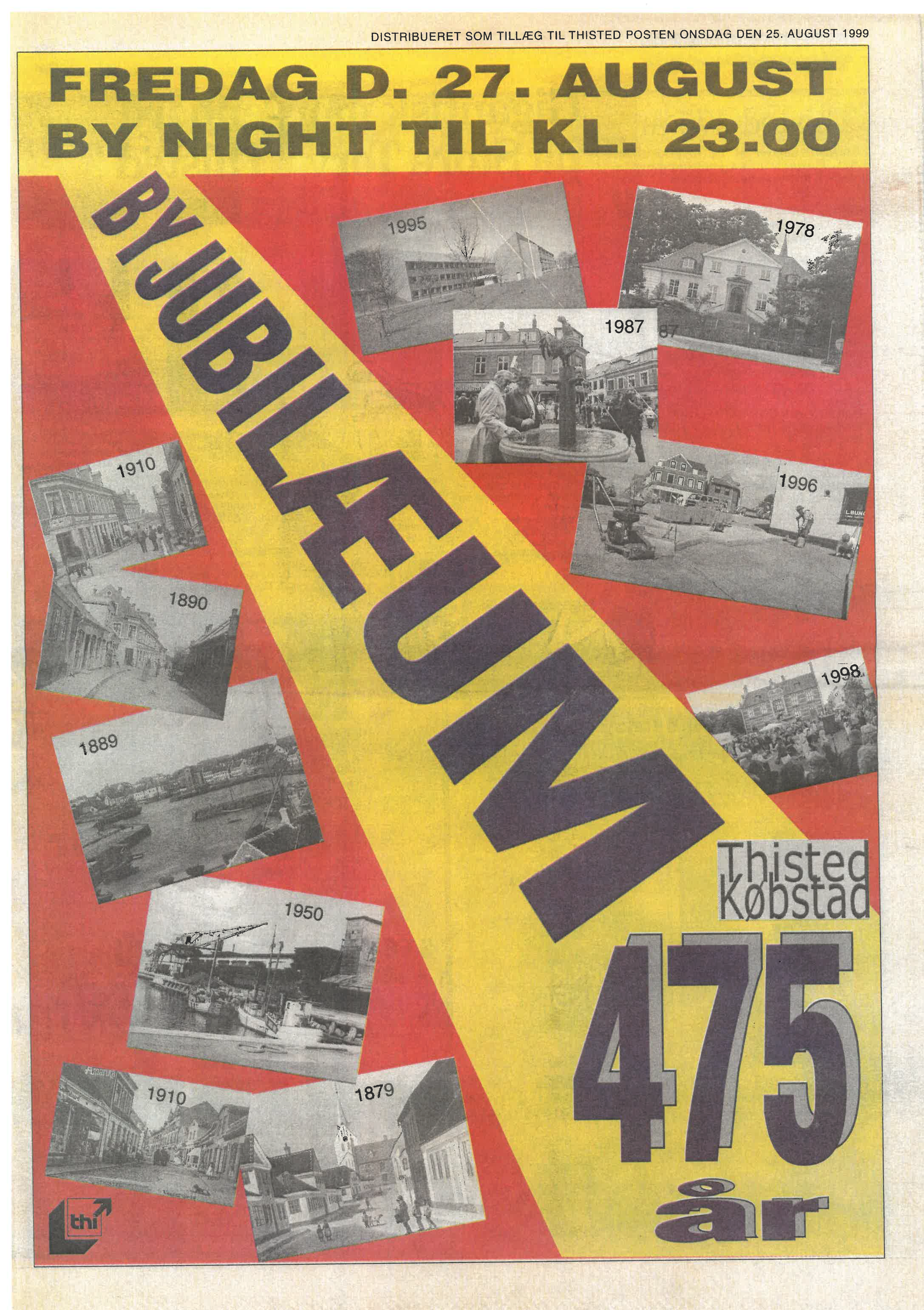 Thisted Posten udgav et særligt jubilæumstillg med omtale af nogle
af de mange arrangementer. Hent avisen her som PDF-fil.
Købstadsjubilæum i 1974


Initiativet til af afholde et byjubilæum i 1974 kom fra en selvbestaltet gruppe bestående af sparekassedirektør Poul Jensen, renseriejer Børge Vognstoft og turistchef Jeppe Sørensen. Efter utallige møder for at samle så mange aktive aktører som muligt kunne trioen præsentere et stort program for en byfest, der blev afholdt fra den 9. til den 11. august. 9.000 programmer blev med posten distribueret til oplandet. 4.000 programmer havde arrangørerne selv delt ud i Thisted By.
I festdagene måtte gæsterne betale en mindre entré for at komme ind på festpladserne i centrum af Thisted, der var omdannet til eet stort tivoli med underholdning af både professionelle og amatører. Man kunne byde på alt – lige fra folkedans til luftakrobatik. Også gratis morgenkaffe på Store Torv. Overskuddet fra arrangementet skulle tilfalde ungdoms- og idrætsklubber i Thisted. Og der blev faktisk et pænt overskud, viste det sig senere.
Der var tog til tiden: Et firma- og forretningsoptog med 56 vogne, et børneoptog med bl.a. dukkevogne og sæbekassebiler. De to tog udgik fra forskellige stedet i byen for senere at blive samlet foran Sparekassen. Det tredje tog – fakkeltoget - sluttede på havnen sammen med et gigantisk fyrværkeri.
Byjubilæet indskrænkede sig ikke blot til de tre festdage i Thisted. I løbet sommeren blev der afviklet et overflødighedshorn af arrangementer. Alt sammen i byjubilæets tegn.
Thisted Dagblad gik all in med to store tematiske jubilæumstillæg: Et tillæg med et overvejende historisk stof om Thisted – og et tilsvarende tillæg med artikler, der lagde op til debat om byens fremtid.
Altså fyrværkeri og optog gennem byen – på samme måde som ved jubilæet 50 år tidligere. Men dermed hører ligheden mellem de to jubilæer også op: Forsvundet var kongerøgelse og ærbødighed overfor honoratiores i høje hatte og sovsekander. Ministre og embedsmænd fra centraladministrationen var erstattet erstattet med Lille Palle og Bo Bendixsen.
__________________________________________________________________________________________________________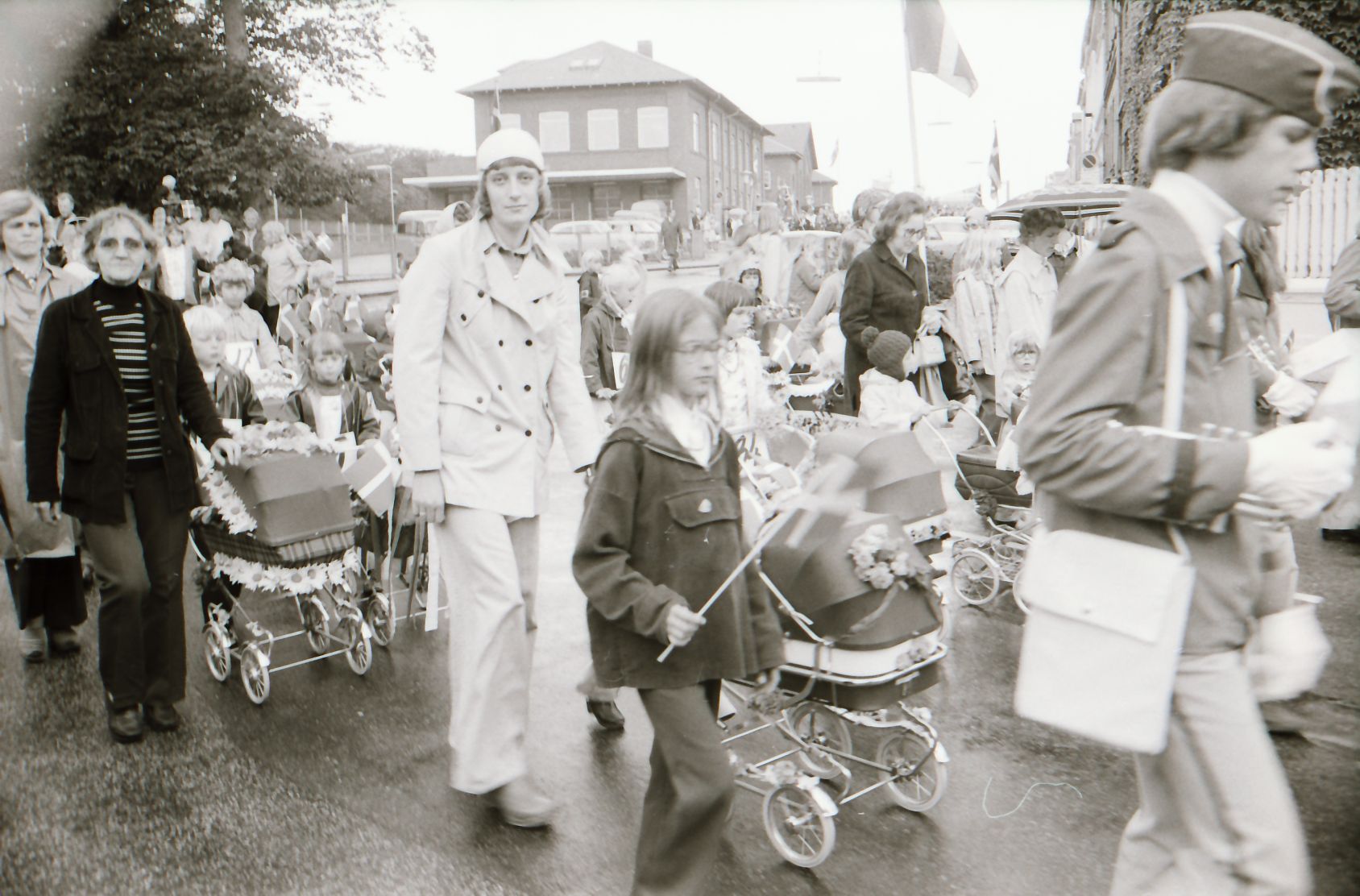 Herover: Glimt af optoget emd barnevogne, dukkevogne, sæbekassebiler m.v. på vej gennem Jernbanegade. Og herunder står byrådsmedlem
Tage Salomonsen på scenen ved fragtmandscentralen på Havnen for at kåre de bedste bidrag til børneoptoget.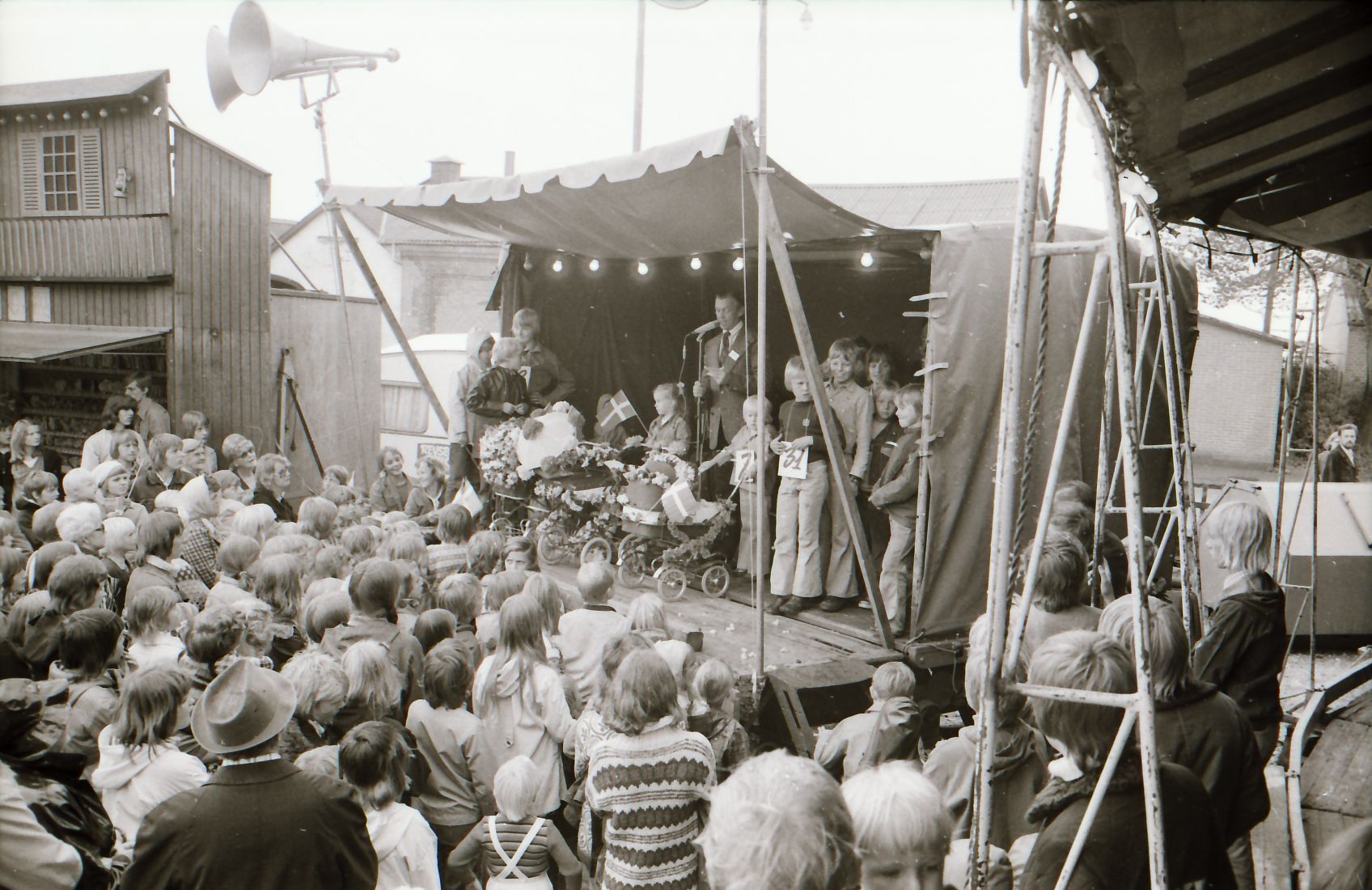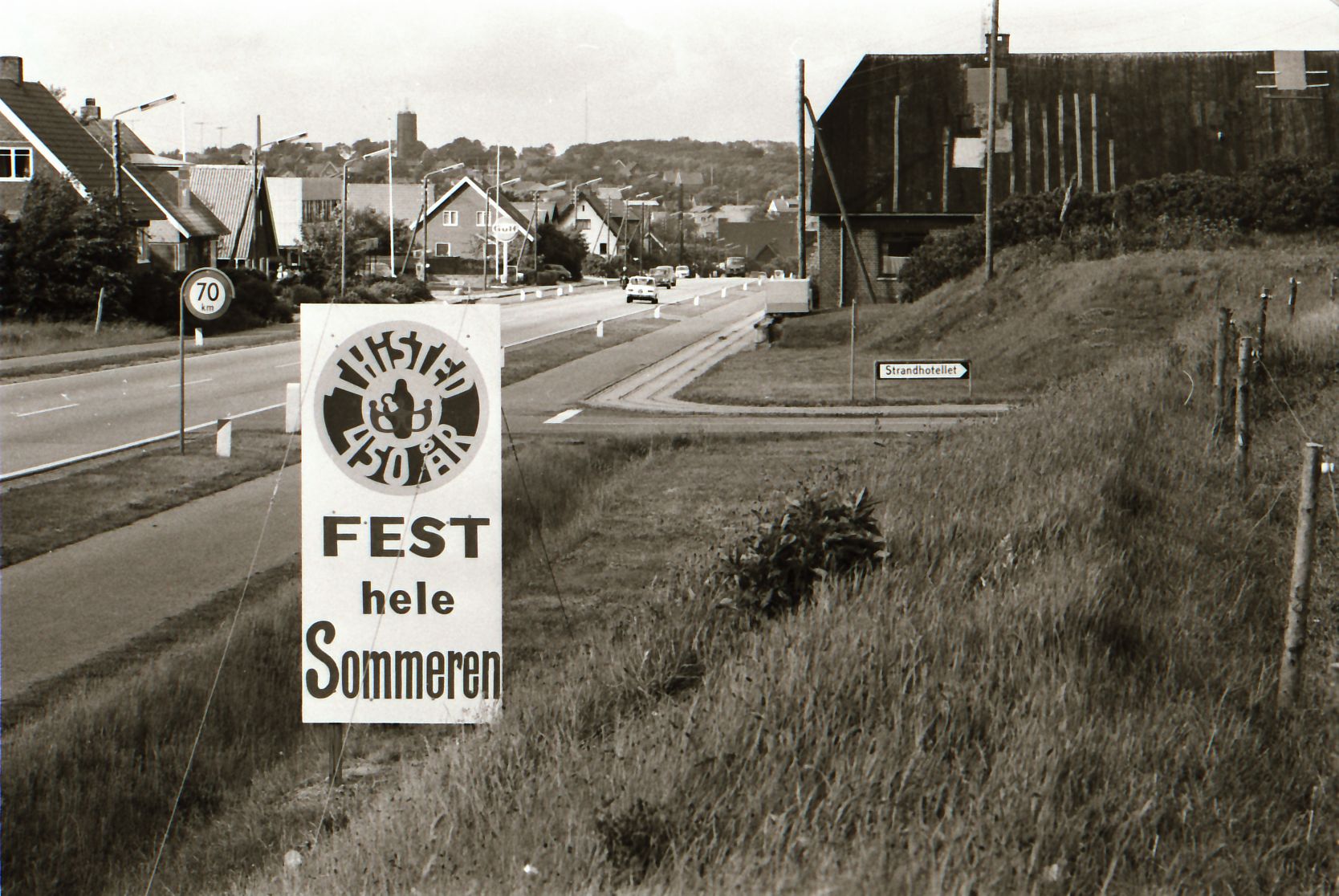 Reklame på Simons Bakke.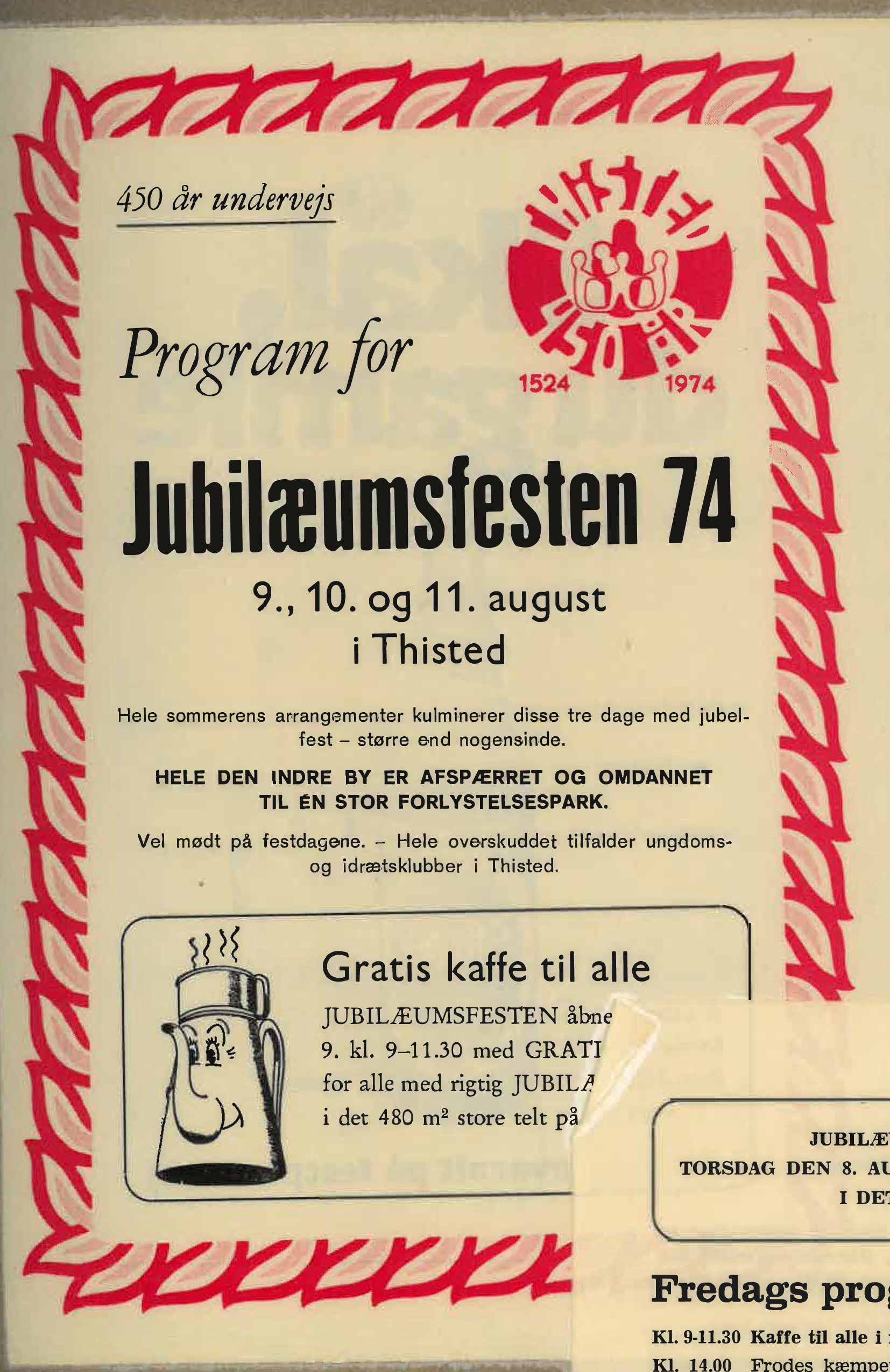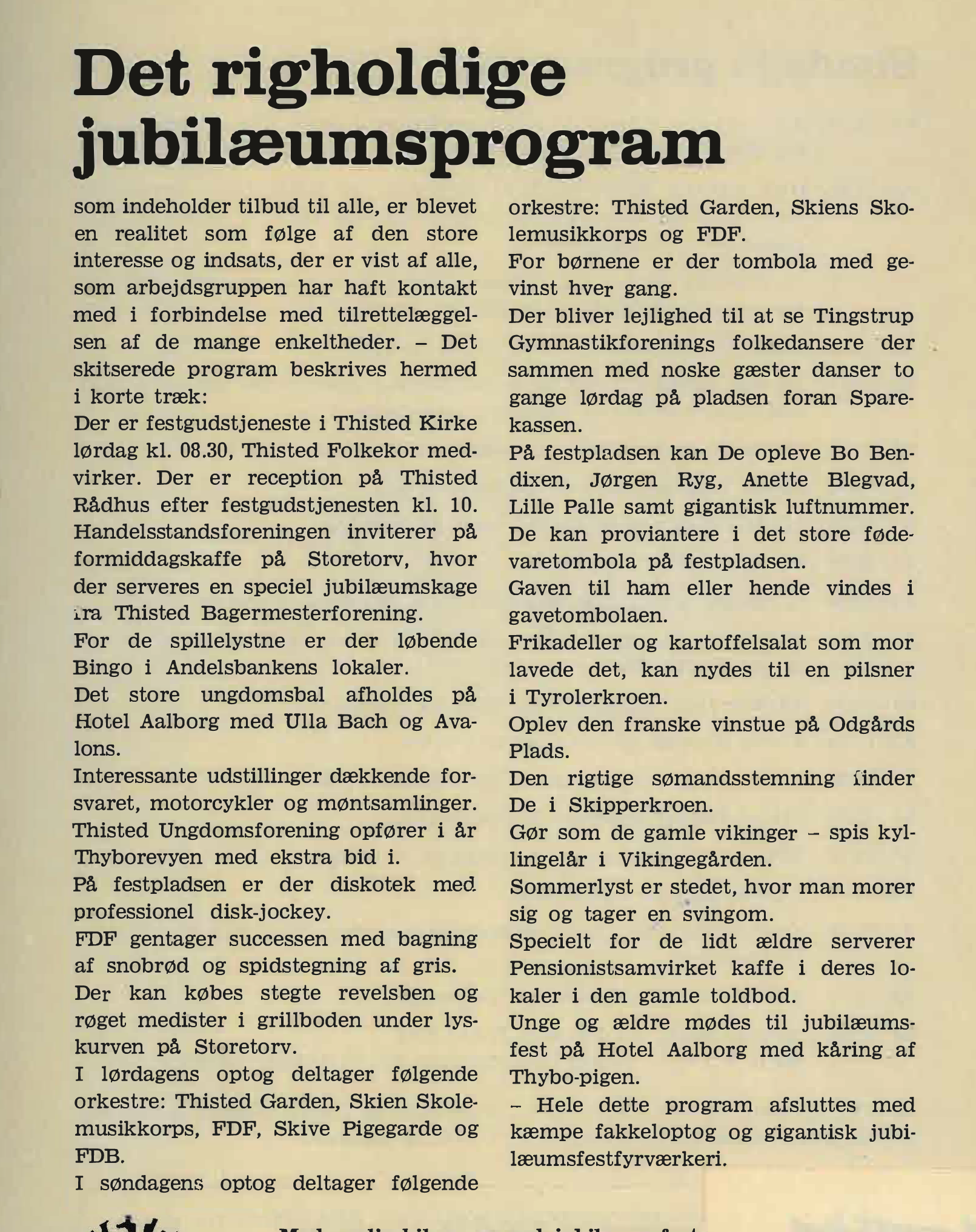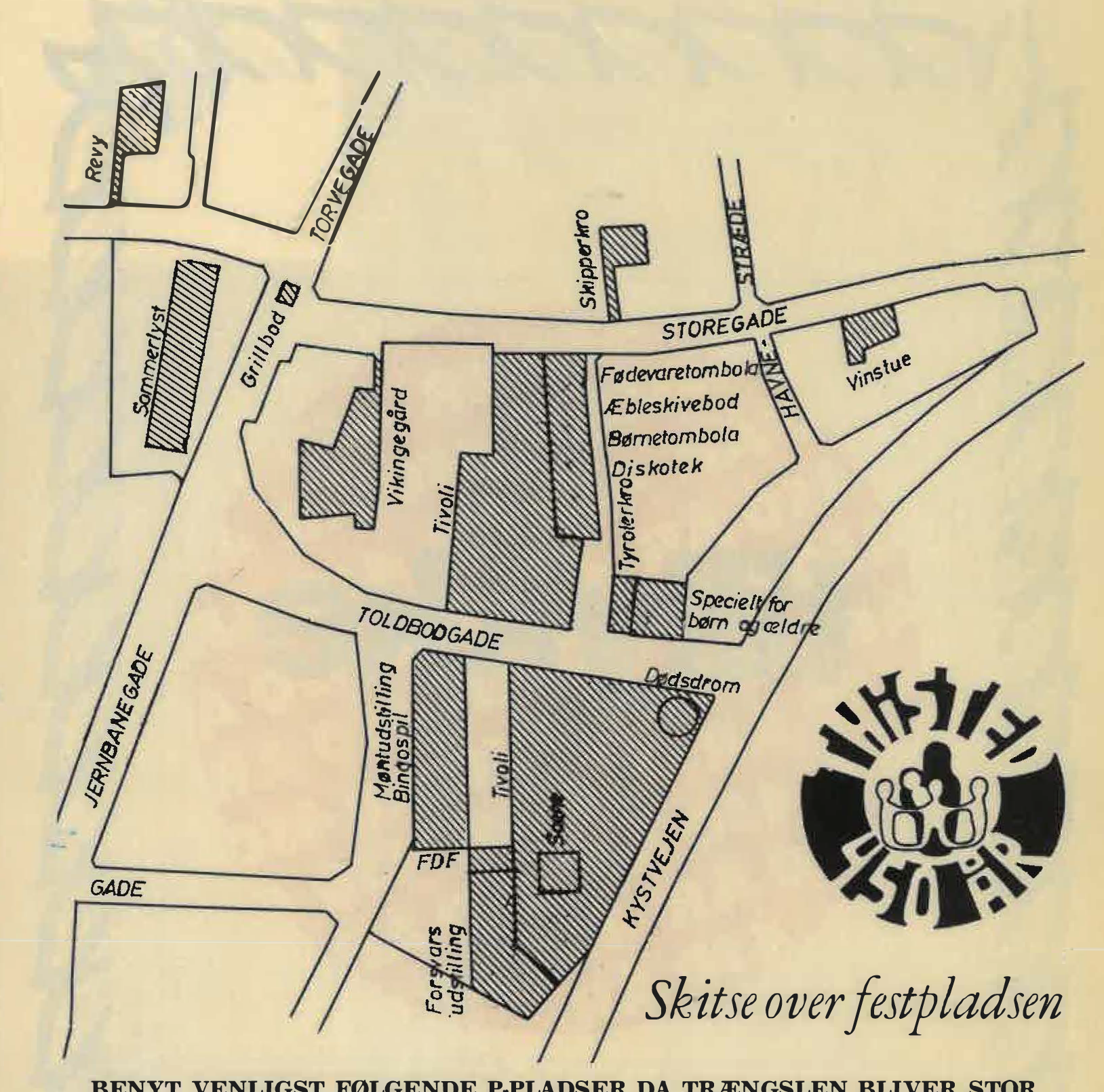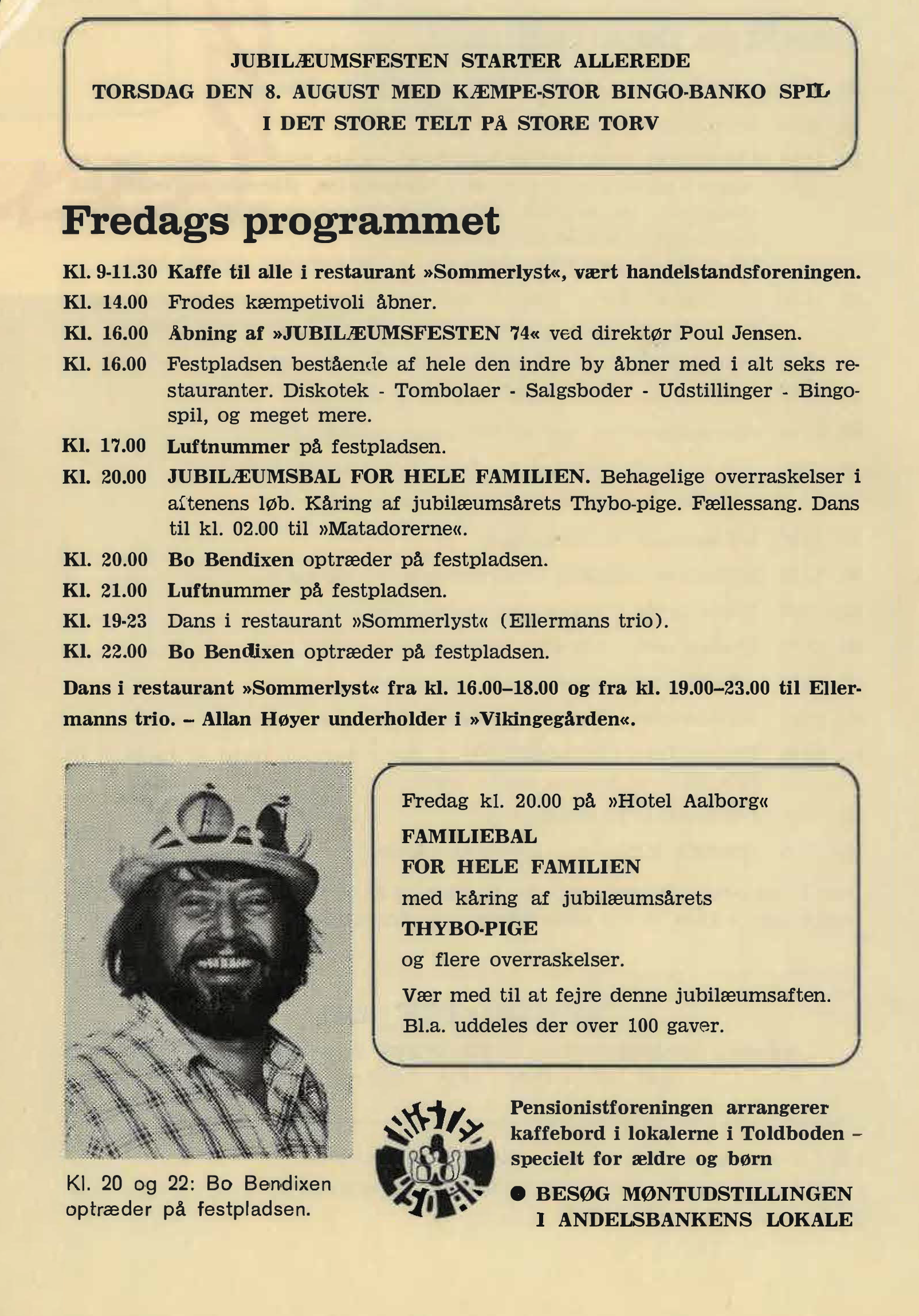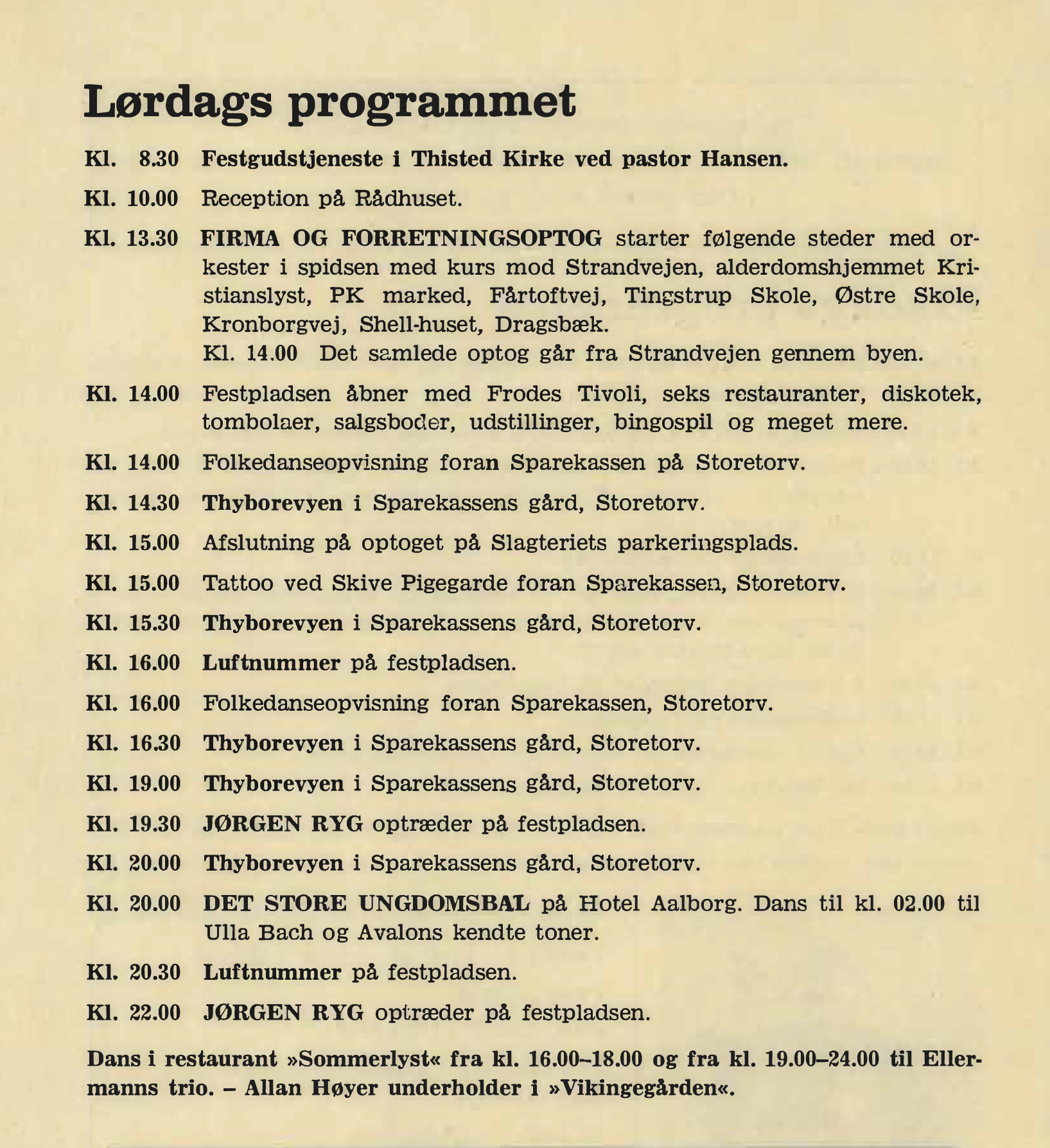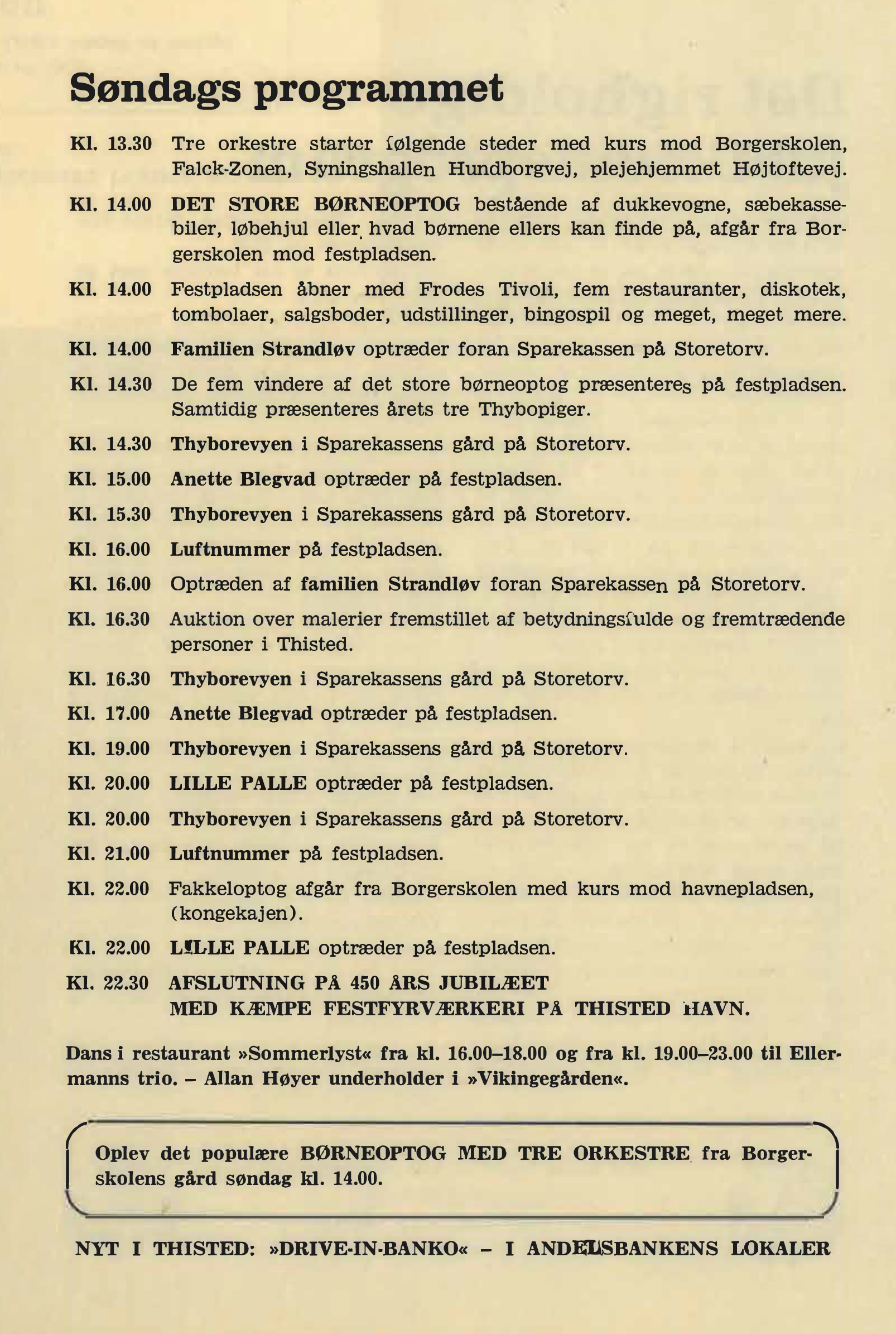 J.C.B. la Cours trebindsværk Danske Gårde
La Cour Danske Gårde II bind (Thisted Amt)
La Cour Danske Gårde II samling II bind (Thisted Amt)
La Cour Danske Gårde III Samling II bind.pdf (Thisted Amt)
Tekst fra slægtsforskernes bibliotek:
Danske Gårde, samling 1 til 3, af J.C.B. la Cour (1872-1917) er gode håndbøger for slægtsforskere og lokalhistoriker. De er blevet sværere at finde på bibliotekerne, men Slægtsforskernes Bibliotek har digitaliseret værket.
Værket består af 3 samlinger:
1. samling udkom i 1906-07 og omtaler ca. 5.000 større danske landejendomme, som i ejendomsskyld var ansat til 50.000 kr. eller mere.
2. samling udkom i 1912-15 og omtaler ca. 7.000 mellemstore danske gårde, som i ejendomsskyld var ansat til mellem 35.000 kr. og 50.000 kr.
3. samling udkom i 1915-18 og omtaler ca. 9.000 mindre danske ejendomme, som i ejendomsskyld var ansat til mellem 28.000 kr. og 35.000 kr.
I 2023 kan Thisted Købstad fejre sit 500 års jubilæum som købstad. Og allerede nu arbejder man i Thisted Kommune på at markere det runde tal. Men hvordan festligholdt man jubilæet ved 450 og 475 året for købstadens fødsel?. Det kan du læse om i artikler her på hjemmesiden.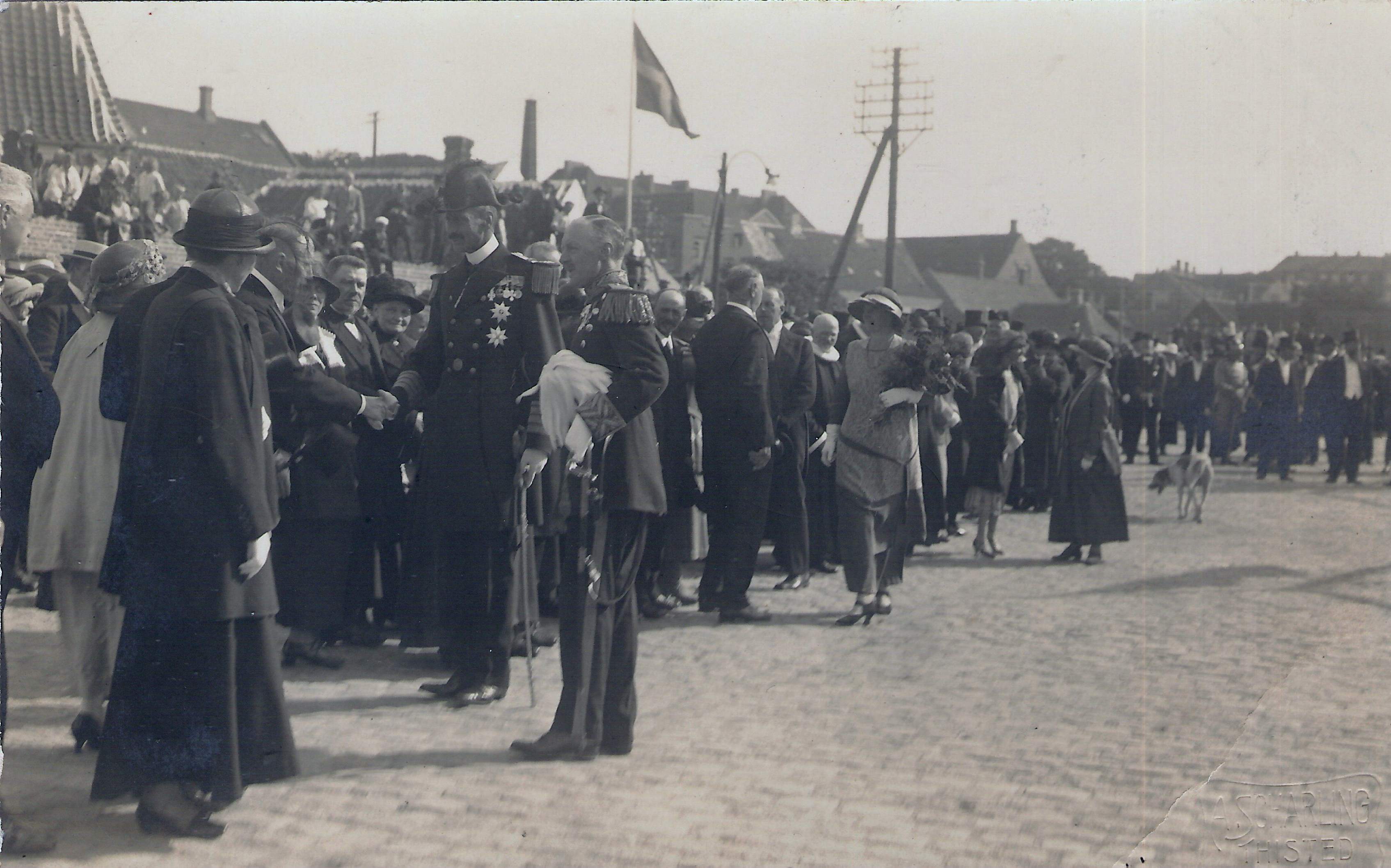 Kong Christian X og Dronning Alexanderine besøger Thisted i anledning af 400 års købstads jubilæet. Her hilser Majestæterne på byens prominente borgere, der i stor tal er mødt op på havnepladsen. Amtmand Lehmann præsenterer for Kongen, som - da billedet er taget - trykker overretsagfører Billeskov-Jansens hånd. Dronningen er lige ud for grosserer N. L. Spangberg, der er trådt frem for at hilse. Yderst til højre skimtes statsminister T. Stauning. Fotograf A. Scharling, Thisted.

20.000 udenbys gæster til købstadsjubilæum
Planen for fejringen af Thisted Købstads 400 års jubilæum lå klar allerede i juli måned 1924. Det eneste festkomitéen var lidt usikker på var, om Kongen og Dronningen ville overvære begivenheden den 10. august. Men frygten viste sig at være ubegrundet.
I ugerne op til selve jubilæumsdagen bragte de lokale aviser artikler om byens ældre historie for ligesom at varme stemningen op.
Der blev syet historiske dragter til de ryttere, der skulle ride i spidsen for et stort optog, der skulle på rundtur i Thisteds gader.
Et stort spørgsmål var, hvem der skulle deltage i festmiddagen på Hotel Phønix. Kongeparret naturligvis! Og de inviterede politikere og topembedsmænd fra København med statsminister Stauning og indenrigsminister Hauge i spidsen! Men når de pladser var besat regnede man med, at yderligere hundrede kunne være med. Men man skulle selv købe billetten til taflet.
Foreningen Forsvarsbrødrene engagerede sig også i forberedelsen af festlighederne med et forslag om også at afvikle en festmiddag på Hotel Aalborg for andre af byens borgere, der kunne deltage her for egen regning til en pris af kr. 8 kr. for en middag bestående af suppe, hummer, lam og kylling, og is med jordbær plus kaffe til sidst. Til dette arrangement blev der reklameret med dans til den lyse morgen. Og forsvarsbrødrene foreslog flere initiativer, nemlig at samle døtrene af byens borgere, iklædt hvid kjole med rødt skærf, samt en lille kurv med blomster som skulle præsenteres ved modtagelsen af kongeparret.
Festkomiteen gjorde i pressen opmærksom på, at der ved henvendelse til politiet kunne gives tilladelse til udsalg af sodavand og lignende på dertil egnede steder i byen.
Stor var glæden da Kong Chr. X og Dronning kl. 9.30 i strålende solskin stævnede ind i Thisted Havn ombord på kongeskibet Dannebrog til en i dagens anledning festsmykket by med en uendelighed af guirlander. Allerede før kl. 9 var havnen fyldt op af tusinder af mennesker, der lyttede Aalborg Regimentsorkester, der spillede "Kong Kristian" efterfulgt af de obligatoriske velkomsttaler. Et myldr af mennesker bevægede sig op til kirken, hvor kongen overværede en gudstjeneste. Efterfølgende stod den på flere taler ved en halv times reception på rådhuset. Så var tiden inde til at de fornemste spiste frokost på Amtsgården, hvor kongen havde lejlighed til at uddele ordener.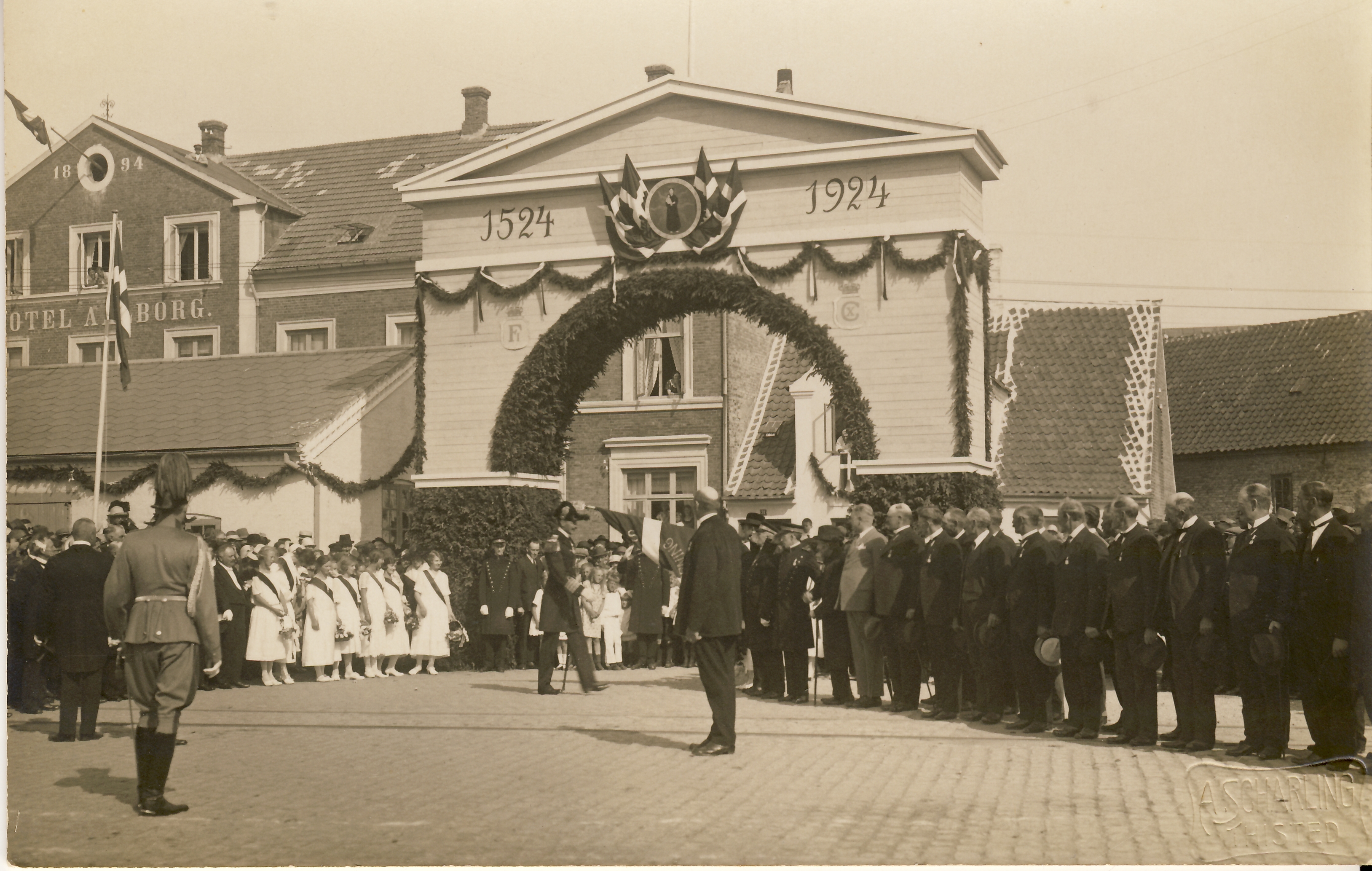 Æresporten blev rejst foran Hotel Aalborg. Det ser ud til, at det lykkedes Forsvarsbrødene at få nogle unge piger til at stå med en blomsterkurv i hvid kjoler forsynet med et skærf.
Ved 2-tiden om eftermiddagen kørte et langt vogntog ud fra Frederikstorv. I spidsen otte ryttere i gamle herolddragter, så regimentsmusikken foran statister i borgervæbningsdragter – og så fulgte den lange vogntog, hvis vogne alle repræsenterede hvert sit erhverv: Handelsstanden, håndværkerstanden, fiskerierhvervet - og endelig landbrugets tre vogne. Bagtroppen udgjorde Rymings Orkester, spejderne og væbnerne. Efter at have passeret gennem forskellige gader i den vestlige bydel, defilerede vogntoget forbi kongeparret, der sad på en tribune på Store Torv – sammen med "sydende og brusende menneskehav". Nu var tiden inde til afsked med Majestæterne, men inden kongeskibet gik af, viste vogntoget sig i Korsgade, hvor kongen bevægede sig ud i menneskemængden, hvor han "jovialt og ligefremt passiarede med flere af de tilstedeværende", som det hed i avisen dagen efter.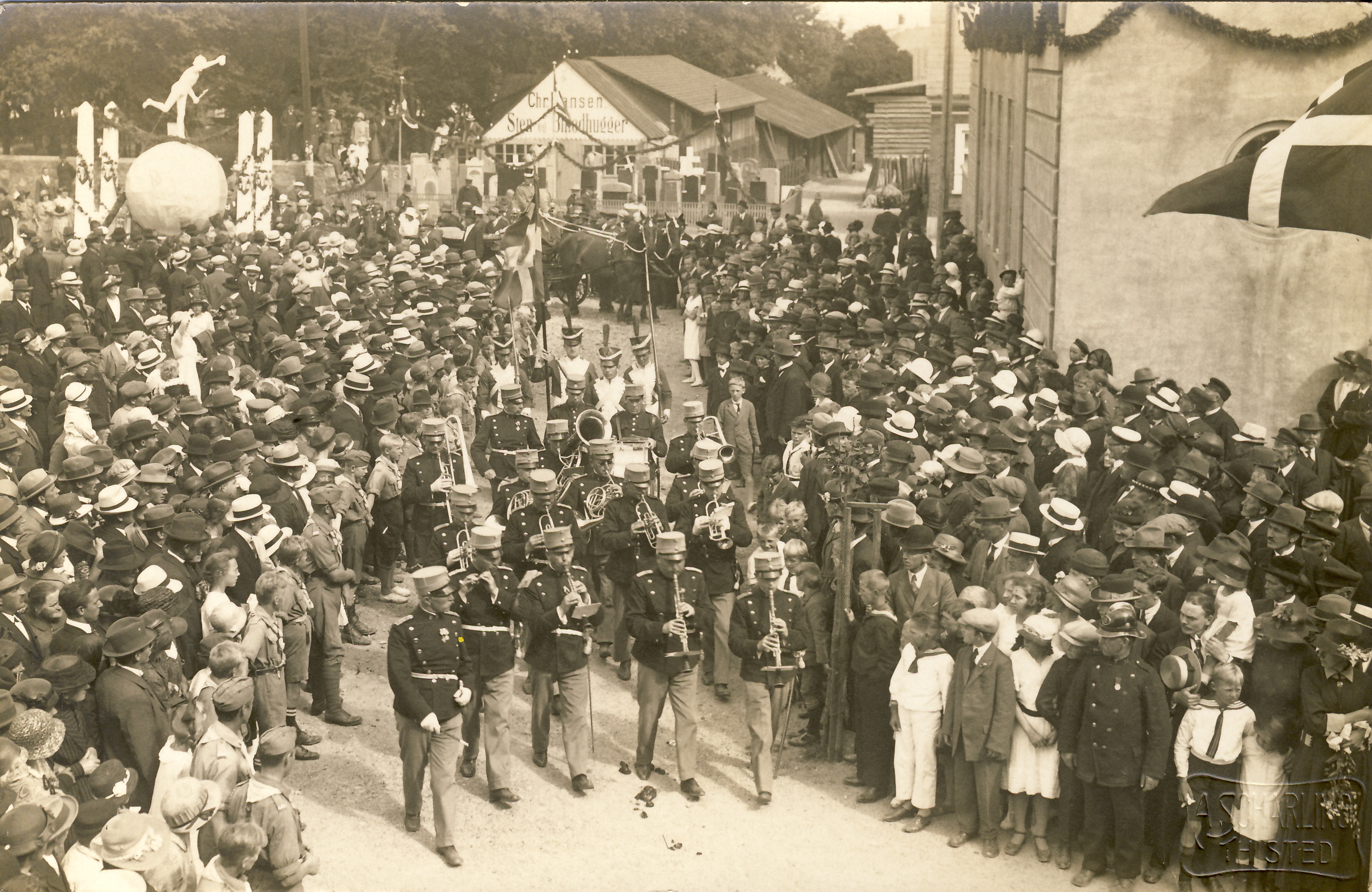 Vogntoget ved afgangen fra Frederikstorv. - og på billedet herunder er vogntoget på vej gennem Jernbanegade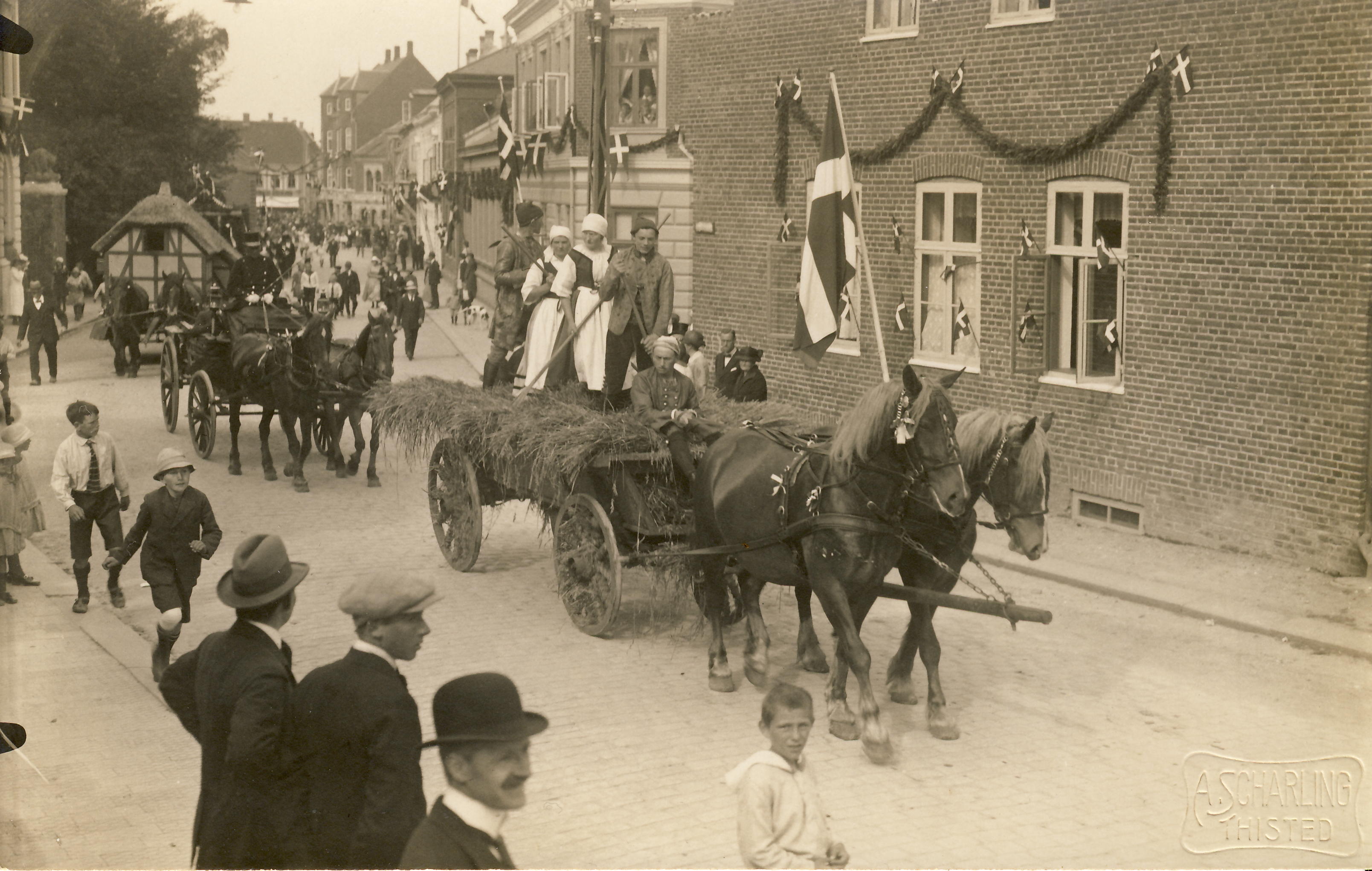 Om Forsvarsbrødrenes planlagte supplerende festmiddag på Hotel Aalborg blev til noget, melder historien ikke noget om. Sikkert ikke når man selv skulle betale! Men festkomitéens officielle middag om aftenen på Hotel Phønix blev gennemført og bød på en maraton af talere, som de 60 indbudte deltagere tappert lyttede på, medens lammekoteletten og sovsen sikkert blev kold – imens folkefesten gik i gang i Christiansgave allerede fra kl. 16 om eftermiddagen – og frem til det lyse morgen. Regimentsmusikken og Rymings Orkester var på stikkerne foran "et eneste stort bølgende menneskehav". På en til lejligheden opstillet scene forevistes til stor begejstring for publikum tre tableuer, der forestillede "Kong Frederik 1 underskriver Thisteds privilegier" – "Borgervæbningen" og "Et heksebål".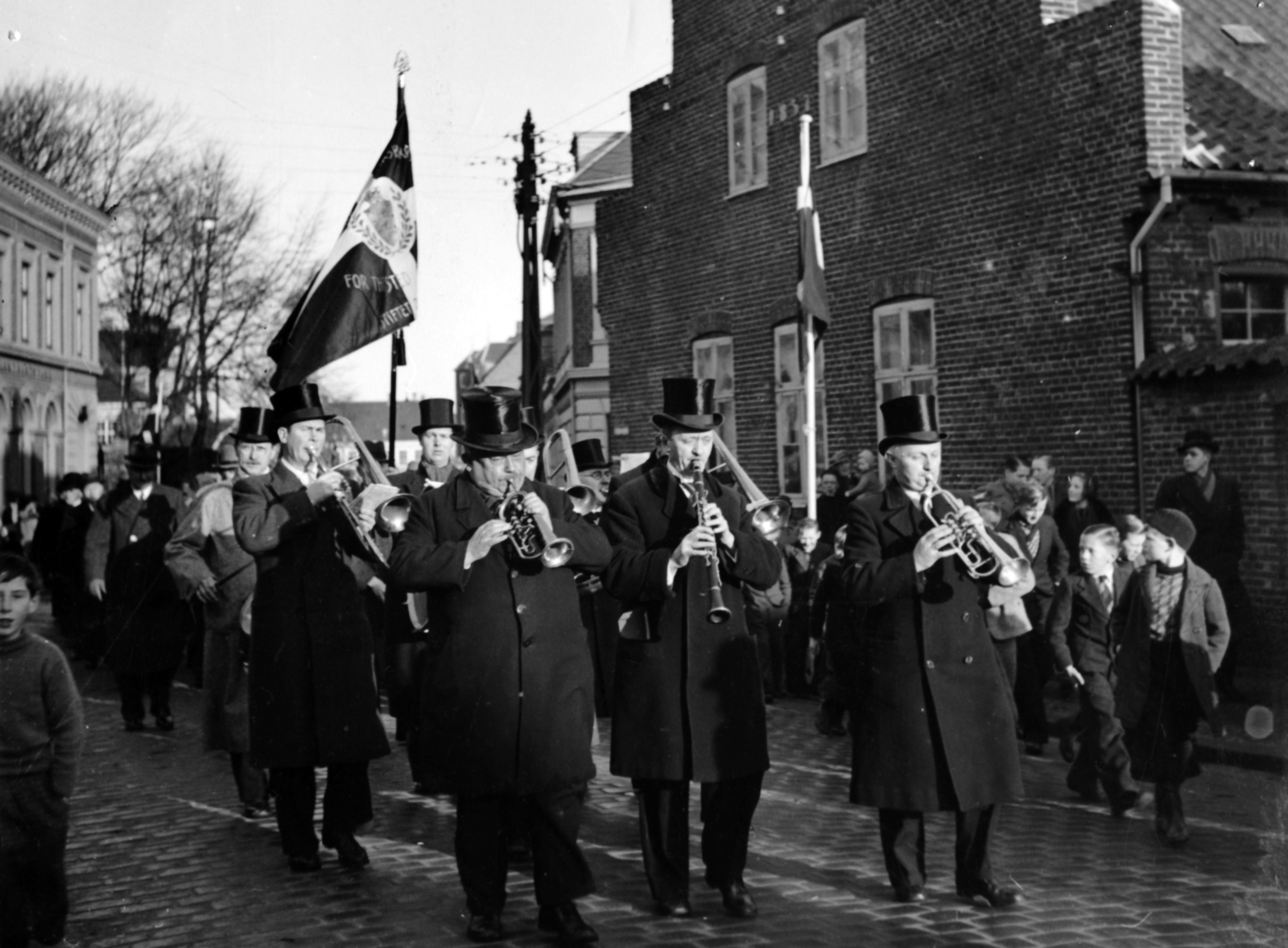 Rymings Orkester spillede meget - og længe i 1924. Og de spillede også i 1937, hvor dette billede er taget i Jernbanegade.
Aftenen kulminerede med fakkeltog gennem byen og et stort festfyrværkeri på havnen.
Hvor mange udenbys boende deltog i fejringen af byjubilæet? Ca. 20.000 skønner Thisted Amts Tidende dagen efter og fremhæver, at publikums optræden var mønsterværdig, og festen derfor fik et vellykket forløb for alle - bortset fra kontorist Boyer og hans søster, der faldt i havnebassinet, lige inden kongeskibet lagde til kaj.
Medicinalberetninger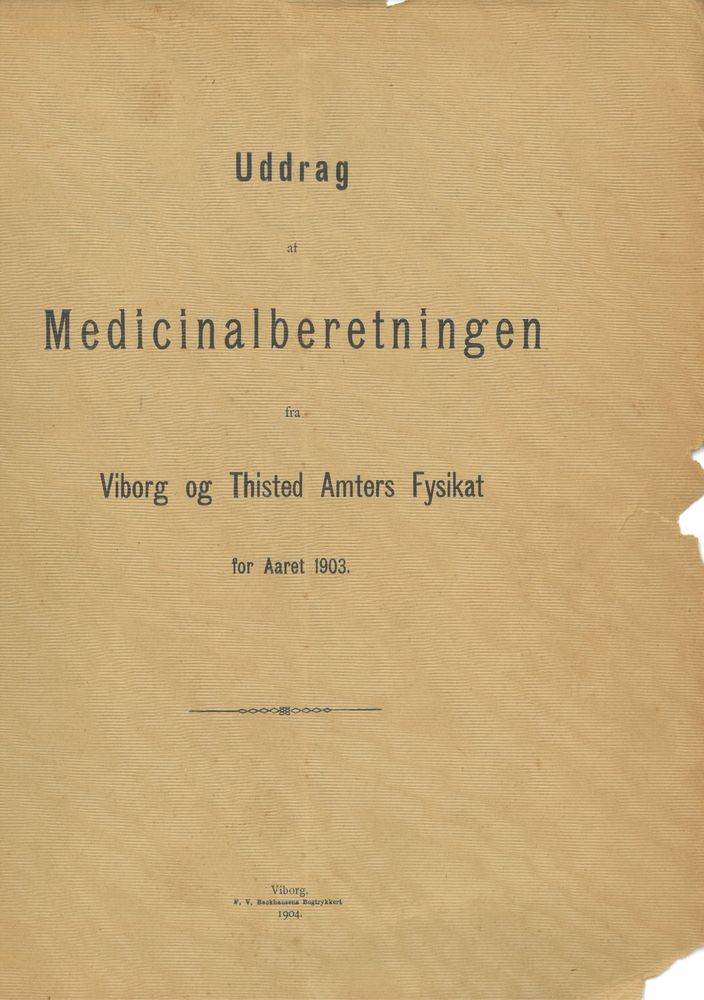 I medicinalberetningerne findes bl.a. statistikker over folketal, fødsel og død, sygdomsforekomst og dødsårsager.
Årets sygelighed er kommenteret, de hygiejniske forhold beskrevet, og der er givet en status over, hvordan det lokale sundhedsvæsen ser ud ved årets slutning.
Beretningerne er lavet af amtslægen på tidspunktet. Det er:
1903-1911: stiftsfysikus Peter Wilken Heiberg (1840-1920) (læs Lejf Folkes beskrivelse af Heiberg på sidste side af beretningen for 1969)
1914-1924: amtslæge Axel Ludvig Adolph Bartsch (1863-1936)
1926-1936: amtslæge Aage Maltesen (1885-1951)
1937-1969: amtslæge Lejf Folke (1903-1986)
Der er flere, også lokale, indscannede dokumenter om sundhed at se på Rigsarkivets hjemmeside fx. her.
Thisted Sejlklub i 100 år
I anledning af klubbens 100 års jubilæum i 2022 blev der udgiver et jubilæumsskrift skrevet af Orla Poulsen og Simon Svingel Kristensen. Skriftet er på 100 sider og rigt illustreret . Download skriftet her!
Michael Perlmutters skildring af Thylejren
I 2022 skænkede Michael Permutter 100 digitaliserede film til Arkivet.
Gennem flere perioder mellem 1984 og frem til 2022 har Perlmutter boet eller opholdt sig i Lejren, hvor han har dokumenteret og portrætteret alt fra dagligliv, stemninger og fest - og krydret det hele med portrætter af folk med tilknytning til lejrmiljøet. Filmene fremstår som en blanding af billedmontager, lydoptagelser - og fremstillinger i en skøn blanding.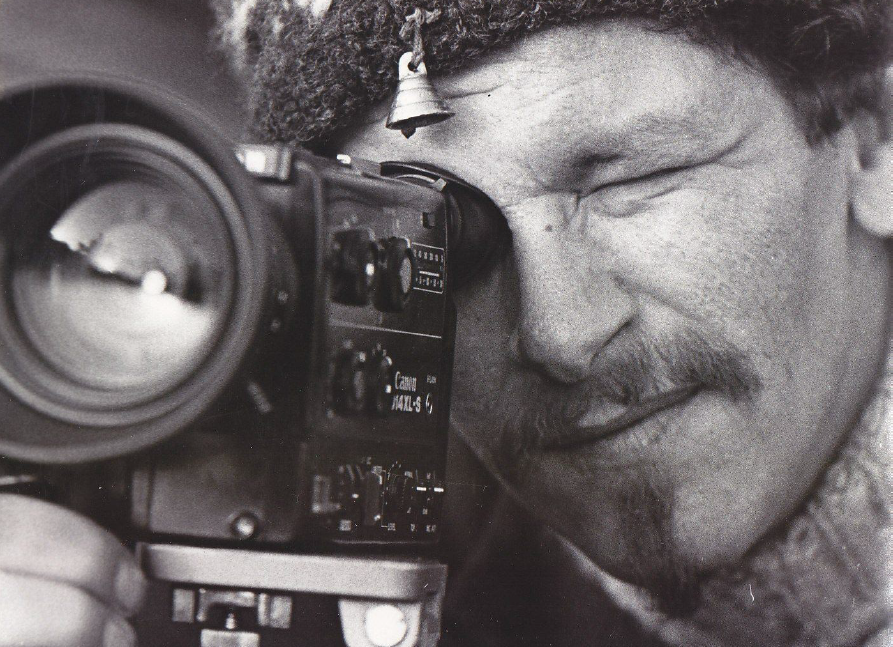 Hvad Perlmutters arkiv indeholder fremgår af oversigten, du kan downloade her. Numrene i oversigten viser hen til filmene, der alle er lagt på Youtube.com
DRØMMEN DER IKKE VILLE DØ er er smagsprøve på en af filmene i samlingen.
Om denne film skriver Perlmutter blandt andet:
"Filmen er optaget mellem 1983 og 1988 af Michael Perlmutter. Det meste er optaget med et Canon Super
8 mm. smalfilmskamera og nogle sekvenser er optaget i et af de første videokameraformater, der hed
Video 8, som jeg lånte på Det Danske Filmværksted på Vesterbrogade i København, efter at jeg i 1987 fik
støtte og professionel hjælp af Dino Raymond Hansen og Bjørn Tving Stauning til at overføre den til video
med rulletekster og det hele.
I 1983 da jeg påbegyndte optagelserne i Thylejren, kostede et videokamera omkring 25.000 kr.
Min film blev i min egen amatørudgave i første omgang klippet og redigeret ned fra tre til to timer og med
hjælp fra Filmværkstedet blev den i den professionelle udgave som kan ses her, yderligere redigeret ned til
52 minutter."
Først var der en bæk – og så kom der en by
Den første bebyggelse i Thisted har bredt sig fra Bækken og været bestemt af de højdedrag, som Bækken løb mellem. Deraf de krogede gyder og smågader, man finder omkring Bækken.
Mod vest blev grænsen Store Torv. Øst for Bækken har bebyggelsen været mere sporadisk. Det gamle navn for området omkring Hjultorv er nemlig "Knakken". Og det antyder, at der ikke har været bebyggelse, fordi "Knak" betyder en mark fuld af tuer. Det lavtliggende område beskrives da også i 1735 som et sumpet og fugtigt sted. Benævnelsen Knakken gik efterhånden over til at blive et gadenavn. Man talte om Øster- og Vester Knak på hver sin side af Bækken. I midten af 1800-talllet blev Øster Knak benævnt som Hjultorvet, fordi en hjulmager havde etableret sig på stedet. Hvornår området her er blevet helt bebygget er svært at sige. Men så sent som 1779 fandtes her otte ubebyggede pladser, som man end ikke kendte ejere til.
Bækkens tilstedeværelse har spillet en rolle, som det fremgår gadenavnene: Strømgade, Ågade og Brogade. Bækken delte byen i to adskilte områder, der blev forbundet af nogle fire-fem skrøbelige broer og stenter, der ikke tillod megen trafik med køretøjer.
Bebyggelsen omkring Bækken var indtil midten af 1800-tallet præget af lave huse, hvor småhandlende, håndværkere og avlsbrugere havde bosat sig. Da byen kom i vækst i slutningen af århundredet, blev flere af de nuværende ejendomme i flere etager rejst - og Kringeltorv blev til Nytorv i 1906, da man fjernede ejendommen, der lå midt på torvet, så man ikke længere behøvede "kringle" sig omkring stedet.
"Engang var Bækken en Zir for byen" hedder det i et avislæserbrev fra 1850´erne. Men det blev den ikke ved med at være, hvis man skal tro de hyppige klager i avisens spalter fra byens borgere. De mange suk handler om stank, manglende vedligeholdelse af dosseringen af Bækken, om henkastning af affald og manglende oprensninger. Sidstnævnte havde ikke mindst betydning for omfanget af de oversvømmelser, der ind imellem indtraf i de lavtliggende områder langs Bækken. Og byrådet fik hårde ord med på vejen. Ikke mindst vandløbets betydning i ildebrandstilfælde blev understreget.
Det åbne vandløb var tilsyneladende til stor gene for beboerne i området, der udtrykte et inderligt ønske om at få Bækken overdækket med planker, så man frit kunne færdes i bydelen. Men byrådet var ikke meget for at bruge penge på Bækken. Først i 1883 kom der skred i tingene. Der blev truffet beslutning om, at Bækken skulle "gøres i stand", som det hed. Og byrådet havde udarbejdet et forslag, der også indebar som en mulighed, at Bækken blev overdækket med planker fra vestsiden af Kringeltorv (Nytorv) og frem til smedjen i begyndelsen af Strømgade. En del af de beboere, der henstillede til byrådet, at strækningen burde overdækkes, anførte, at der således også blev mulighed for et fisketorv til havboerne.
Sagen om overdækningen kom til debat i byrådet.
Nej-sigerne mente, det var urimeligt at vise færdsel igennem de snævre gader, hvor to vogne knap kunne passere hinanden.
Ja-sigerne så en fordel ved, at man så kunne spare på rækværk. Ved den efterfølgende afstemning var der flertal for at overdække Bækken på strækningen.
Men da den efterfølgende licitation viste, at en overdækning ville koste den nette sum af 800 kr. -vendte stemningen i byrådet.
Det var for meget! Og man nøjedes med at reparere det åbne løb.
Så vidt Bækken frem til smedjen.
Her slår den et slag mod øst og løber parallelt med Strømgade og Storegade frem til hjørnet af Korsgade og Storegade for at ende i Havnen.
Ejendommene ved Hjultorvs sydside og nordsiden af Storegades nederste del kunne nyde lyden af vandets rislen ved kanten af deres haver frem mod begyndelsen af 1900-tallet. Men stadig flere søgte om tilladelse til at overdække for at skaffe mere gårdsplads!
I 1905 købte byen huset midt på Kringeltorv og rev det ned. For nu skulle der ske noget med Torvet og Bækken, men det gik langsomt. Et helt år efter besværede borgerne sig over, at Nytorv var i en sørgelig forfatning. Man havde ventet længe på at få Torvet og Bækken reguleret. I stedet for "er det en oplagsplads for trappesten, murbrokker m.v," hed det i et læserbrev.
Projektet med at lægge Bækken i rør handlede også om at kloakere. Det begyndte ved smedjen i 1907 - og fortsattes fra Nytorv i 1909 mod nordøst frem til kolonihaverne (Amagerhaverne) ved Plantagen.
"Den altid stinkende Bæk bliver herved lukket inde og forhindres således i at udsende sin ubehagelige og sundhedsfarlige "parfume" ud til de omliggende ejendomme", skrev Thisted Amts Tidende.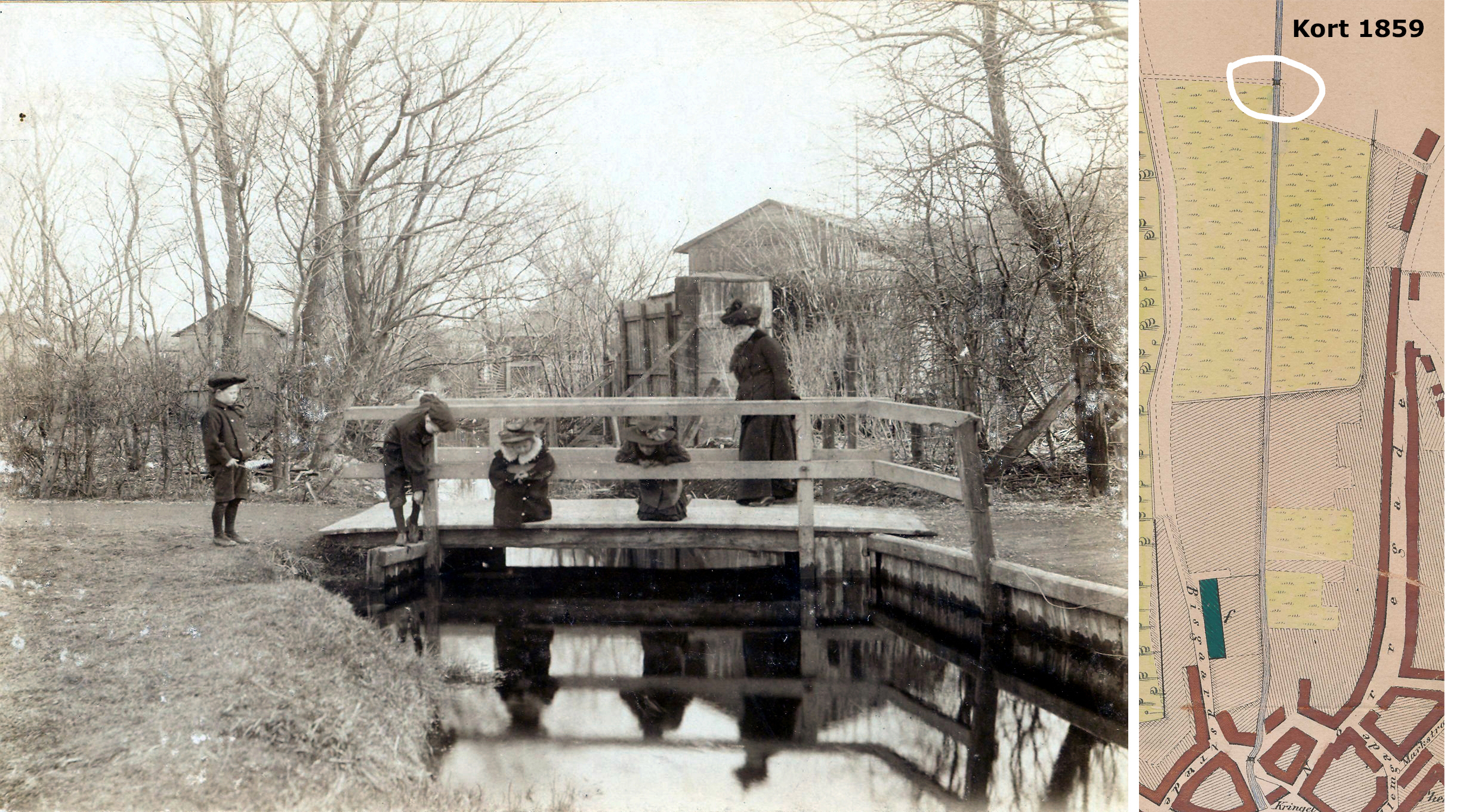 På dette billede løber Bækken stadig åben ind i byen ved den nordvestlige del af Christiansgave og langs kolonihaverne ved Engen. Vi har ikke en nøjagtig datering af situationen - men sikkert engang omkring år 1900. På Traps kort fra 1859 er der endnu ikke anlagt kolonihaver. På flere billeder kan man følge Bækkens løb gennem byen …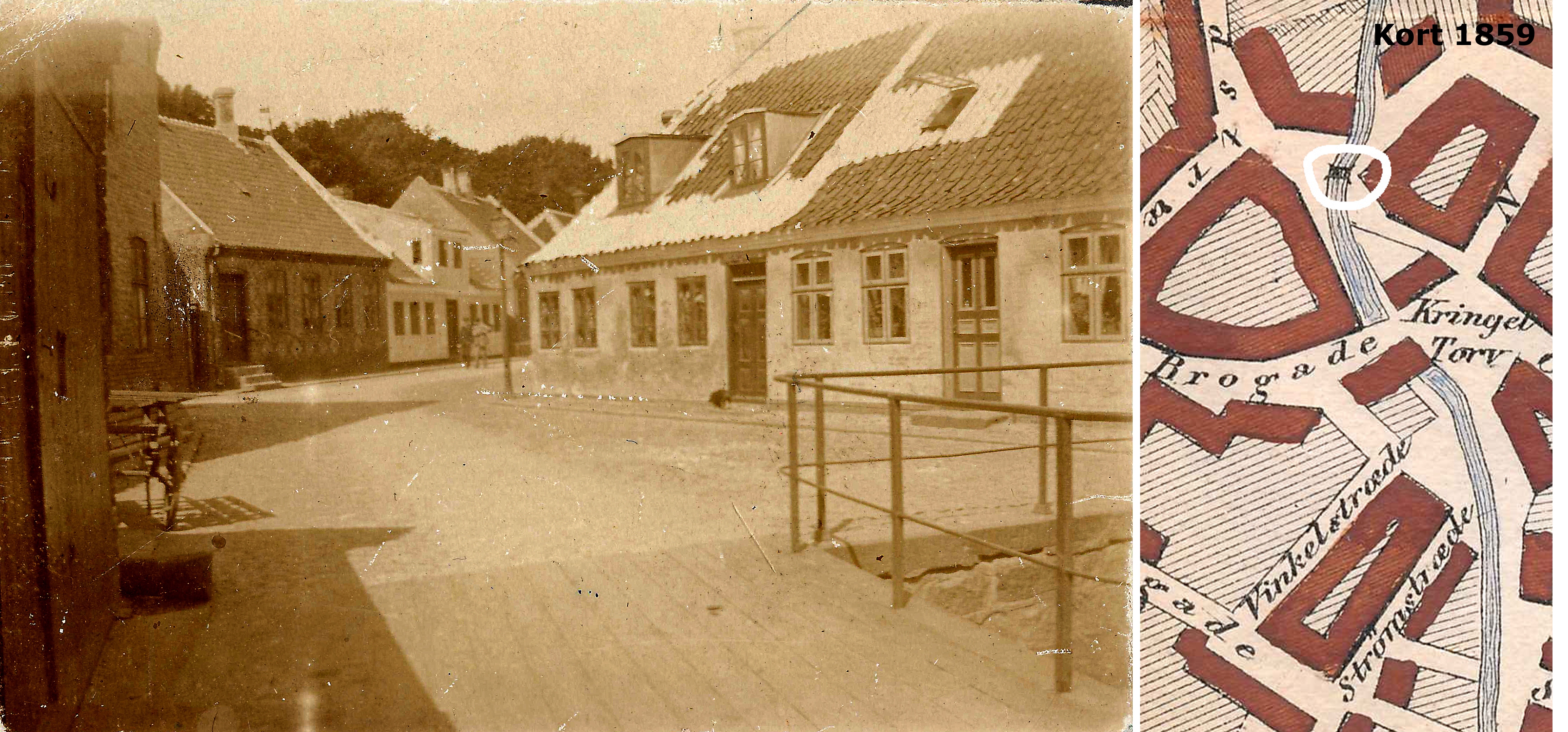 Fra Engen løber Bækken gennem Ågade og forbi Plantagevej, som ses i baggrunden af billedet. Her dukker den første plankebelagte bro op - og man ser stendosseringen nederst til højre i billedet. Ca. 100 meter oppe ad løbet blev vandstrømmen blandt andet benyttet af en vaskeri- og rulleforretning.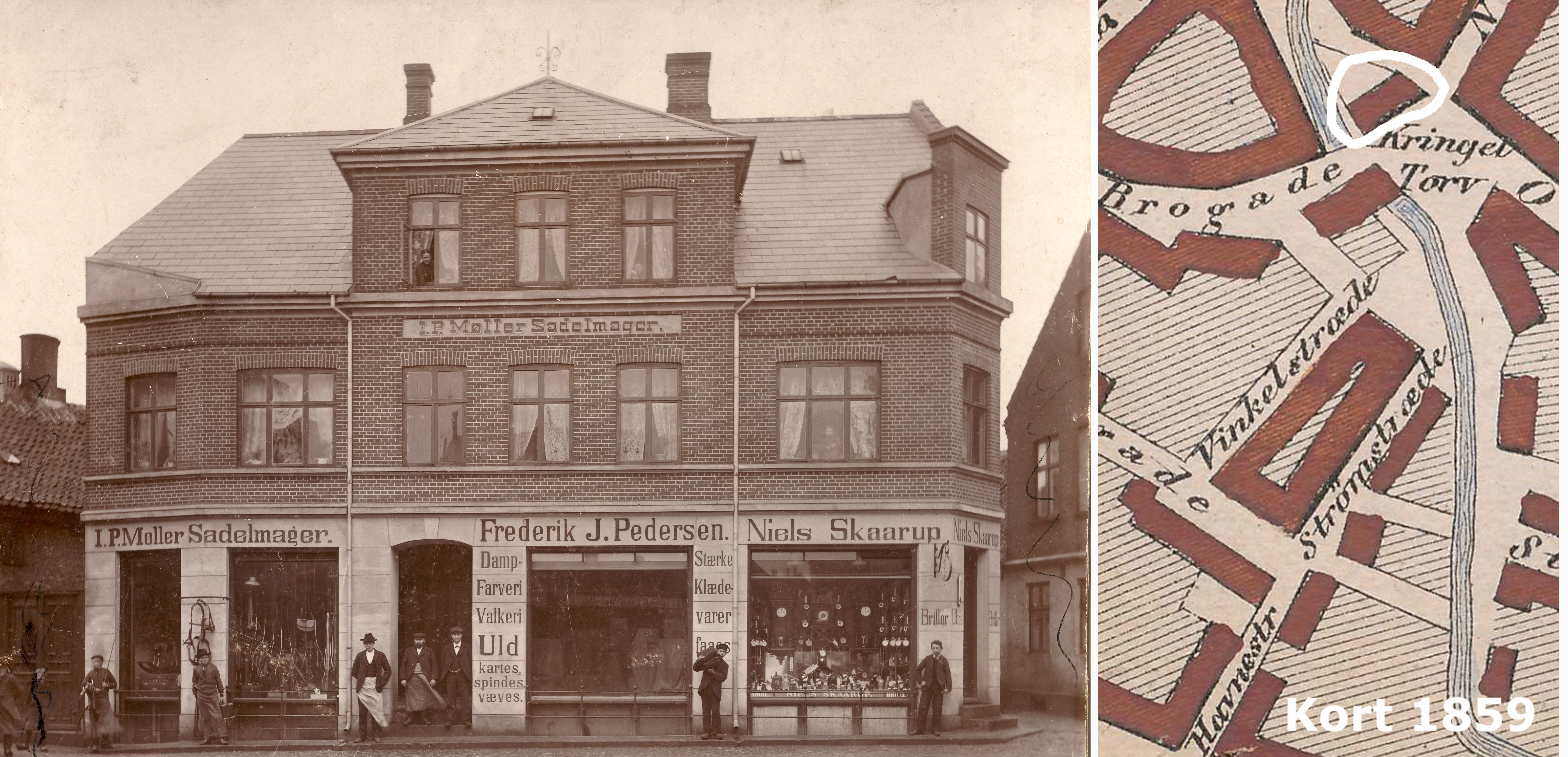 Sadelmager I.P. Møller, udsalg fra Frederik Pedersens uldspinderi og urmager Niels Skaarup. Fotografering er ikke en dagligdags begivenhed, og alle stiller op i dagens anledning - også i beboelsens vinduer. Huset bliver rejst i 1902 på kanten af Bækken, der løber åbent ved siden af den sydlige gavl i billedets nederste venstre hjørne. Først da Bækken blev lagt i rør i 1907, blev ejendommen sammenbygget med en naboejendom mod syd. Her midt på det nuværende Nytorv lå det hus, som bevirkede, at torvet engang hed Kringeltorv, fordi man skulle "kringle" sig omkring huset. På dette foto fra slutningen af 1890´erne ser vi Brogade i forgrunden. Stueetagen er indrettet med to butikker med støbejernsvinduer. 1. sal har to lejligheder og øverst loftet med et par gipsede værelser og et rum med hejseindretning i gavlen. Husets hjørner er "afbrækkede" sådan, at brandsprøjten kunne passere. Grunden er skæv, og huset føjer sig efter grundens muligheder. Ejeren var Waldemar Larsen, skrædder og manufakturhandler. I midten af 1880erne havde han sin bedste tid. På dette billede er han i sit livs aften som tobakshandler, stående på den høje trappe. I en anden del af huset er en marskandiserbutik – der reklamerer med frakker på bøjler. Det interessante ved dette hus er, at Bækken løber under det. Ser man godt efter i nederste venstre hjørne, kan man spotte plankerne over vandløbet. Huset blev købt af kommunen i 1905 og revet ned for, at torvet kunne reguleres. I 1908 døde den gamle skrædder og tobakshandler, 76 år gammel.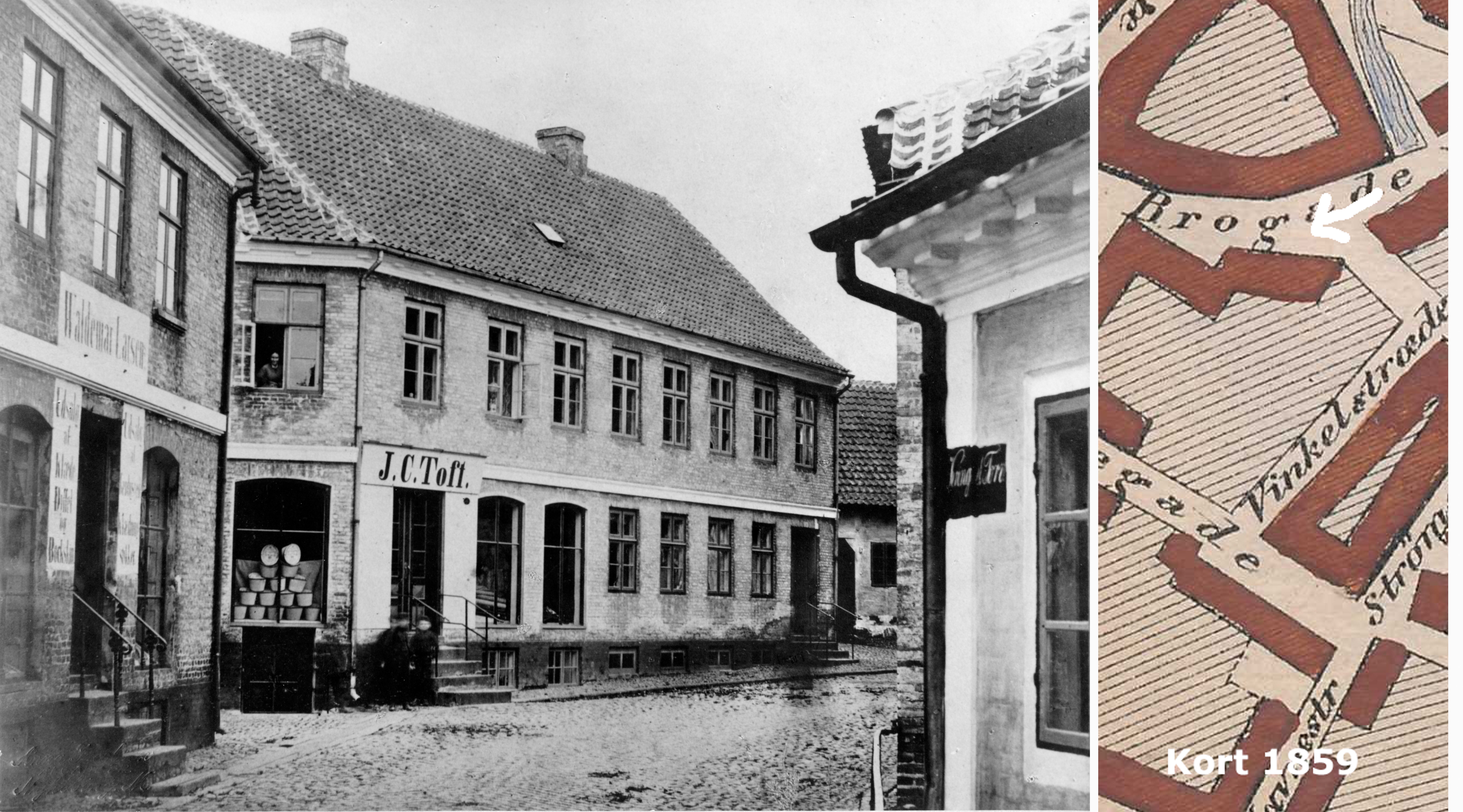 Pilen på kortet fra 1859 viser stedet og retningen, hvorfra billedet er taget. Det er Waldemar Larsens ejendom midt på Kringeltorv, der ses til venstre. Bemærk også skiltet med "Kring Torv" på muren til højre. I centrum af billedet J.C. Tofts købmandshandel på Brogade, hvor der i dag er "Din Tøjmand".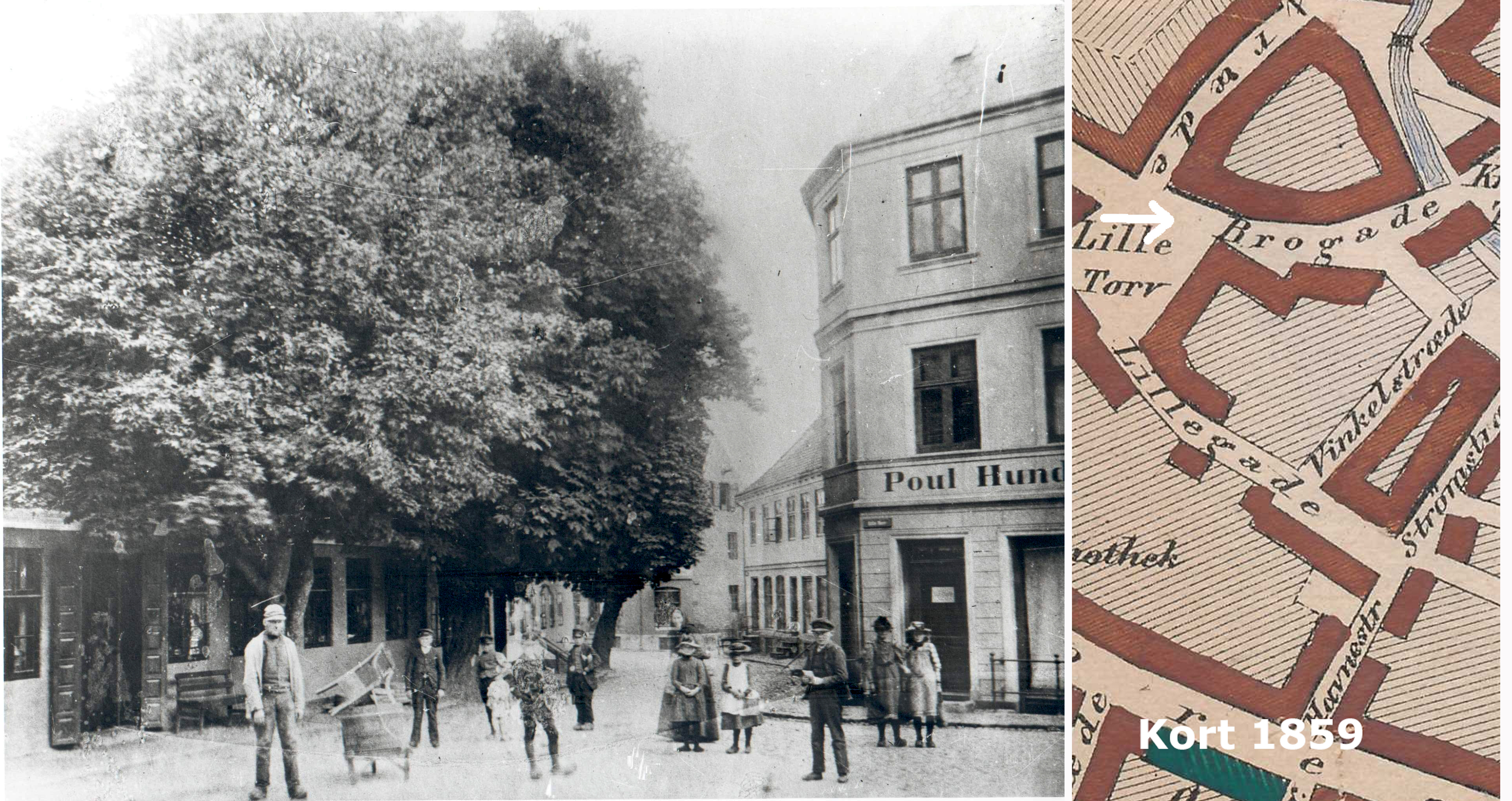 Det er huset nede på Kringeltorv, der er i centrum af billedet. Fotografen har - som vist på kortet -stået på Lille Torv og vendt sit kamera ned mod Brogade – og Kringeltorv. Billedet giver en fornemmelse af de krogede gadeforløb i kvarteret omkring Bækken. Tiden er 1890erne. Huset under de store kastanjetræer er opført 1861 og rummer Anthon Sørensens købmandsbutik. Huset til højre med Poul Hundahls manufakturhandel er fra 1884.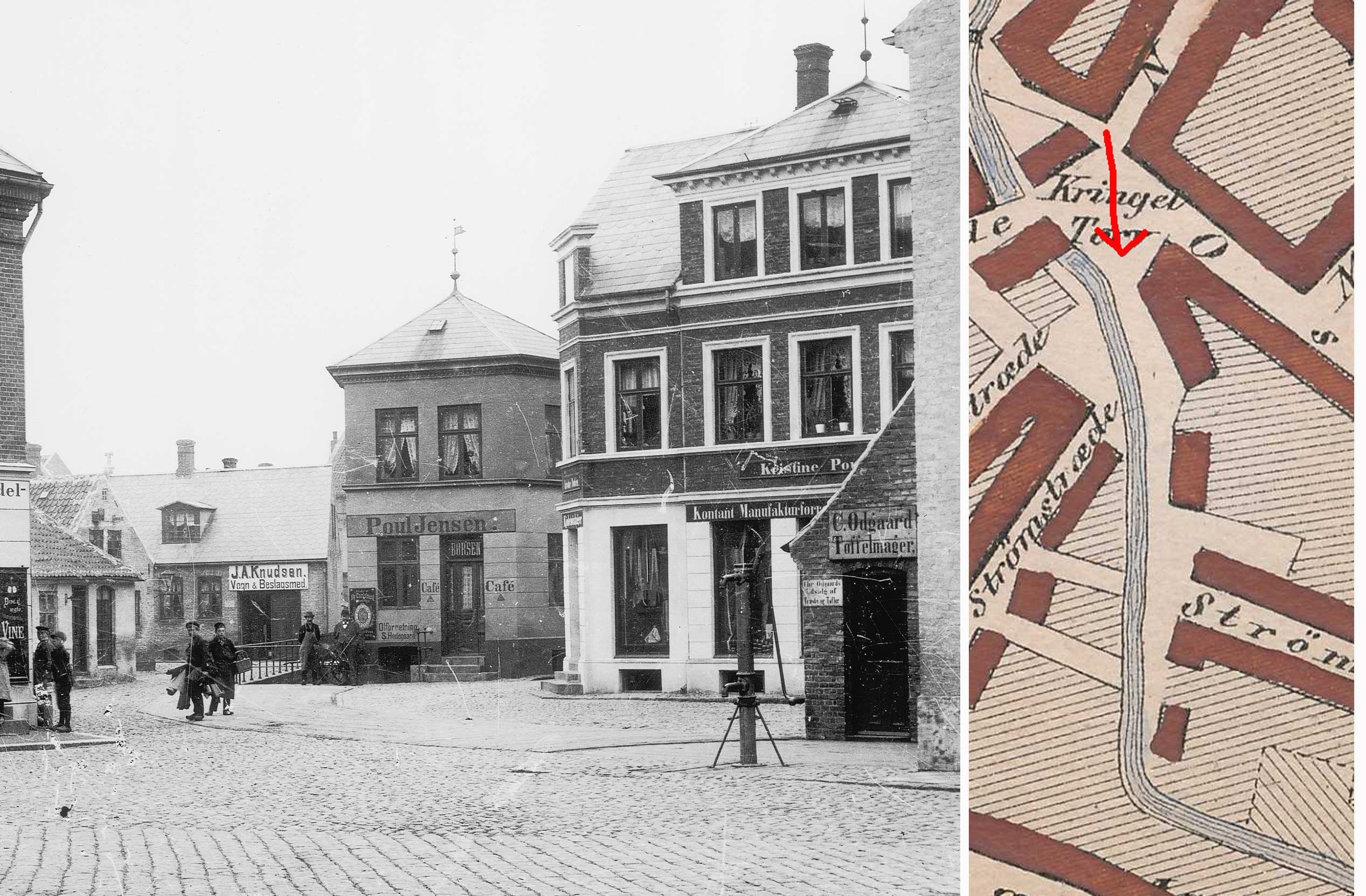 En blanding af nye og gamle huse. De lave bygninger er de "oprindelige". De høje er resultat af den nye byggeskik, der i slutningen af 1800-tallet giver byen sit nye præg med større ejendomme. Bækken løber endnu åben gennem kvarteret. Dog ikke helt åben. På torvet er den næsten helt dækket af planker: broerne, hvorunder rotterne kunne trives. Men ved smed Knudsens hus i Strømgade, hvor der er et rækværk, kommer Bækken ud i det fri. Bemærk også en af byens offentlige vandpumper i forgrunden. En kendt bygning stikker sin forstavn frem. Den ejes i nogle år af smeden Andreas Loldrup (søn af Rasmus), der i 1855 byggede huset totalt om for at åbne "den nye restauration Café Børsen", hvor der "for landboerne forefindes omklædningsværelser. Stort bladhold. Staldrum haves til 20 heste."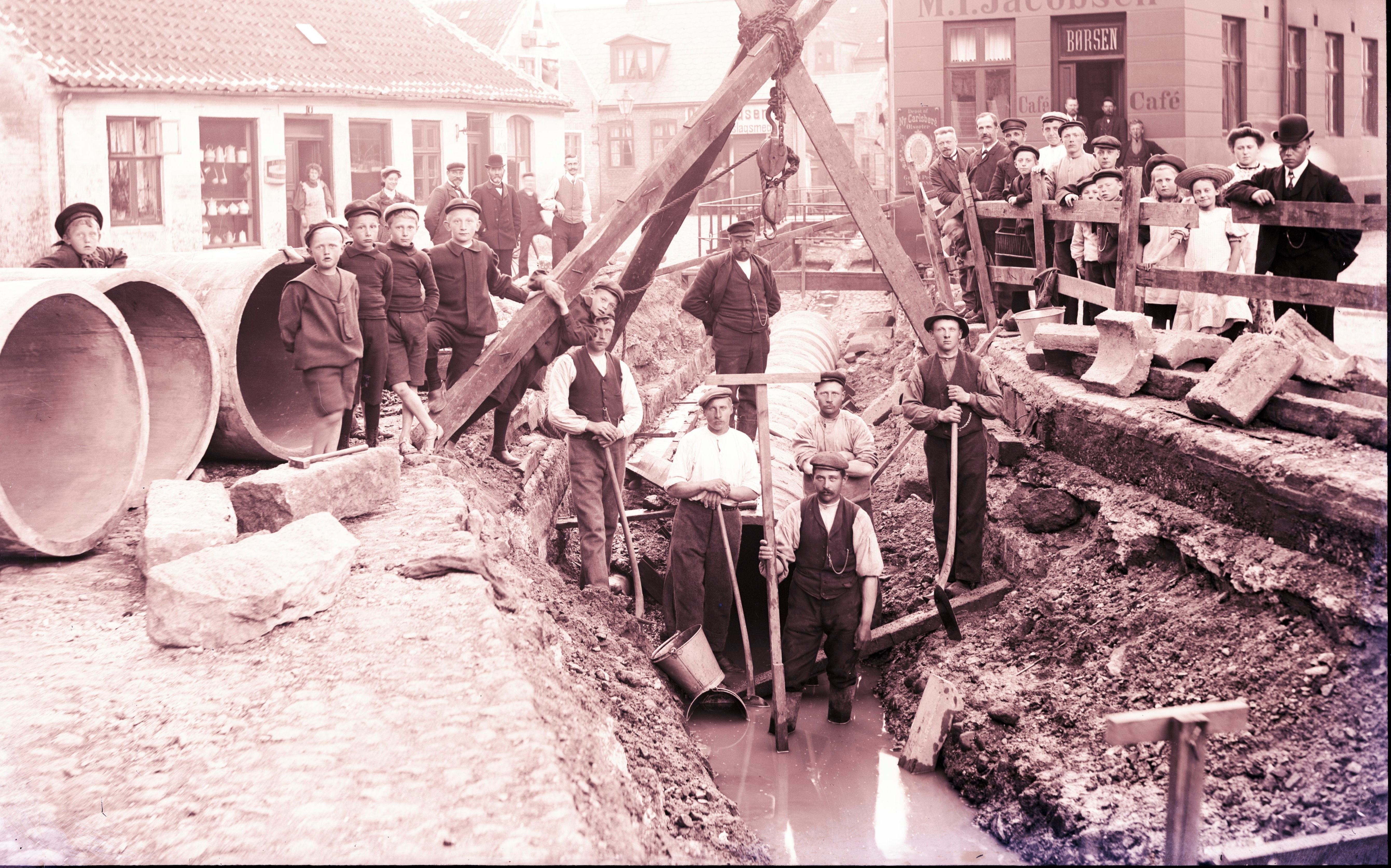 Nu sker der noget! Bækken lægges i rør i 1907. Vi er her tæt på Café Børsen. Siden 1905 ejes den af M.I. Jacobsen – og senere skulle mange andre overtage den respektable café. Først omkring 1950 blev denne del af huset udskilt som grøntforretning. Under cafén havde - både før og efter århundredeskiftet - ølhandler Chr. Nørgaard sin ølkælder. Nede i mudderet står et lille sjak. Bag dem ses tydeligt den stendossering, der var langs vandløbet. De store rør, der skal lægges ned, ser måske spinkle ud, men det var armeret beton.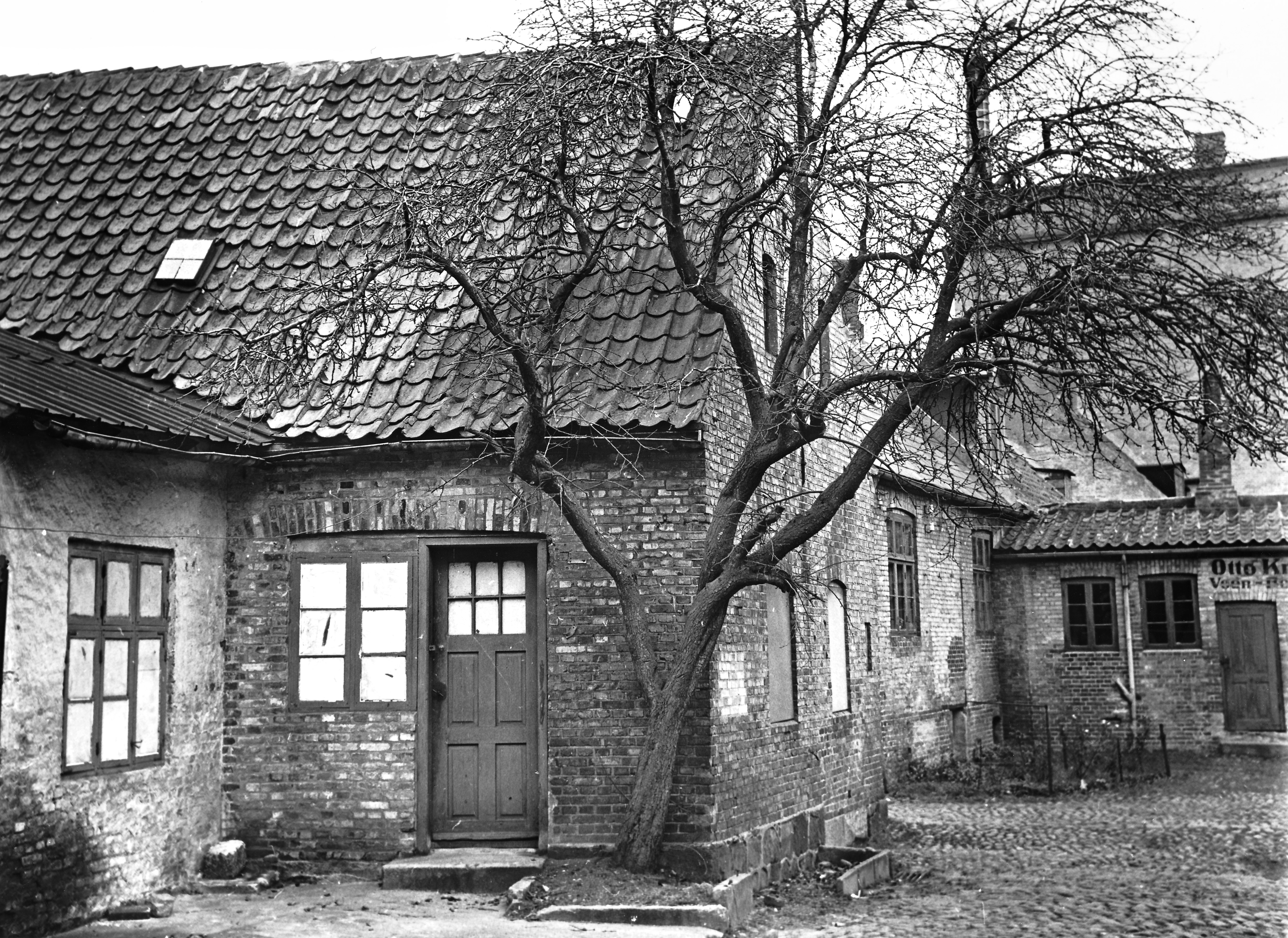 "Otto Knudsen, Vogn - beslagsmed " står der på muren ved smedjen, Strømgade 3. Otto Knudsen overtog stedet i 1906. På billedet er vi midt i 1950´erne, hvor gården stadig fremstår autentisk. Billedet er taget fra indgangen til gården ude fra Havnestræde.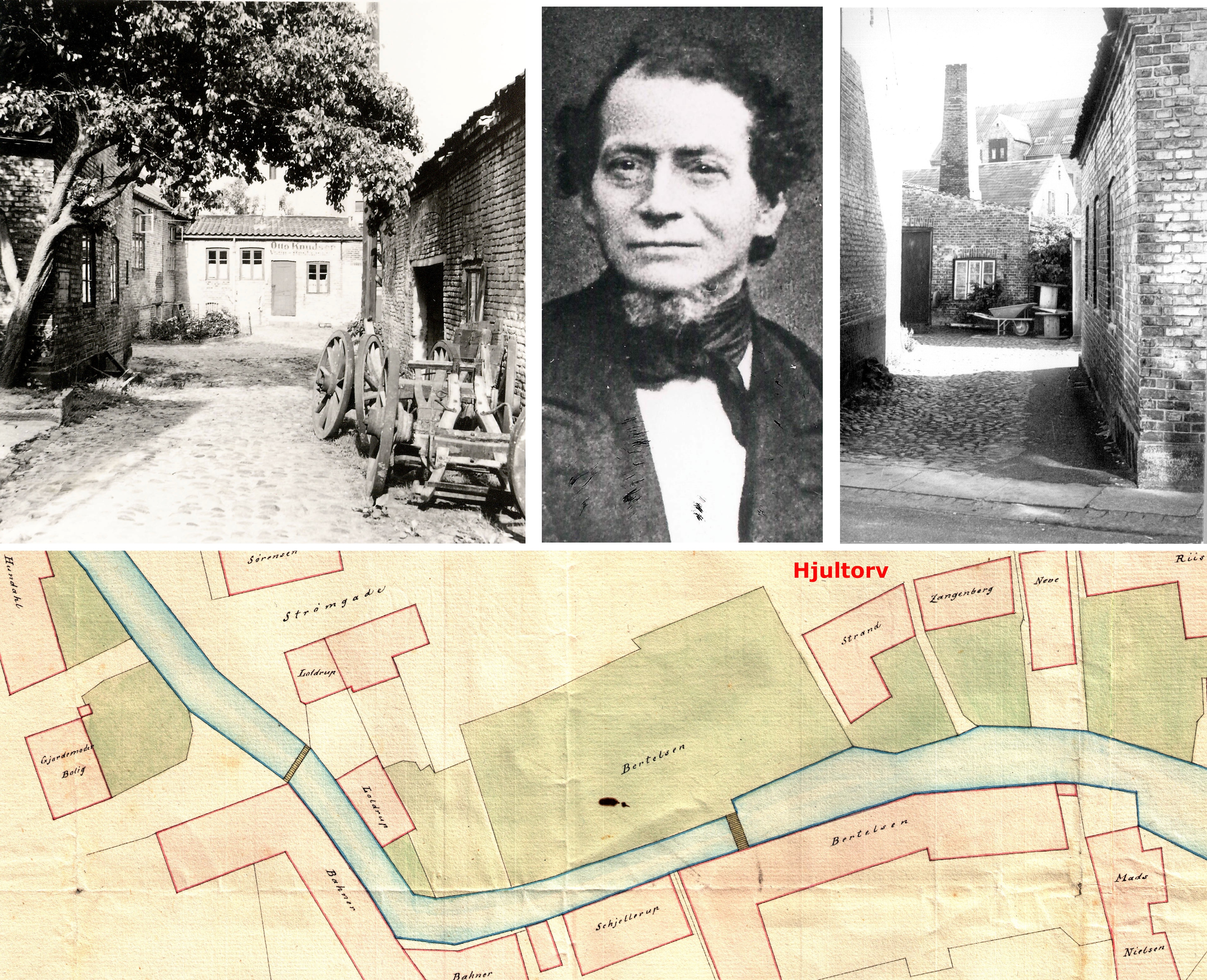 Gården med smedeværkstedet fra to forskellige vinkler. Til venstre ser vi gården mod øst fra Havnestræde. Til højre ser vi ind i gården mod syd fra Strømgade. Kortet under fotos er et udsnit af en situationsplan, der blev udarbejdet i 1855 til brug for en påtænkt regulering af Bækken. På planen er Loldrups ejendomme tydeligt markeret lige der, hvor Bækken slår et sving ind i baghaverne. Rasmus Loldrup blev indehaver af smedjen i 1848 og drev den frem til sin død i 1880, da hans enke Frederikke arvede ejendommen, som efterfølgende erhverves af smed Otto Knudsen i 1906 efter hendes død. Det er en af Rasmus Loldrups sønner, der grundlægger Café Børsen på Kringeltorv (Nytorv).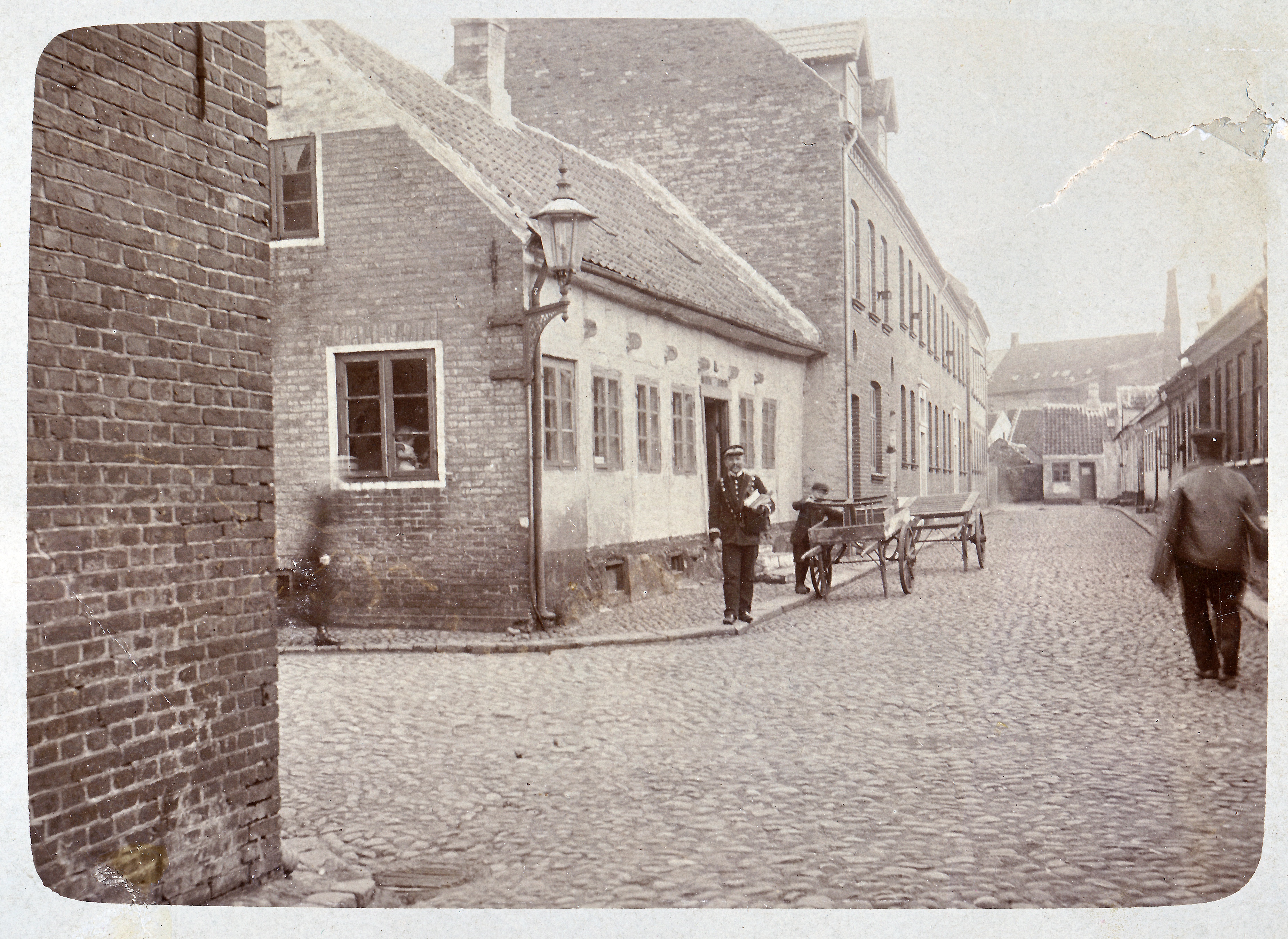 Bækken er lagt i rør, og der er nu fri passage til Strømgade, hvor vi finder et gammelt hus tilhørende skorstensfejer Ahlberg på venstre hjørne af gaden. På huset er monteret en gaslampe, fordi der på dette sted var en bro, der førte over Bækken. Bagerst øjnes Undén uldspinderi – og til højre i billedet de lidt mere ydmyge lave ejendomme, der havde baghave ned til Bækken.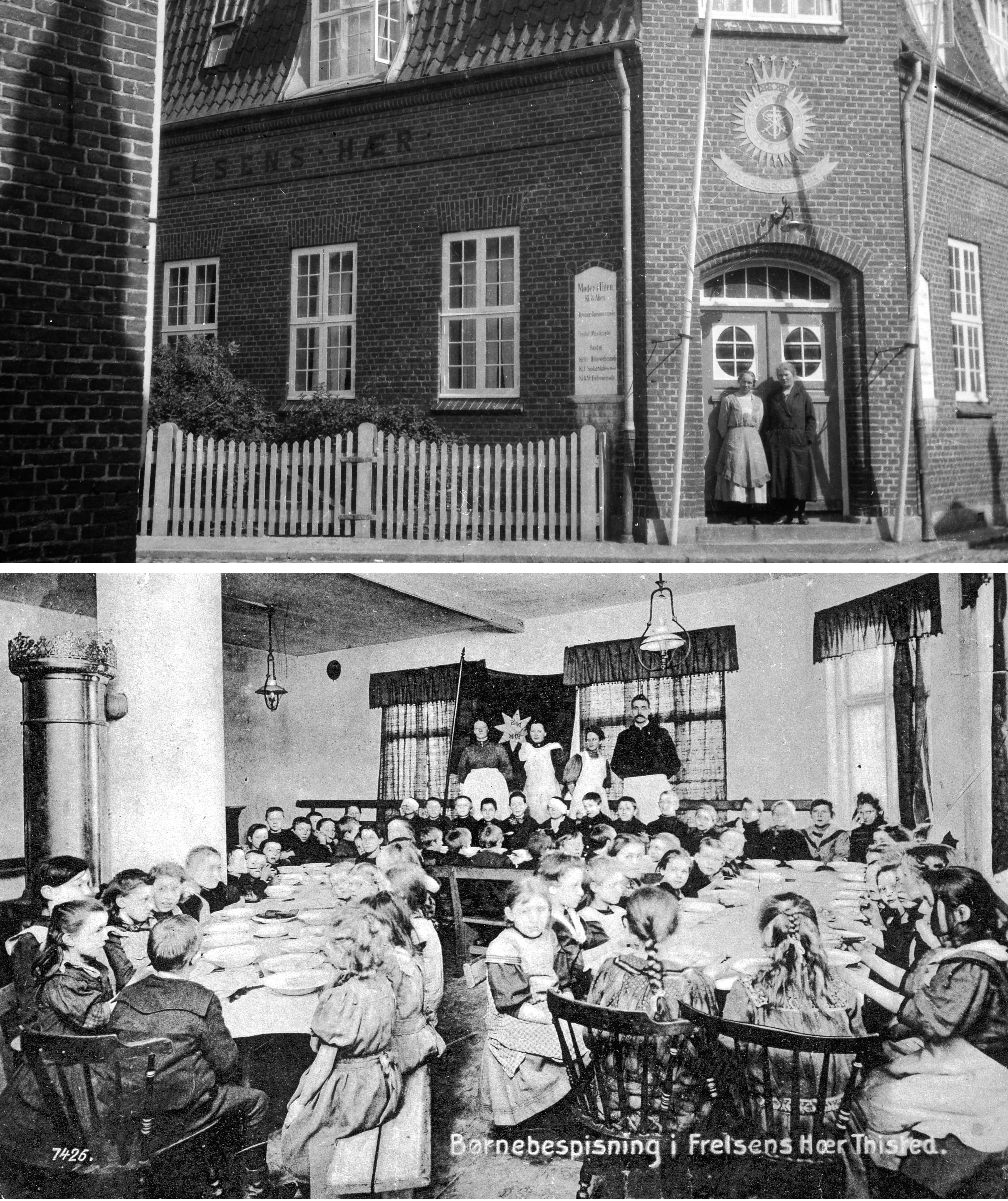 Skorstensfejer Ahlbergs hus på Strømgade forsvandt i 1913, da Frelsens Hær opførte en ret imponerende ejendom, der stadig præger gaden. Herfra har organisationen i lange perioder drevet sin virksomhed – men også udlejet den til andre formål. Blandt en af de sociale aktiviteter, som Frelsens Hær påtog sig, var børnebespisning, som det ses på det nederste billede. Mange småkårsfolk var i nød i lange og strenge vintre og den dermed følgende store arbejdsløshed. I første omgang var det Frelsens Hær i Strømgade og et særligt Velgørenhedsselskab, der tog sig af at mætte skolebørn med et dagligt varmt måltid mad. Siden trådte også Thisted Håndværkerforening til. Strømgade i den østlige ende ved svinget til Hjultorv. Syd for dette sted snor Bækken sig i haverne til blandt andet huset på højre side. Det var her skole- og højskolemanden Christen Kold blev født i 1816. Hans far, Mikkel Kold, var både skomager og avlsbruger, hvilket vil sige, at han dyrkede en mark lidt uden for byen og havde dyr opstaldet i Strømgade. Det er der flere eksempler på i kvarteret. Huset blev nedbrudt i 1934 for at give plads til scenebygningen ved Teatersalen.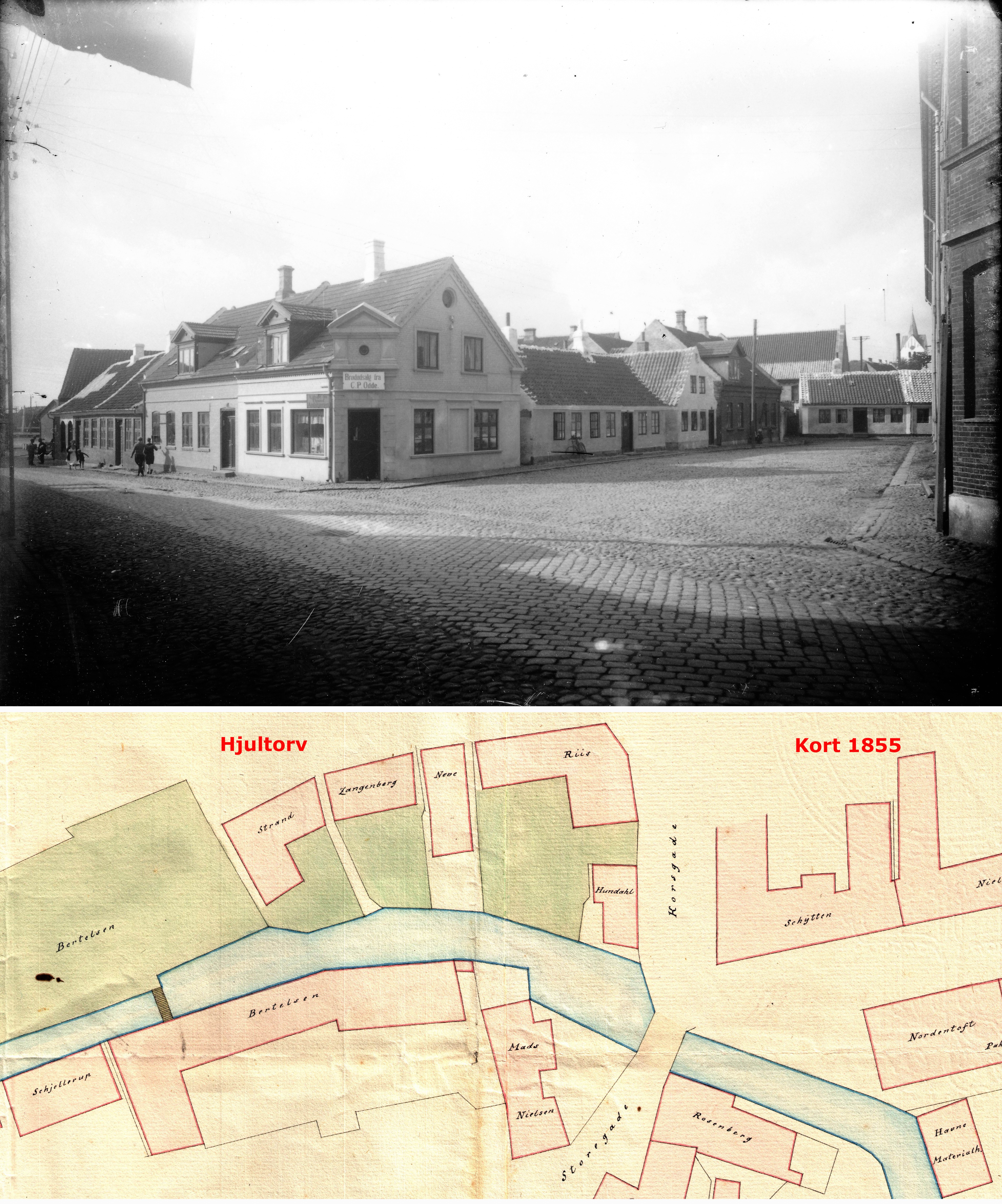 Som det fremgår af kortet fra 1855, løb Bækken gennem arealet syd for disse huse på Hjultorv. I dag er der en biograf. På hjørnet til Korsgade havde kunstdrejer Riis haft sit rokkedrejehjul hængende, hvorfra torvet fik sit navn. Det var lidt af et kunstnerkvarter engang. I Huset med den smalle lyse gavl boede kunstmaler C. Neve, der havde slået sig ned i Thisted, men det var svært at leve som kunstmaler. I 1844 måtte han søge om skattenedsættelse! I nabohuset boede fra 1833 til 1903 musikerfamilien Zangenberg.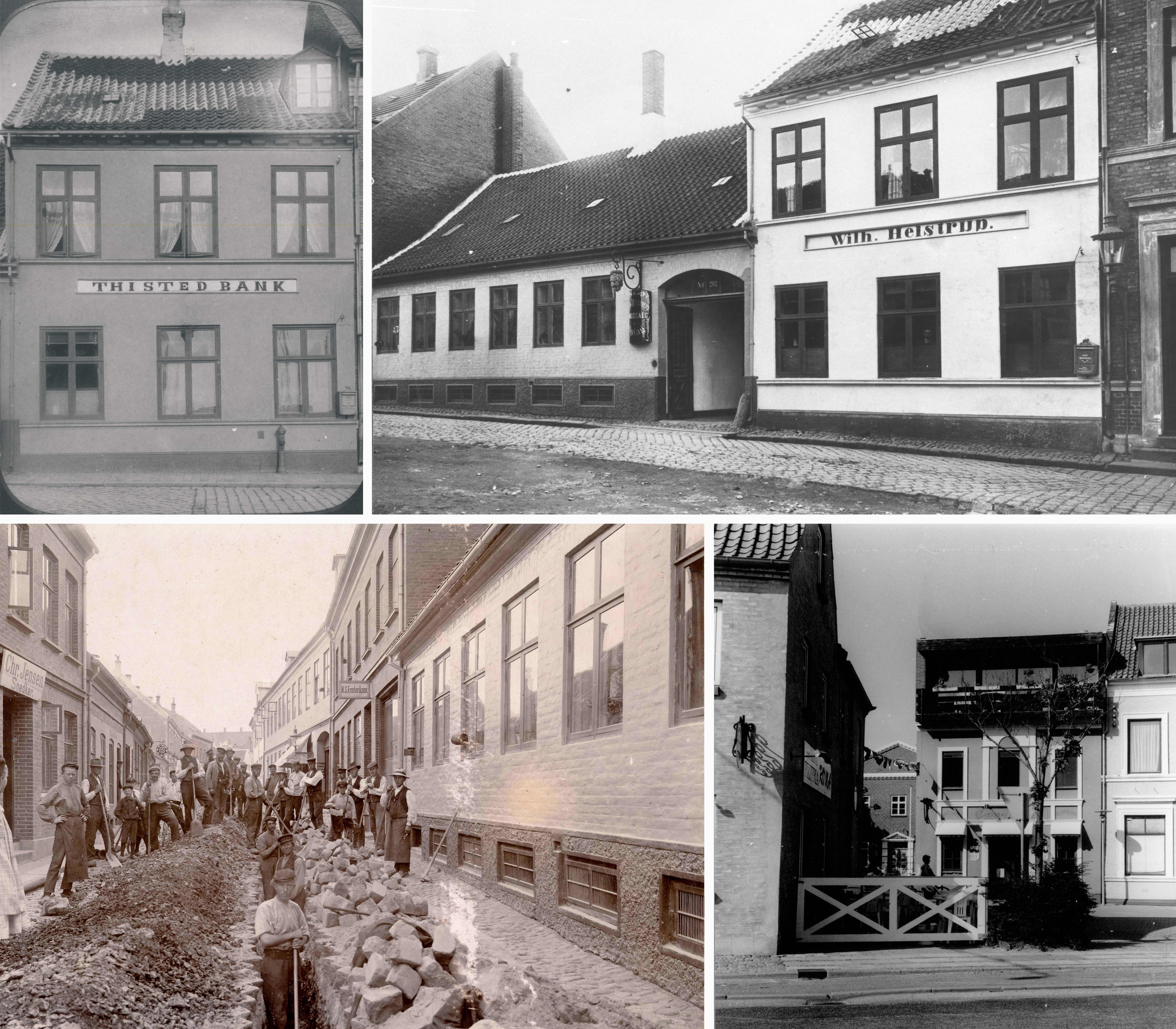 Bækken løb også gennem baghaverne bag ejendommene i den nederste nordlige del af Storegade. Her rummes i en selvstændig bygning "Låne og Diskontobaken" fra 1855 og frem til 1886, da konsul og vinhandler Vilhelm Helstrup køber ejendommen og lægger den sammen med naboejendommen matrikel nr. 202, som det angives på skiltet over porten. Vinhandler Vøhtz drev derefter vinhandel fra matriklen frem til 1915 – hvorefter Thisted Sømandshjem havde til huse dér indtil 1929, da Loge "Petrus Beyer" fik skødet. Forhuset blev nedrevet, og en helt ny bygning blev opført til brug for logen. Men bygningen, der havde huset Thisted Bank, står der endnu og fungerer som indgang til Teatersalen. På det nederste billede til venstre ser man det intakte gadeforløb op langs Storegade, før logen "åbnede" op.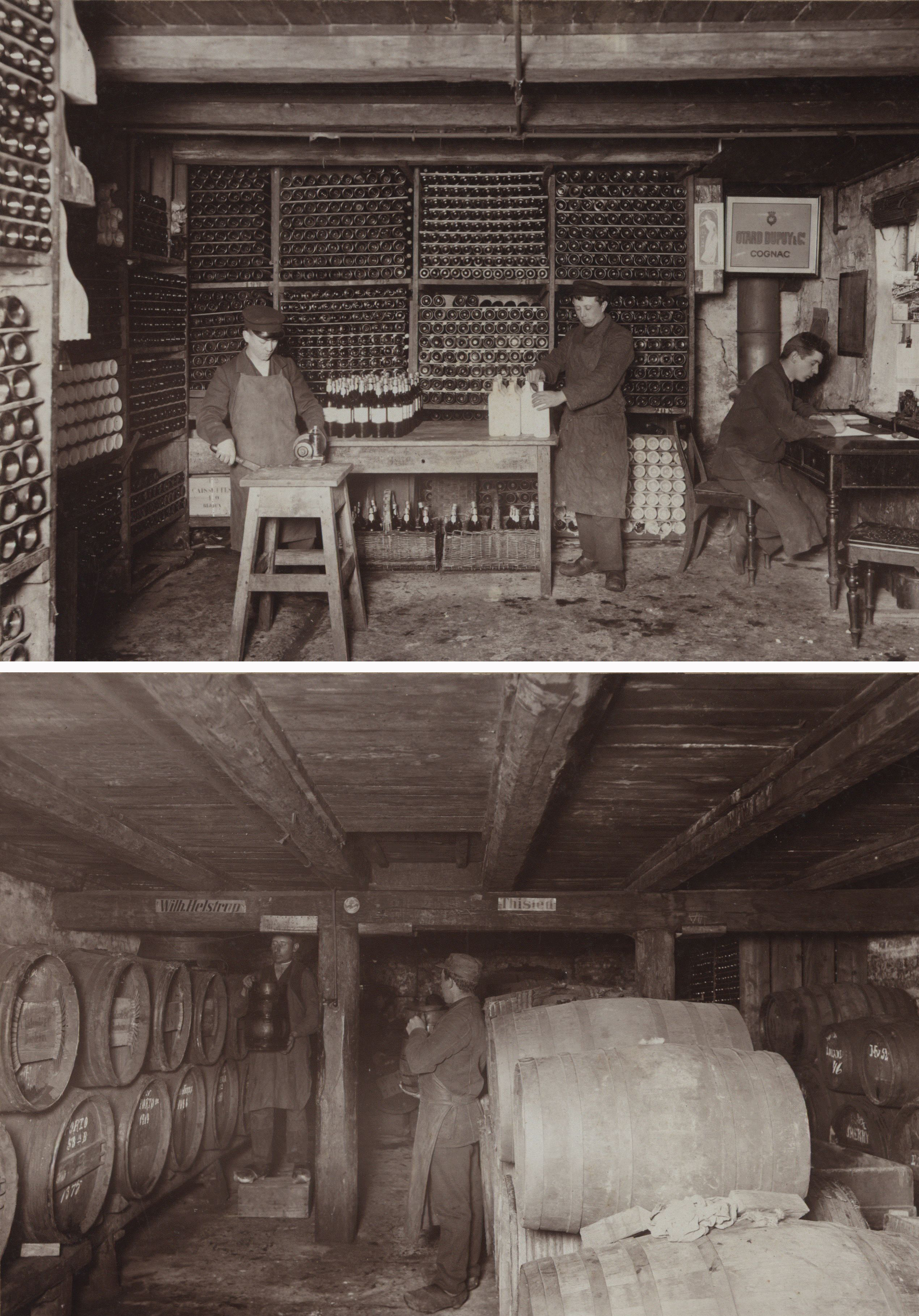 Henrik Wilhelm Helstrup begyndte som hotelkarl på Hotel Aalborg i 1868. Men allerede året efter overtager han såmænd hotellet, der var etableret fire år før af gæstgiver O. Jensen i den tidligere amtsstuegård, som blev delvis ombygget. Helstrup var en foretagsom mand, der interesserede sig for vin. I 1882 opgav Helstrup hoteldriften og koncentrerede sig alene om at handle med vin og skabte en betydelig vinhandel, der i slutningen af forrige århundrede blev Jyllands største med leverancer til vestkystens købmandsbutikker, gæstgiverier og kroer - og med oplag og udsalg i Viborg. Billederne her giver et kig ned i dagligdagen i den blomstrende virksomhed, som den tog sig ud ca. 1899. Her lagres bl.a. cognac og vine fra Bordeaux fra halvfemserne – altså atten- hundrede og halvfemserne, som man kan læse på enden af fadene.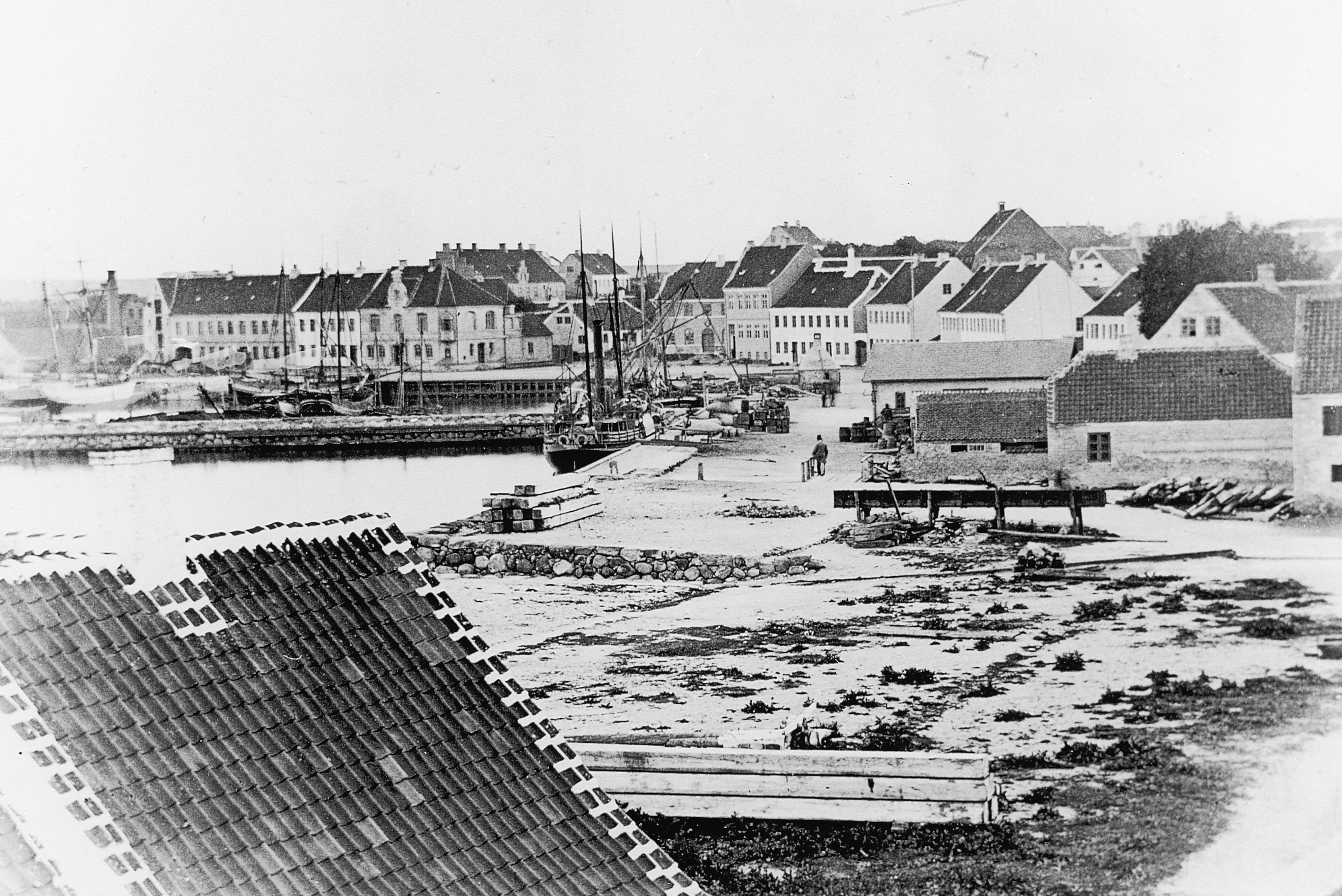 Bækken er ikke direkte synlig på dette billede fra 1874, men det er her, den har sit udløb i havnen, lige under fødderne på en herre med høj hat, der passerer over den sidste af Bækkens broer. Bækken snor sig ud langs med det gamle havnekontor fra 1855. Det lille firkantede hus bag ved vandringsmanden er kogehuset, hvor sømændene dels kunne tilberede mad, dels smelte beg (tjære). Brug af åben ild var forbudt på skibene. I baggrunden ligger præstegården med de takkede gavle og den gamle toldbod, der blev nedrevet 1884. Bagest til venstre er købmand C. Jacobsens gård. De store poppeltræer til højre står i en have foran Hotel Aalborg. Poplerne blev fældet i maj 1874.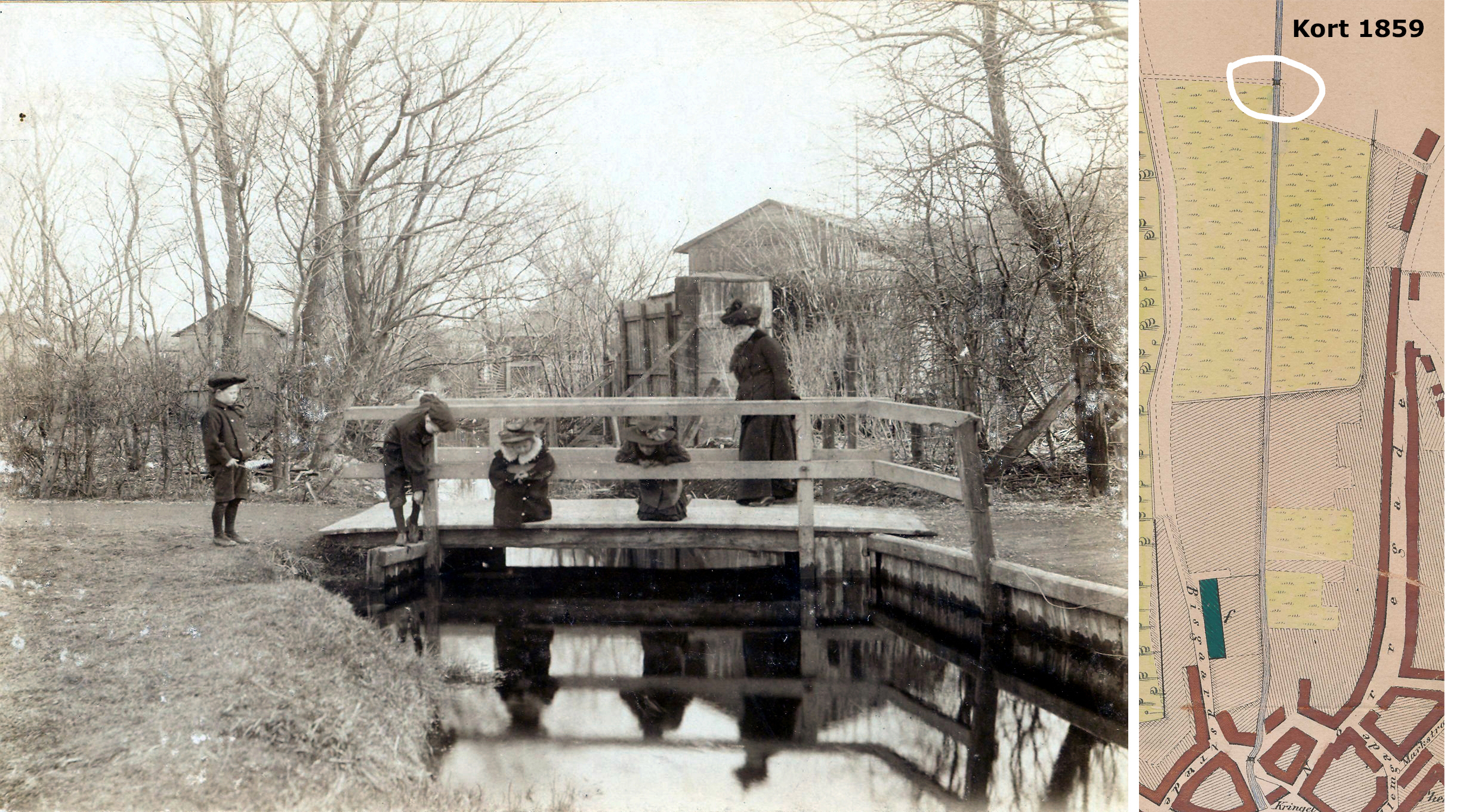 Strøm og vand til Vangsaa
Som en af de sidste bosteder i Danmark måtte beboerne i Vangsaa kæmpe en kamp for at få adgang til elektrisk strøm og rindende vand.
Danmarks Radio lavede i 1976 en lille reportage om det problem:
Vand til Vangsaa, klip 4:23 DR
Strøm til Vangsaa, klip 2:18
Hurup Skole 1809-1841
Embedsbog over Hurup Præstekald for præstens katekisation i Kirken og Skolebesøg.
Lokalhistoriker Knud Søgaard er transskriberet Hurup-præsternes nøje førrte embedsbog over tilslynet med skolerne i Hurup.
Mindefestdagen i Agger
Søndag 21. november 1993
Produceret af Steff TV-produktion for Agger Sogns Menighedsråd
Film - 59 min.
Filmen er en skildring af mindefestdagen til ære for de fiskere, redningsfolk og sømænd fra Agger - 13 i alt - der omkom under den store druknekatastrofe 21. november 1893, der kostede mange liv langs Thykysten. En begivenhed, der var med til at starte Indre Mission på egnen. I filmen er der bl.a glimt fra gudstjenesten i Agger kirke med prædiken af bla. biskop Søren Lodberg Hvas, hvis bedstefar selv var på havet i katastrofedøgnet. Ved mindefesten afsløres en skulptur af billedhuggeren Erik Heide.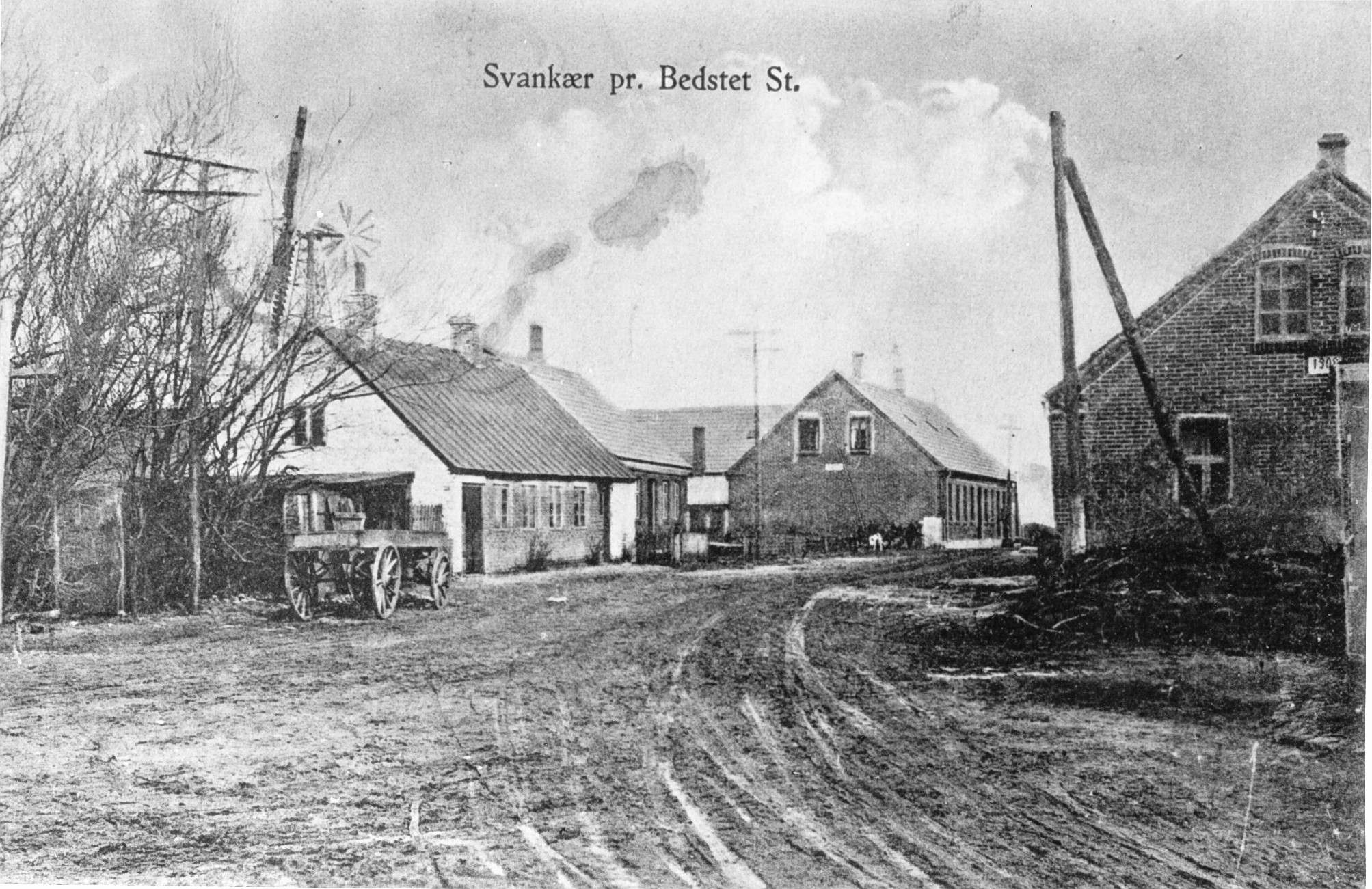 Fortalt gennem interviews med -
og artikler af indbyggere i de tre sogne
trykt i SOGNENYT i årene 1989-2021
Redigeret af Eskil Hvam Jessen
Hjardemål Sogn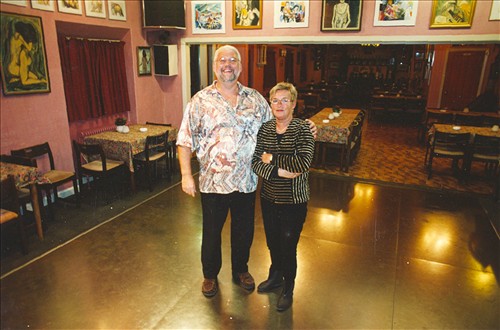 2000. Hjardemål Klit hotels værtspar, Vita og Jens Sørensen.
Fotograf: Ole Iversen
Hørdum i Billeder
Hørdum i billeder skyldes en ide af en gammel hørdumdreng, Herluf Munkholm, søn af murer Carl Munkholm og Magda, født Søndergård. De fleste billeder vil bære datoerne 29. august og den 10. oktober 2001. Grundet sin kones sygdom blev ægteparret ikke færdig med projektet. Efter aftale med Herluf har den herboende del af "Historiegruppen af 2003" fuldført affotograferingen af huse, ejendomme og gårde i Hørdum indtil Koldby byskilte.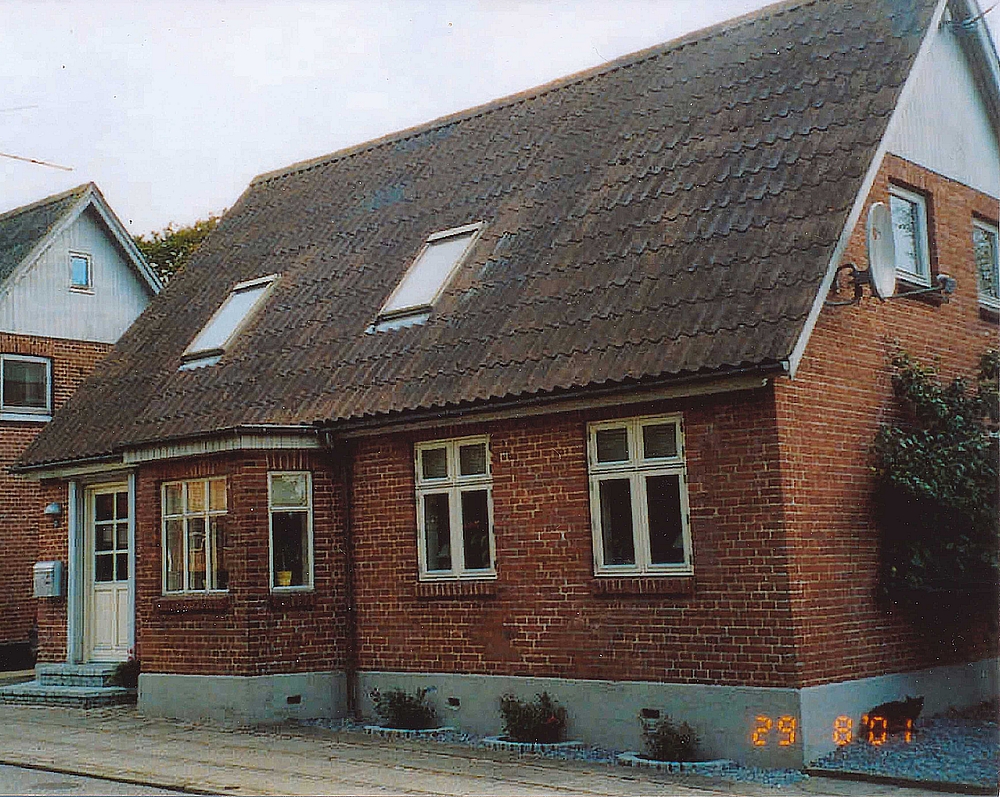 Herluf har, så langt hukommelsen rækker, noteret, hvem der har boet i husene, og gjort nogle noteringer om folk, han mindes. Vi vil så vidt muligt respektere disse optegnelser og føje til, hvad vi har i vores eget lokalarkiv. Men vi vil i forståelse med Herluf undlade enkelte nærgående notater, som så kun vil være at finde i det personlige album, som opbevares hos Jonna og Steen Munkholm, Tårnvej 14, Hørdum.
Historiegruppens kontaktperson til Herluf er en anden gammel hørdumdreng, forhenværende sadelmager i Hørdum, Carl Pedersen, Aulum.
Herluf skriver: "Dette til minde om husene med deres beboere som jeg husker det fra min barndom. Jeg er født i Hørdum på Nyhåbsvej 21 i 1931. Var der til 1947, hvor jeg kom i lære i Hassing Brugsforening indtil 1951, hvor jeg rejste til København".
Materialet her er lavet af Herluf Munkholm og hans kone. Det er kun, da hans kone bliver syg, at han får hjælp af "Historiegruppen" til de sidste billeder. De fuldførte affotograferingen af huse, ejendomme og gårde, som det kan ses i forordet.
Historiegruppen er de personer der udgav "En duft mellem hav og fjord" (1993).
Vagner Skårup, Jens Jørgen Krogh, Elna og Chr. Rohr Pedersen, Johanne Hågård, Egon Johansen og Rose Klausen.
Mona Rasmussen har bidraget med oplysninger fra 2021. Disse er tilføjet billedoplysningerne i kursiv. Mona har også været kontakten til Lokalhistorisk Arkiv og bidraget til digitaliseringen af materialet.
___________________________________________________________________________________________________
En erindring fra det allerældste Hørdum
Uddrag af en erindring af Jens Peder Pedersen, født 19.04.1856.
Maler og bosat i Hørdum fra 1885.
Forfatteren er kunstneren bag dette prospekt af Hørdum.
... Jeg blev i den tid forlovet med Kirsten Andersen og blev gift 1884 den 14. maj. Og derefter arbejdede noget for mig selv frem til 5. maj 1885, da vi flyttede til Hørdum – og begyndte som maler i Hørdum. Der var forfærdeligt dårlig med arbejde her på pladsen. Der var kun tre huse foruden stationsbygningen og vogterhus, og det var kroen og bageren og en lille købmandsforretning. Og jeg havde ingen bekendtskaber ud over de mennesker, jeg havde lært at kende hos min faster i Thy i foregående 3 år, hvor jeg da malede for maler Aalkær i Struer. Af disse, som jeg kendte bedst og som lovede mig deres støtte, var stationsforstander Madsen Nielsen Tandrup, murer Overgaard, tømrer Poul Østergaard. Men det kneb svært med at holde balance mellem indtægter og udgifter. Men jeg vidste, hvad jeg var gået ind til, da jeg blev gift, nemlig at være en forsøger for min kone og vores børn. Og det ville jeg så v idt det var mig muligt, opfylde. Jeg tog da fat på alt forefaldende arbejde, når jeg ikke havde noget at male. De første åringer var der meget sporarbejde på banen. Og når jeg ikke var på banen, så pumpede jeg vand i vandcisterne, og det var jeg ene om. Men det er noget af det værste arbejde, jeg har haft og fik kun lidt i løn. Men desuagtet blev jeg ved dermed i flere år. Det var de kontante kroner, der var så meget værd for mig. Jeg har stået og pumpet både juleaften og nytårsaften til langt ud på natten for at … (her stopper teksten pludselig)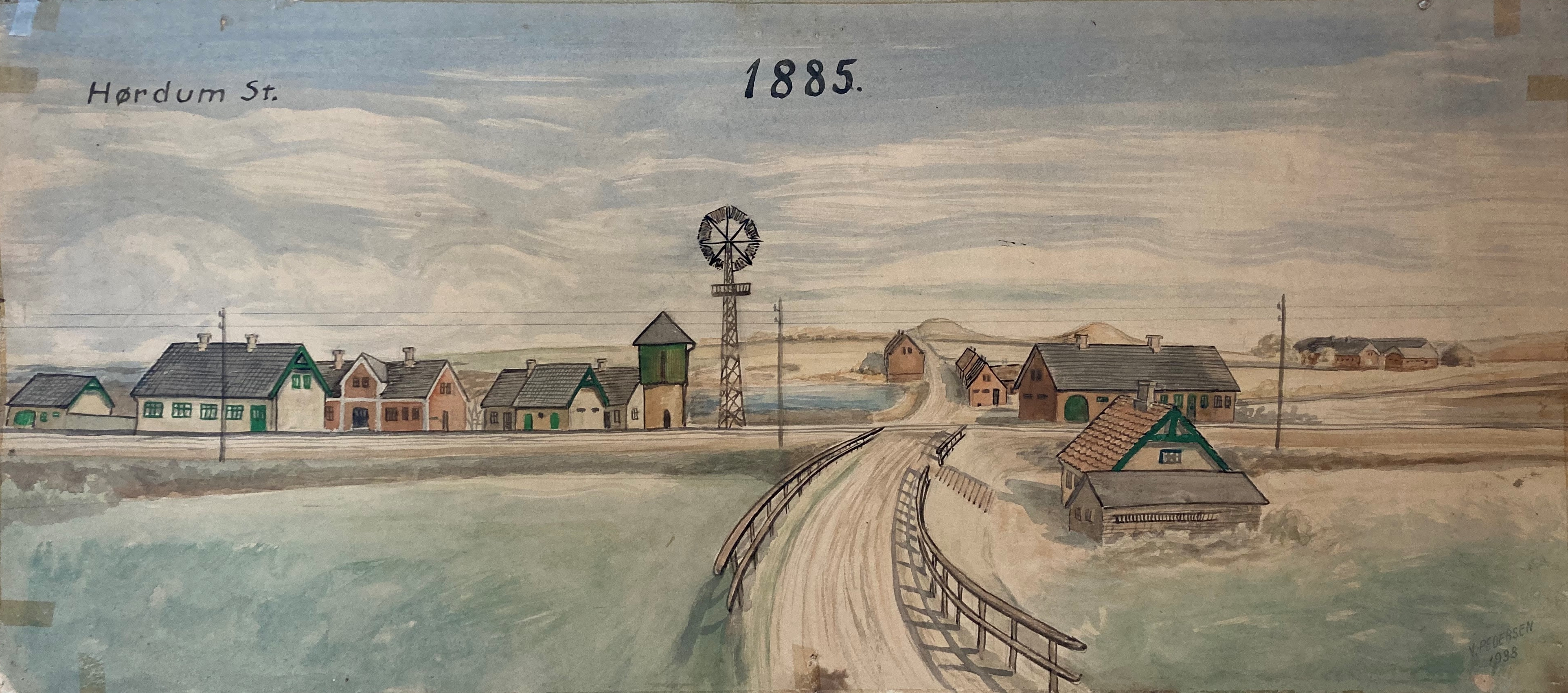 Vildsund Dyrehave ca. 1963
Danmarks Radio lavede en reportage fra dyrehaven i Vildsund. Tiden må skønnet være først i 1960erne og efter indholdet at dømme, er det en udsendelse, der er lavet til BørneTV, idet det fremhæves i speaken, at det netop er børn, der passer dyrene i haven. Filmen varer 23. min.
Thy film 1986 af fotograf Per Sowinsky


Per Sowinski arbejdede i nogle år, til starten af 70erne, som pressefotograf på Morsø Folkeblad. Han var kendt for flotte sort-hvide billeder i en af Danmarks første offesettrykte dagblade. Senere arbejdede han som freelancefotograf. De første år med udgangspunkt i Lødderup gl. præstegård. Han boede nogle år i Esbjerg inden har flyttede til Thisted. Hvor han blandt andet virkede på Lokalhistorisk Arkiv. De sidste år, Per Sowinski døde som 69-årig i 2008, boede han i Hunstrup. Han arbejdede de sidste aktive år med film, og naturfilm havde hans store interesse. Han efterlod blandt andet et stort, ufærdigt filmmateriale om Vejlerne, hvoraf dele kan ses her på sitet.
Videofilmen herunder viser et tidsbillede af Thy fra 1986
Lodbjerg Fyr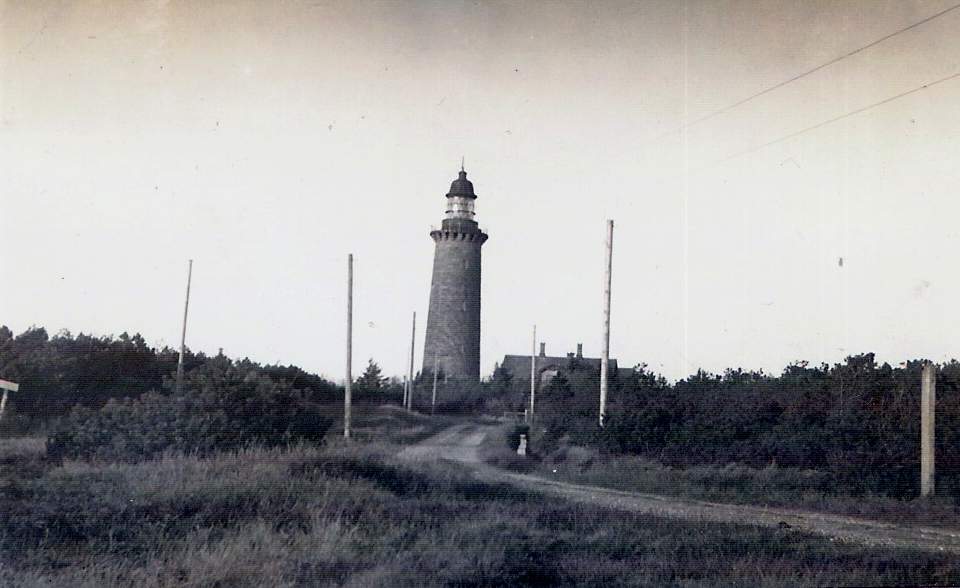 Læs en barndomserindring af skrevet Lily Ruth Arendttorp, der boede på Lodbjerg Fyr i perioden 1928-1936
Lodbjerg fyr, november 1939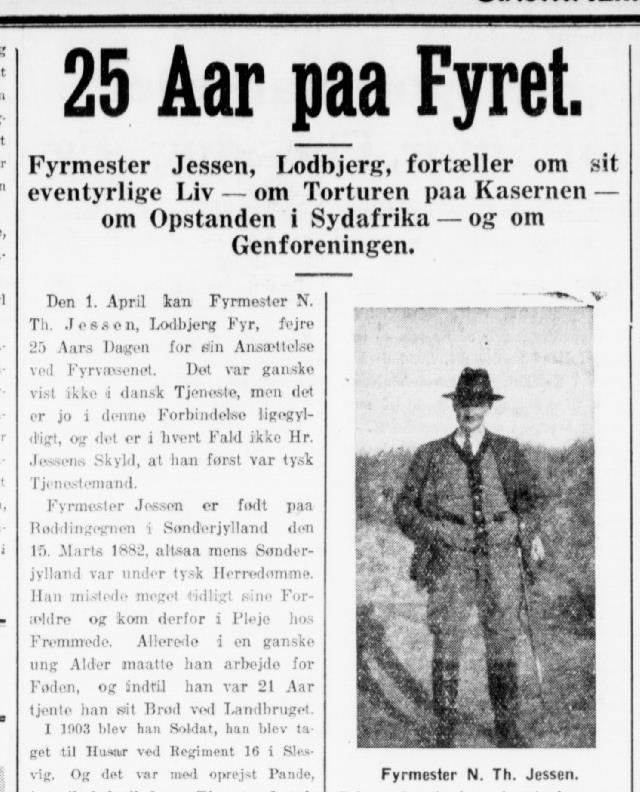 Læs om fyrmester Jessen, der inden han fejrede 25 års jubilæum ved Lodbjerg Fyr, deltog frivilligt i kampene mellem herereoerne og tyske kolonister, 1903, i det nuværende Namibia. Se artikel (Thisted Amts Tidende 23-03-1935)
Hør hvordan Lodbjerg Fyr blev repareret i 1970´erne: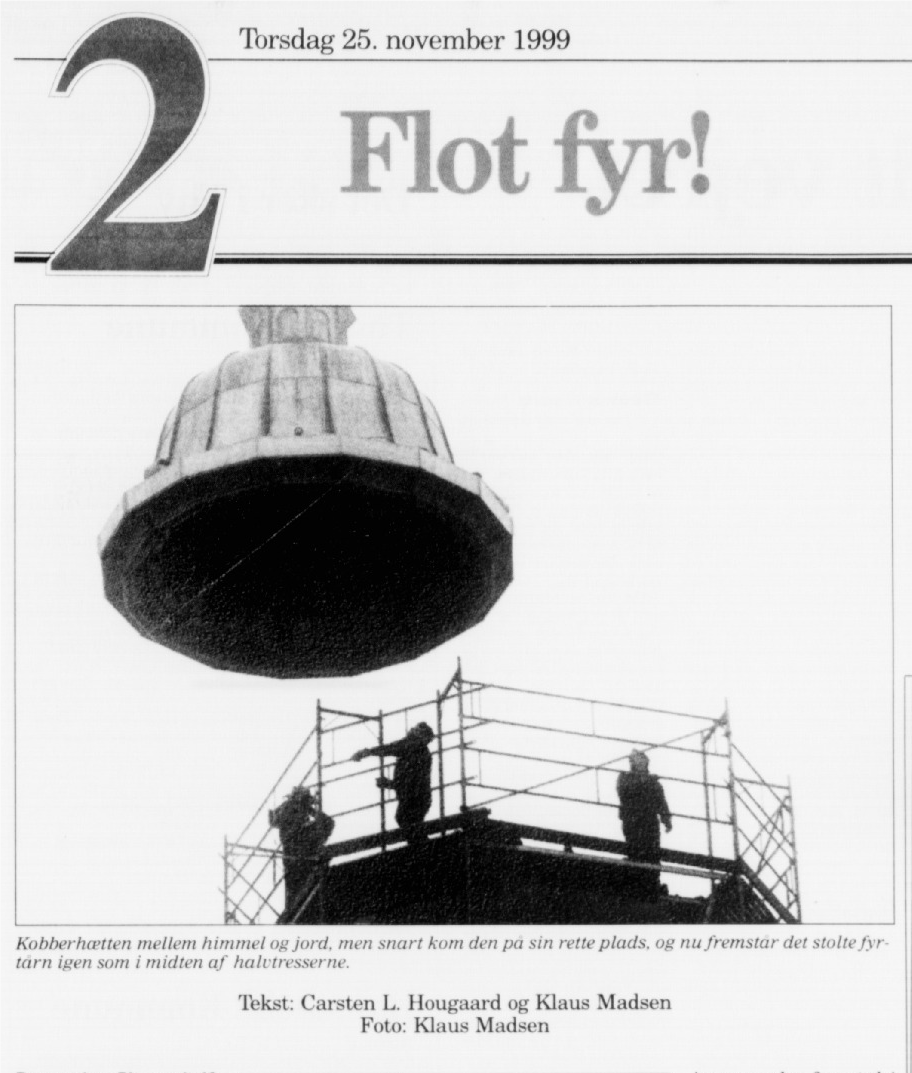 Læs om, hvordan Lodbjerg Fyr fik sat en kobberhat på (TD 25-11-1999)
Fra Sønderhaa Sogn
Gyrupgård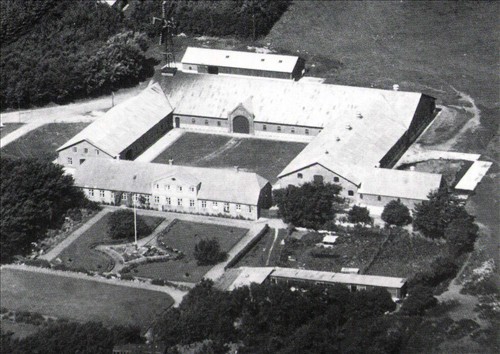 Foto af Gyrupgaard, 1954.
KILDER:
Om Gyrupgaard fra midten af 1600-tallet - ved Morten Hammer
Slægsbog udarbejdet på foranledning af gårdejer Jens Nicoloj Nicolajsen i 1954-1955 ved Dansk Slægtsforskning i Fredericia. Forfædre og efterkommere efter Jens Nicolaj Olesen (1807-1886), som var født i Sønderhå sogn, Hassing herred, Thisted. Han blev gift 1833 i Sønderhå Kirke med Karen Marie Madsdatter 91807-1875). Hun var også født i Sønderhå sogn.
Bogen kan downloades som pdf-fil her
Koustrup Møllegård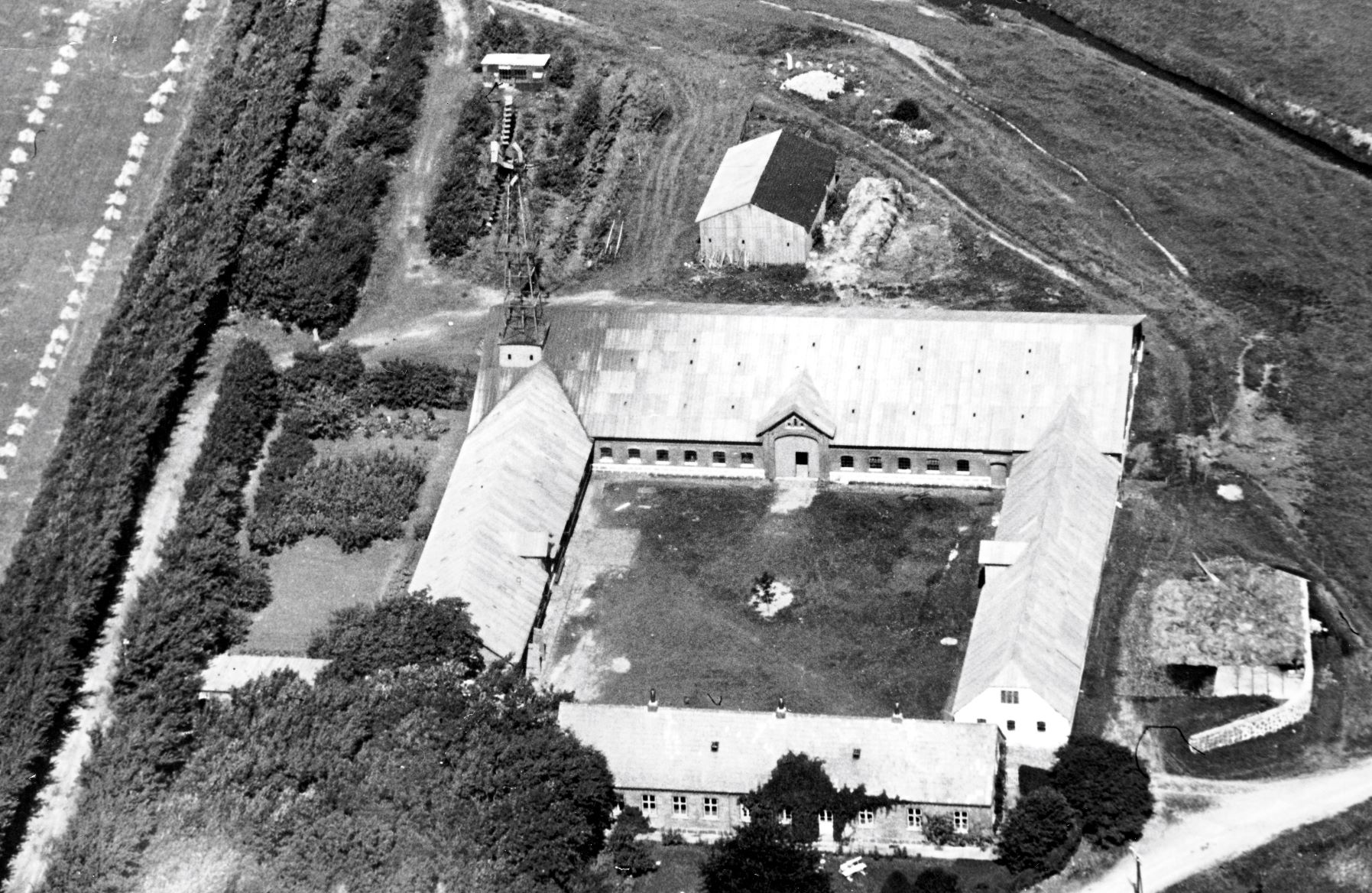 Foto af Koustrup Møllegård
Slægtsbog udarbejdet 1954-1956 af Dansk Slægtsforskning i Fredericia på foranledning af gårdejer Johannes Nicolajsen Møller (1912-1970), Koustrup Møllegård, Sønderhå, kan ses her.
Gyrupslægten
Slægtstræ, hvoraf sammenhængen mellem familier på Koustrup Møllegård og Gyrup (Sønderhå), Skibstedgård (Nors) og Sdr. Nordentoft (Næstrup) fremgår. Klik her.
Fra Kronborg Plantage til sovjetisk arbejdslejr
Et resultat af nationale modsætninger i Sovjetunionen og Hitlers offensiv mod Rusland i 1941 forskansede sig befrielsesdagene i Kronborg Plantage lidt nord for Thisted.

Episoden blev optaget på film, som kan ses herunder

I august 1944 kom et hold georgiere til Danmark, i alt 800 mand og 400 heste. Bataljonen blev formeret som en særlig "Aufklärungsabteilung" og blev flittigt anvendt til bevogtning af den østjyske længdebane mod jernbanesabotage. I besættelsens sidste dage endte en del af disse sovjetborgere i tyske uniformer i Thy.
De var en del af de 12.000- 15.000 tidligere sovjetborgere i den tyske besættelseshær, der befandt sig i Danmark i slutningen af krigen, hvortil kom et mere beskedent antal ungarere og frivillige af anden national herkomst. De i alt 25.000 krigsfrivillige udgjorde næsten 24 procent af den tyske hærs samlede styrke i Danmark på dette tidspunkt. Og deres overgivelse kom ikke til at gå stille af alle steder. Den 6. maj, dagen efter kapitulationen, fandt de første lydighedsnægtelser sted blandt de sovjetiske soldater i tysk uniform. Flere steder kom det til direkte kamphandlinger, bl.a. i Ringkøbing-området. Det var frygten for at blive sendt tilbage til Sovjet, hvor de ville blive betragtet som landsforrædere, der førte til lydighedsnægtelser. Denne problematik var jo velkendt i Danmark i disse dage, hvor man var i fuld gang med at arrestere de landsmænd, der havde iklædt sig tysk uniform.
Nægter at overgive sig
I løbet af den 6. maj blev det kendt i Thisted, at en georgisk/tysk afdeling soldater var deserteret og med fuld udrustning havde forskanset sig i Kronborg Plantage med et par danske gidsler som pant på friheden. Det var en alvorlig situation, som den lokale modstandsbevægelse næppe kunne stille meget op overfor. Langt den overvejende del af modstandsfolkene i Thy havde kun modtaget en nødtørftig instruktion i brug af våben, og georgierne var trænede soldater.
Situationen blev drøftet på møder mellem repræsentanter fra modstandsorganisationen, amtet og den tyske kommandant i Thisted, som tilbød en løsning med at sende et kompagni pålidelige tyske soldater til Kronborg for at kæmpe mod georgierne. Dette tilbud blev dog forkastet. I stedet blev overklitfoged Axel Rasmussen, Søholt, sendt til Kronborg for at forhandle med desertørerne. Axel Rasmussen havde de bedste forudsætninger for at opnå en løsning. Han var tidligere forstmand i Polen og talte sproget flydende. Og fra sin rolle som tolk for russiske soldater i tysk tjeneste havde overklitfoged Rasmussen opnået en del erfaring.
Axel Rasmussen fik fat i georgiernes leder, som Rasmussen kalder for Albert Asba. Ramussen tilbyder ham en dansk garanti for fri rejse til den dansk-tyske grænse. De kunne også få lov til at beholde deres våben. Georgierne accepterede. De havde sådan set intet alternativ. Der blev rekvireret nogle lastbiler fra Thisted Amts Vejvæsen, og de georgiske soldater blev derefter kørt til Axel Rasmussens embedsbolig ved Søholt, hvor de blev indkvarteret i laden, indtil transporten til grænsen kunne arrangeres. Enkelte fik skaffet civilt tøj og smed den tyske uniform væk, andre rev distinktionerne af. Karakteristisk for hele situationen bar nogle af de fremmede soldater både tyske og russiske dekorationer.
Sidst i maj forlod desertørerne Thy i selskab med overklitfoged Rasmussen og flere andre repræsentanter fra de lokale myndigheder og blev kørt til den dansk-tyske grænse ved Kruså.Hvad der skete her står hen i det uvisse. Tilsyneladende kommer de ikke over grænsen. Hele affæren i Kronborg Plantage blev optaget på en amatørfilm som kan ses på arkivthy.dk.
KGB-arkiverne
I årene derefter har der været spekulationer over, hvad der siden skete med Albert Asba og hans folk! Det spørgsmål kan nu besvares.
Da Georgien opnåede selvstændighed efter opløsningen af Sovjetunionen, blev der adgang til den sovjetiske efterretningstjenestes arkiver i Tiblisi. Her kan man finde kilderne til blandt andet Asbas historie. Det viser sig at han hedder Appolon Grigorjevitj Antjabadze - ifølge kaptajn Ivanov, der - som officer i kontraspionageafdelingen i "Smersj" - foretager en lang række afhøringer i efteråret 1945 af den tidligere løjtnant i den tyske hær.
Antjabadze blev født i 1925 i en lille georgisk landsby. Han er gift og far til en datter på fem år. I oktober 1940 blev han indkaldt som menig soldat i den Røde Hær. Som sådan blev han taget til fange af en tysk panservognsafdeling efter en træfning 7. juli 1941. I forhøret beretter Antjabadze om sin kummerlige tilværelse i forskellige tyske krigsfangelejre i Polen. Den hårde tilværelse som krigsfange motiverede ham til at melde sig til tysk krigstjeneste. I maj 1943 blev han sendt til Frankrig blandt andet for at bekæmpe partisaner. Den georgiske desertør stiger langsomt i graderne. Da han sammen med andre landsmænd bliver overført til tjeneste i Danmark i slutningen af 1944, havde han rang af løjtnant og stod i spidsen for et kompagni, der blev sat til at bevogte jernbanestrækninger i Østjylland mod angreb fra danske modstandsfolk. Men hvad foretog georgierne sig i Danmark?
- Under opholdet i Arden blev jeg bekendt med en dansker, som arbejdede for modstandsbevægelsen, der var en skov i nærheden og englænderne nedkastede alle mulige former for ammunition og våben, og de blev nedkastet i det område, hvor min bataljon var dislokeret, men jeg slog med overlæg først alarm i kompagniet efter at danskerne havde skaffet alt af vejen, fortalte Antjabadze under forhøret og fortsatte:
- Og det var også tilfældet den 15. marts, hvor englænderne med faldskærm nedkastede håndgranater, rifler og pistoler af forskellige kalibre, og jeg vækkede kompagniet og samlede alt det nedkastede op og overgav noget af det til den tyske enhed, men gravede resten af våbnene ned og jeg overgav dem senere til den danske modstandsbevægelse.
Under jorden
I foråret 1945 opholdt Antjabadze sig som chef for et kompagni af den frivillige legion i omegnen af Thisted, hvor de byggede forsvarsværker ved kysten.
- Den 27. marts rømmede jeg fra mit kompagni, tog flere af de yngre officerer af mit mandskab med og gik i hemmelighed bort fra tyskerne, vi trængte langt ind i landet, hvor jeg trådte i forbindelse med ledelsen af Danmarks frihedsbevægelse. Vi fik alle udleveret danske identitetspapirer, civilt tøj, og jeg indgik sammen med min gruppe frem til de tyske troppers kapitulation i den danske frihedsbevægelse og beskæftigede mig med at sprænge broer i luften o. lign., dvs. jeg kæmpede nu allerede mod tyskerne sammen med danskerne. Da så de tyske tropper overgav sig endegyldigt blev jeg sammen med de øvrige sovjetiske statsborgere den 19. august sendt fra Danmark over på de sovjetiske troppers side til lejr no. 208 og jeg opholdt mig i denne lejr ind til min arrestation i september, fortalte Antjabadze under afhøringen.
Da sagen mod Antjabadze kommer for en domstol i november 1945 erkender han sig skyldig i landsforræderi - og han idømmes 10 års frihedsberøvelse i en arbejds- og forbedringslejr.
Befrielsen af Thy 1945
Se en lille film om hvorledes der gik for sig, da Thy blev befriet for den tyske Besættelse for 75 år siden:
Ålestem ved Taabel
Herunder er et filmklip, hvor fiskerne Jens Madsen og Karl Ejner Løsgstrup "høster" 900 kg. ål i deres ruser, der stod ved Kastet Å ved stemmet nord for broen over åen.
Jens Chr. Jensen fra Vestervig står bag kameraet.
Thisted Dagblad, den 24. april 1971:
Aktivisterne dømtes for
husfredskrænkelse
Deres reaktion:
- De sang "Danmark for folket"
Tretten af de fjorten tiltalte i Hjardemaal sagen blev ved domsmandsretten i Thisted i går idømt 25 dagbøder á 20 kr. for husfredskrænkelse. Den fjortende, en 30-årig filmarbejder, der endvidere var tiltalt for vold mod en betjent idømtes 35 dagbøder á 20 kr. De ti dagbøder fik han for vold mod betjenten, fremgår det af dommens præmisser. De dømte skal betale 7.000 kr. i salæg til advokat Jørgen Jacobsen.
Dommen blev givet med én stemmes dissens. Den dissentierende ville have de tretten idømt fjorten dages hæfte og filmarbejderen 20 dages hæfte.
I en kommentar til Thisted Dagblad efter dommen sagde anklagemyndighedens repræsentant, politimester J. Bodenhoff, at der er mulighed for, at anklagemyndigheden vil anke dommen, men bestemmelse herom træffes af statsadvokaten i Aalborg.
Jacobsen lutter smil
Forsvareren, advokat Jørgen Jacobsen var lutter smil efter domsafsigelsen.
- Jeg er tilfreds med dommen. Jeg synes, det var en fortræffelig afgørelse. Jeg vil råde mine klienter til at modtage dommen, men det må de selvfølgelig afgøre, når vi får talt om afgørelsen. Jørgen Jacobsen udbad sig da også betænkningstid med hensyn til appel for at holde muligheden åben.
Ved en uformel sammenkomst efter domsafsigelsen samledes kirkebesætterne og forsvareren til en stille pilsner, og man sang
"Danmark for folket".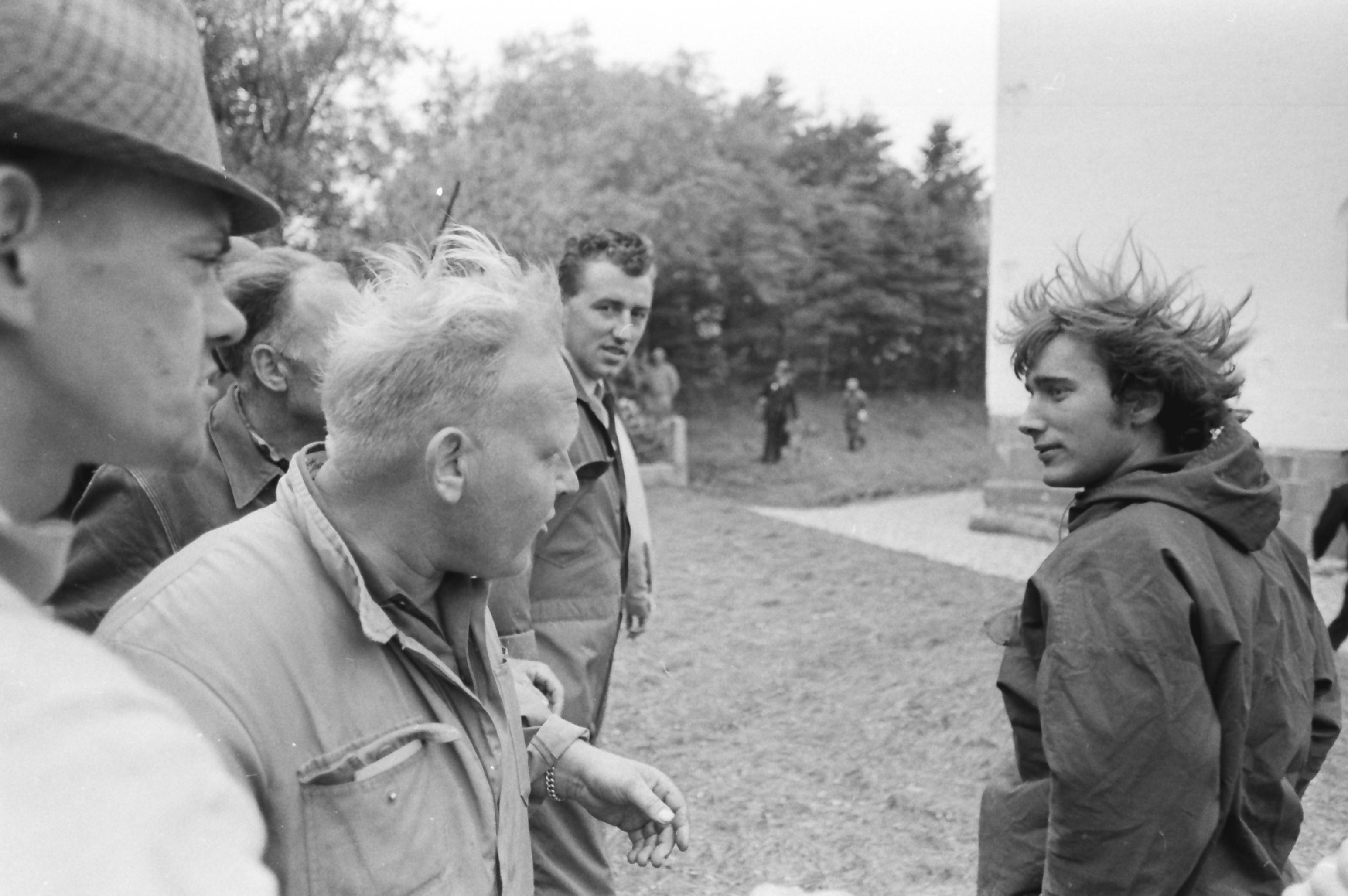 31. august 1970. Thy-lejren (Frøstrup-lejren). Generationssammenstød. Kultursammenstød. Det gamle versus det ny samfund. Der var ikke den store forståelse, da en af de unge fra Thy-lejren mødte op foran den besatte kirke i Hjardemål for at forklare sig. Budskabet var, at lejren ikke havde andel i besættelsen. Det gik ikke ind i den lokale befolkning. De var ret så afvisende i denne udlægning - kom aktivisterne da ikke fra den selvsamme lejr?
Foto: Tage Jensen
Må kunne skabe præcedens
Tre af de dømte sagde, at dommen må kunne skabe præcedens:
- Det mest glædelige og positive ved dommen er efter vor opfattelse, at vore motiver til aktionen synes at have påvirket rettens medlemmer og dermed dommens udfald. Vore motiver er altså gået forud for de juridiske aspekter. Vi tror, at der er forståelse for vor aktion. Det har vist sig i de samtaler, vi ar haft med repræsentanter for den lokale befolkning. Desværre lever vi som i båse med manglende kommunikation, og en bedre kommunikation vil kunne skabe bedre forståelse for alle parter.
Pabe + esa