Købstadsjubilæum i 1974


Initiativet til af afholde et byjubilæum i 1974 kom fra en selvbestaltet gruppe bestående af sparekassedirektør Poul Jensen, renseriejer Børge Vognstoft og turistchef Jeppe Sørensen. Efter utallige møder for at samle så mange aktive aktører som muligt kunne trioen præsentere et stort program for en byfest, der blev afholdt fra den 9. til den 11. august. 9.000 programmer blev med posten distribueret til oplandet. 4.000 programmer havde arrangørerne selv delt ud i Thisted By.
I festdagene måtte gæsterne betale en mindre entré for at komme ind på festpladserne i centrum af Thisted, der var omdannet til eet stort tivoli med underholdning af både professionelle og amatører. Man kunne byde på alt – lige fra folkedans til luftakrobatik. Også gratis morgenkaffe på Store Torv. Overskuddet fra arrangementet skulle tilfalde ungdoms- og idrætsklubber i Thisted. Og der blev faktisk et pænt overskud, viste det sig senere.
Der var tog til tiden: Et firma- og forretningsoptog med 56 vogne, et børneoptog med bl.a. dukkevogne og sæbekassebiler. De to tog udgik fra forskellige stedet i byen for senere at blive samlet foran Sparekassen. Det tredje tog – fakkeltoget - sluttede på havnen sammen med et gigantisk fyrværkeri.
Byjubilæet indskrænkede sig ikke blot til de tre festdage i Thisted. I løbet sommeren blev der afviklet et overflødighedshorn af arrangementer. Alt sammen i byjubilæets tegn.
Thisted Dagblad gik all in med to store tematiske jubilæumstillæg: Et tillæg med et overvejende historisk stof om Thisted – og et tilsvarende tillæg med artikler, der lagde op til debat om byens fremtid.
Altså fyrværkeri og optog gennem byen – på samme måde som ved jubilæet 50 år tidligere. Men dermed hører ligheden mellem de to jubilæer også op: Forsvundet var kongerøgelse og ærbødighed overfor honoratiores i høje hatte og sovsekander. Ministre og embedsmænd fra centraladministrationen var erstattet erstattet med Lille Palle og Bo Bendixsen.
__________________________________________________________________________________________________________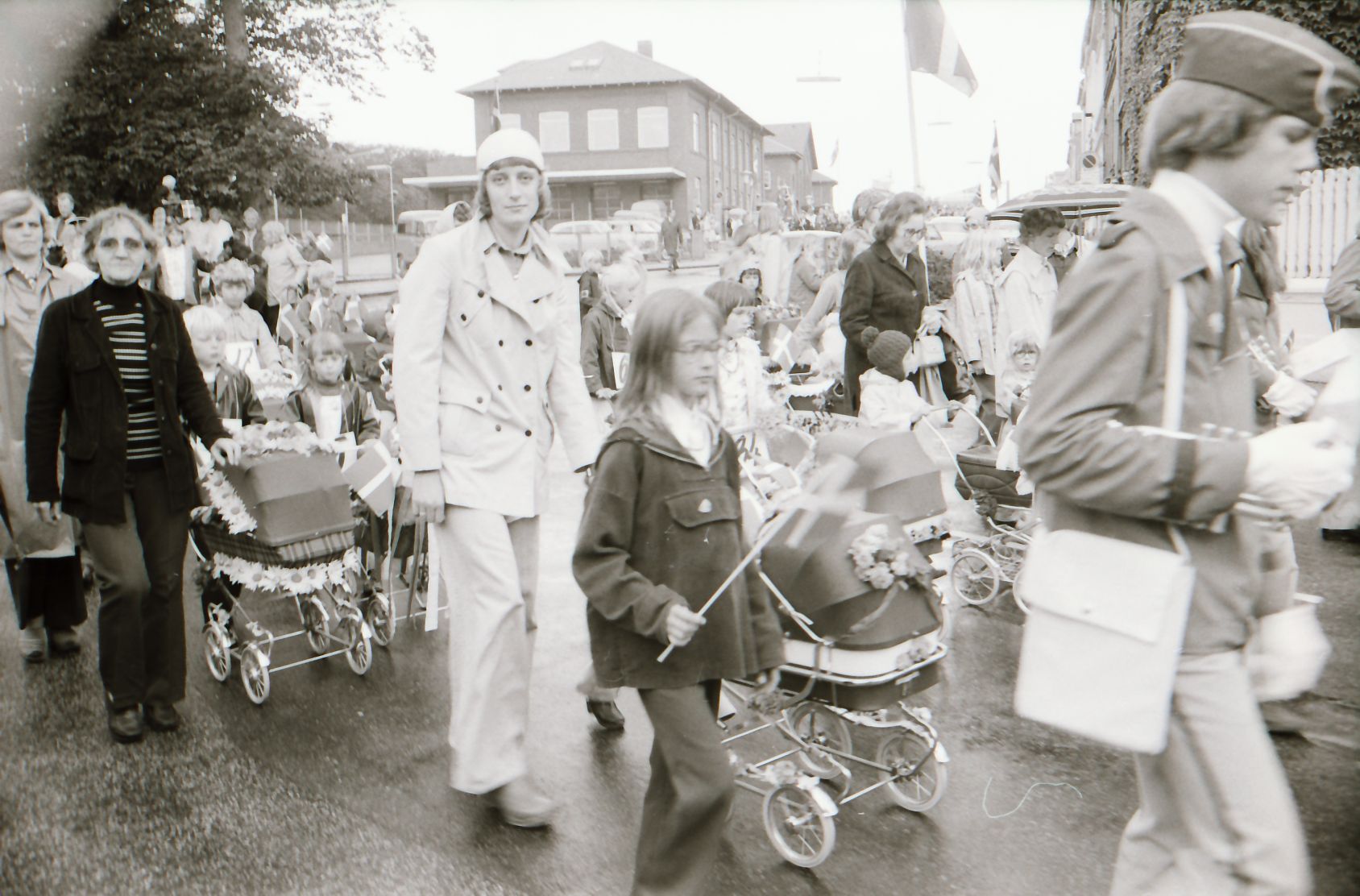 Herover: Glimt af optoget emd barnevogne, dukkevogne, sæbekassebiler m.v. på vej gennem Jernbanegade. Og herunder står byrådsmedlem
Tage Salomonsen på scenen ved fragtmandscentralen på Havnen for at kåre de bedste bidrag til børneoptoget.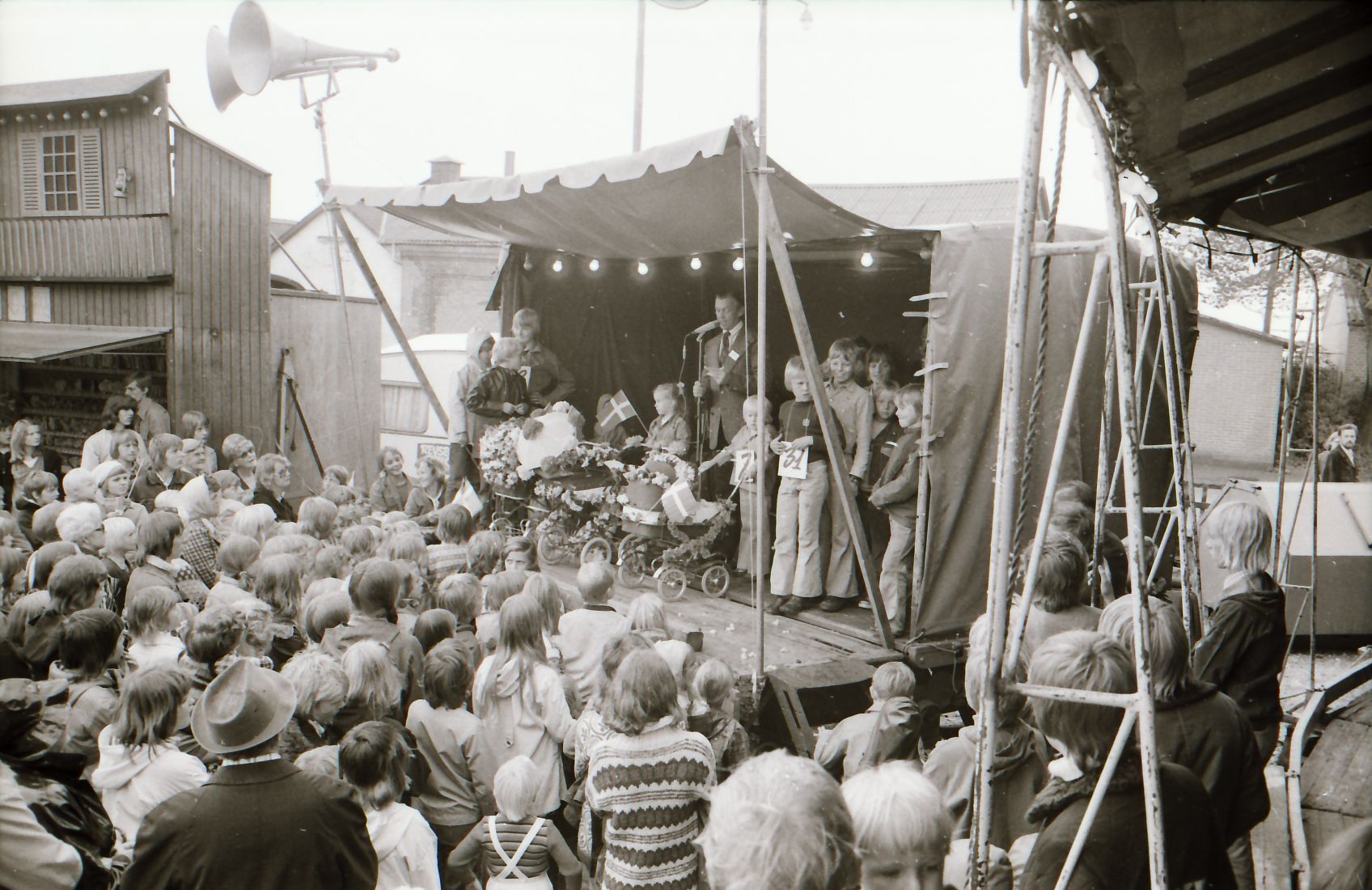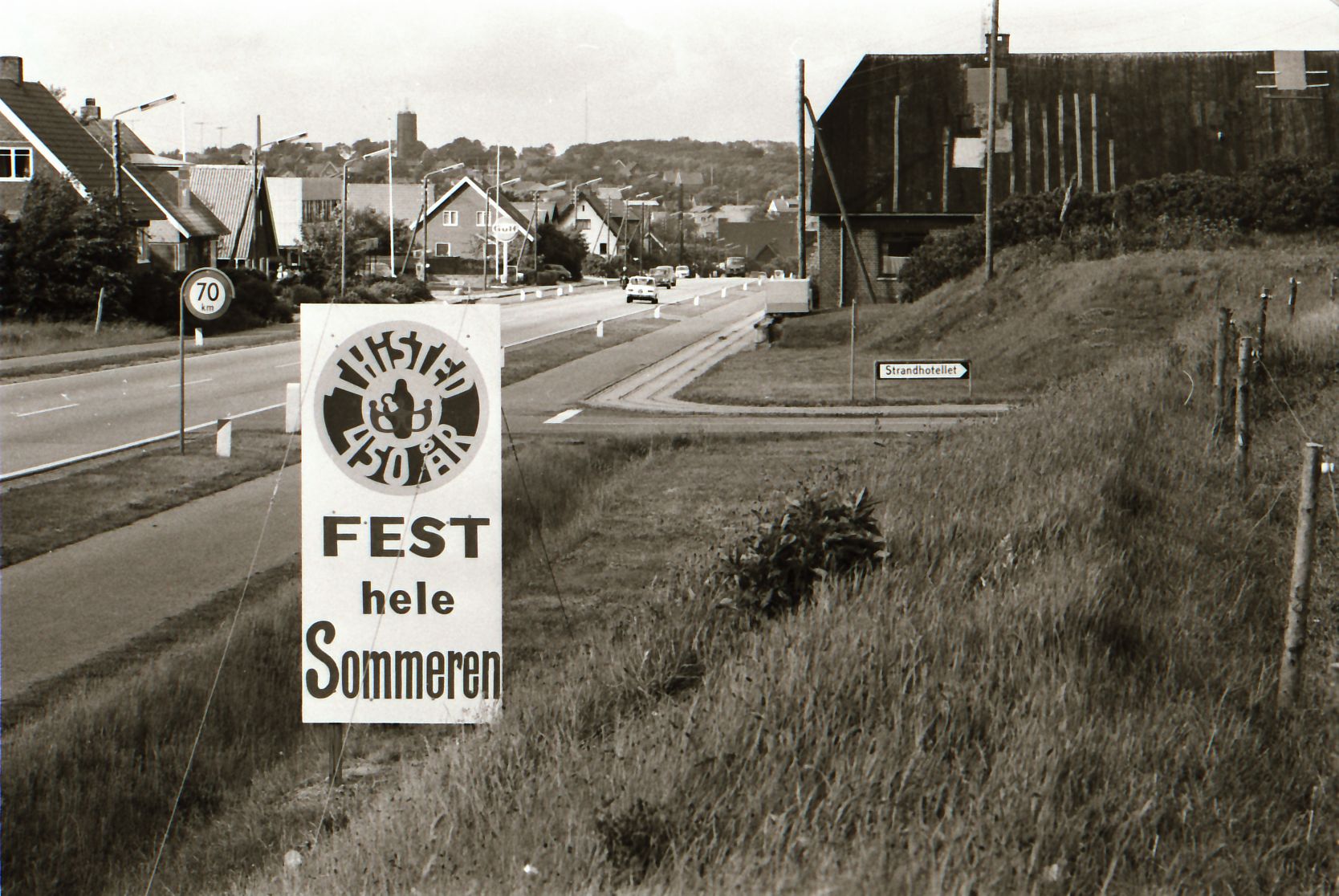 Reklame på Simons Bakke.