Dragsbæk 27. marts 1945
Af Flemming Skipper, Lokalhistorisk Arkiv
Et engelsk fly var i foråret 1945 på vingerne over Thy, og resultatet blev denne optagelse af søflyvestationen - Seefligerhorst Thisted - som tyskerne på dette tidspunkt var travlt optaget med at indrette til lejr for de mange flygtninge, der kom sydfra.
Billedet er taget fra en Mosquito fra No. 544 Squadron RAF i forbindelse med en registrering af de tyske anlæg i Thy. Samme fly havde deltaget i rekognosceringen forud for luftangrebet mod Gestapos hovedkvarter på Aarhus Universitet 31. oktober 1944.
Flyet fløj i knap 10 km højde. Det kunne ses og høres i den højde - det var jo skyfrit under disse operationer - og det kunne observeres på radar. Til gengæld var det i praksis uden for rækkevidde af luftværnsartilleriet, og tyske jagere havde også mere end svært ved at nå derop.
Det britiske rekognosceringsfoto af Dragsbæk med angivelse af dato og flyets enhed. Billedet findes i The National Collection af Aerial Photography – og i Bunkermuseum Hanstholms arkiv.
De første tyske flygtninge var kommet til Thisted 12. marts 1945. De kom med tog, sammenstuvede i kreaturvogne. De så elendige ud og gjorde et stort indtryk på alle, der overværede ankomsten. I en vogn sad en gammel mand og var død. I en anden en mor med sit døde spædbarn. Inden der var gået to måneder, var 30 flygtninge begravet på Vestre Kirkegård. Ved slutningen af oktober 1945 nåede listen over døde tyske flygtninge op på 66 navne.
Efter den tyske kapitulation i maj 1945 blev de mange flygtninge i Dragsbæk og i byen flyttet til lejre ved vestkysten. I september 1946 fik Dragsbæk status af lejr for især flygtninge fra de baltiske lande. Dragsbæklejren udviklede sig i løbet af et år til nærmest en by i byen. Et lille samfund for sig selv. Men også en lejr, der på forbavsende kort tid blev forbundet med Thy.
I september 1947 havde lejren 500 beboere, voksne og børn , mens omkring 600 andre, hovedsageligt unge kvinder og mænd, der arbejdede rundt omkring på landet, betragtede lejren som deres hjem og kom på besøg på helligdage og ved festlige lejligheder.
En af disse unge var Greta Josupiet, hvis mor døde under flugten fra Litauen til Thy. Bedstemoderen var blevet efterladt i en vejgrøft.
Vor nabo Greta Josupiet
Aksel Kristensen, Gærup, fortæller:
"Lige her ved siden af, ved enden af marken, ligger der en anden landejendom. I min barndom boede Greta og Askov Mikkelsen der. Greta hed, inden hun blev gift, Josupiet, til efternavn. Hun var krigsflygtning fra Litauen.
Greta var født 15. juni 1926 i Tatorkemen, Wischetiten sogn, Litauen. Hendes far hed Christian Josupiet og var chauffør, hendes mor hed Marie Knebufat.
Med flygtningestrømmen ved Anden Verdenskrigs slutning var Greta kommet til Dragsbæklejren, som var samlingssted for flygtninge fra øst. Flugten vestpå fra hjemlandet havde været hård og fuld af omkostninger. Gretas mor, Marie, var død undervejs. Min mor har fortalt, at bedstemoderen var blevet efterladt i vejgrøften.
Fra Dragsbæk blev Greta sendt ud på landet for at tjene som husassistent. Hun fik plads hos Svenning Mikkelsen, Gærup. Det var netop en søn af ham, som hed Askov, hun blev gift med i Stagstrup kirke den 28. maj 1948. Hun var da knap 22 år gammel, og hun og Askov kom til at bo her tæt ved.
Hvordan var da den lille landsby Gærup i 1948, da Greta som ganske ung og nygift kom til at være landhusmoder her? Gærup var ikke særlig opsigtsvækkende på nogen måde. Her var omtrent 30 landejendomme og huse. Skolen var på sin vis fikspunkt for det lokale liv; i skolestuen var der på vinteraftener kristelige møder hvor præsten kom. I Gærup var der missionsfolk, som var missionske i forskellige grader, og der var andre, som ikke havde med Indre Mission at gøre. Kirkegangen var sporadisk, de fleste skulle jo cykle. Den fyldige lokalavis blev flittigt læst; den kunne være holdt sammen med naboen. Og så blev der lukket op for Pressens Radioavis flere gange om dagen.
Man kunne forledes til at tro, at gærupboerne var noget selvtilstrækkelige, men sådan var det i grunden ikke. Der var mange arbejdsfællesskaber, nabogilder florerede, konerne gik til hånde, når andre skulle føde. Jeg husker min mor flittigt kom hos gamle folk, og at hun kunne have mad med.
Og hvordan havde Greta det mon her, langt væk fra sin egen hjemstavn? Hun var ikke pylret. På en måde ragede hun lidt op. Det rigsdanske sprog talte hun lige så godt som de lokale, for de brugte jo til daglig deres dialekt og sjældnere det rigsdanske. Hun var meget arbejdsom og energisk. Det var en egenskab, der blev set på dengang. I de tider var der ikke så mange mænd, der hjalp til inde i huset. Men hvis Greta en dag havde hjulpet Askov ude ved landbruget, sagde hun til ham efter aftensmaden: "Nå, Askov, nu skal vi til at vaske op!"
I foråret 1954 arbejdede jeg efter skoletid hos Greta og Askov. Når jeg havde gået en tid efter hestene i marken med harven eller tromlen, kom Askov og hentede mig ind til eftermiddagskaffe hos Greta. Jeg kom også ind til aftensmad, når hestene var sat på stald ved fyraften.
I 1954 havde Greta og Askov to små drenge. Der må have været meget at se til for hende med børn, hus og meget udearbejde. Hun tog somme tider rutebilen til Thisted for at besøge landsmænd i den tidligere Dragsbæklejr, der nu var blevet til alderdomshjem; det må have været dejligt at få lejlighed til at bruge modersmålet her. Greta gik flittig i kirke i Stagstrup. Så havde hun den største af drengene ved hånden. Det var vistnok et konfliktpunkt, at Askov ikke ville med.
Greta havde en tæt forbindelse til præstens kone, Magda Krarup. Hun var da også hvert år med til Gretas fødselsdag den 15. juni, Valdemarsdag. Den dag var der fra bageren leveret flødeskumslagkage, og nabokonerne var inviteret til eftermiddagskaffe. Det var lidt særligt med bagerbrød.
Traumer fra krigen og flugten plagede hende naturligvis. Når hun talte med min mor, brød hun tit sammen, når de forfærdelige hændelser fra flugten trængte sig på. Nu går russerne og tramper på vore grave, kunne hun sige.
Et stykke tid efter at jeg var blevet konfirmeret, flyttede Greta og Askov Mikkelsen med deres to drenge. Med de mange alvorlige ting Greta havde i bagagen, er det tankevækkende, at hun klarede hverdagen her så godt, som hun gjorde. Det har givet respekt. Sådan som jeg husker det, var hun nogenlunde faldet "i hak" med omgivelserne. Hun var blevet integreret, som man siger nu om dage," slutter Aksel Kristensen sin beretning om en af de mange flygtningeskæbner i Thy.
På Kronens Hede
Under krigen havde tyskerne en stor pejlestation kaldet "Tanne" på Kronens Hede i Vang.
Den blev efter krigen lejr for 300 tyske flygtninge. Thisted Politi havde ansvaret for lejren og ansatte to vagtledere og tre vagthold på hver seks mand. Den ene vagtleder var den 21-årige Hugo Krogsgaard fra Koldby. Han havde erfaring som CB´er (civil beskyttelsen) og fra det kommunale vagtværn. Han fortalte efter krigen i et interview i den lokale avis, at de havde 12 timers vagter om aftenen og natten, men fik lov at sove i fire timer. Det betød, at de så kunne passe deres arbejde om dagen: " Vi var jo unge dengang og tænkte, at vi kunne sove, når vi blev gamle".
Lejren på Kronens Hede bestod af seks bygninger, hvor de 300 flygtninge var indkvarteret i de fire beboelsesbarakker. Lejren og alle dens bygninger og faciliteter er for længst forsvundet, men enkelte fundamenter kan stadig ses i området. Naturen fortsatte, hvor historien slap …(Foto: Poul Sasser Jensen, 2020)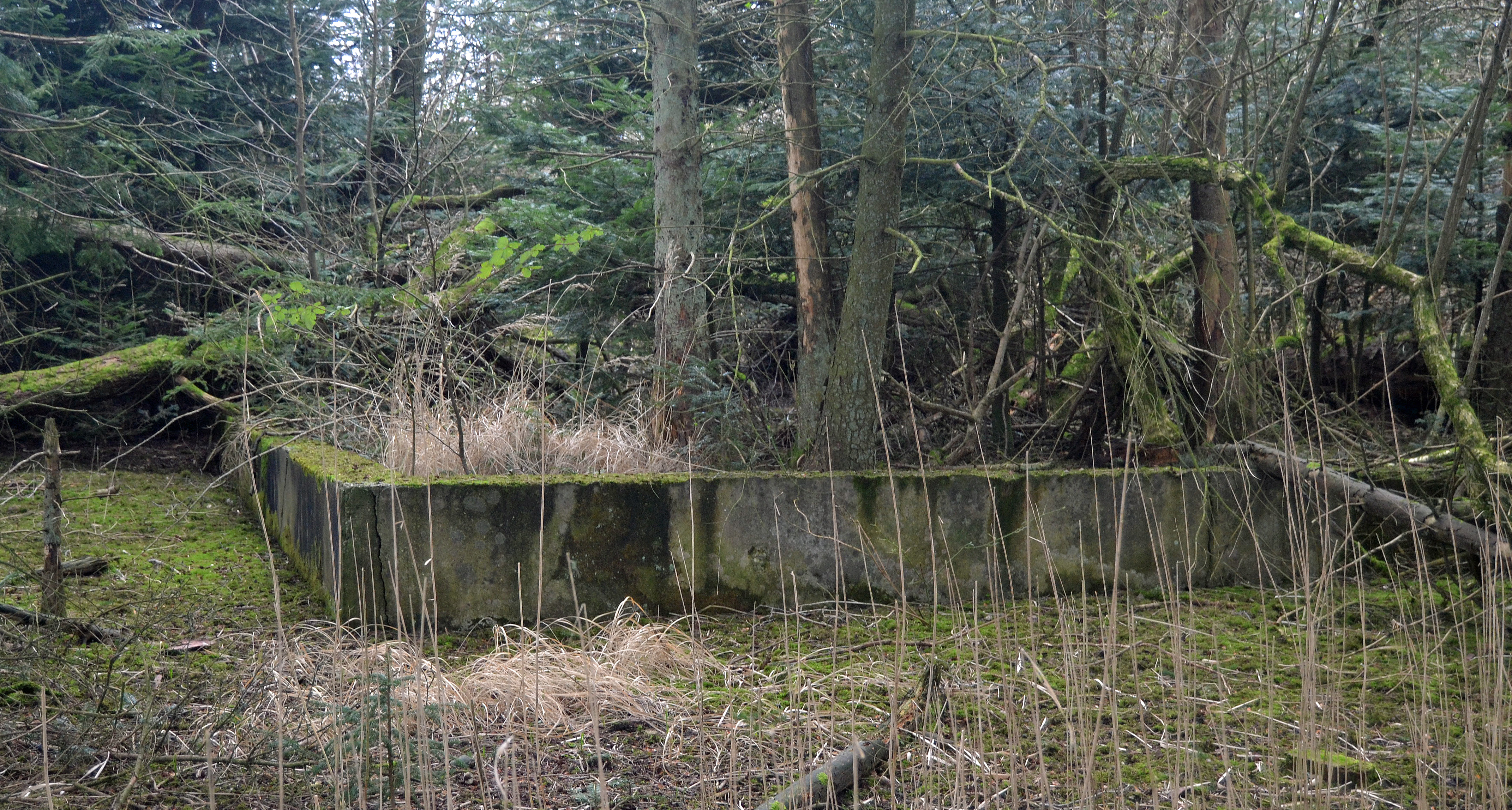 Snavsede og i dårligt tøj


"Jeg er født i 1939, og det var formentlig i foråret 1945, at jeg på tæt hold oplevede de tyske flygtninge, der var nået frem til Thy. De skulle transporteres fra Thisted ud til flygtningelejren, der var blevet indrettet i de gamle tyske barakker på Kronens Hede. Min far skulle sørge for at organisere rutebiler, der skulle stå for transporten, og min storebror Mogens og jeg fik lov til at køre med nogle gange. Hvorfor vi skulle med, ved jeg egentlig ikke, men vores far har måske tænkt, at et par forkælede knægte som os havde godt af at få et lille indtryk af Befrielsens mørke sider. Det var sølle mennesker, husker jeg, snavsede og i dårligt tøj".

Jørgen Vestergaard, filminstruktør, Sennels.