Glæde og Lild
Om kystredningsvæsenet
Om Redningsstationen i Lildstrand 1852-1975. To film á 20 og 25 min.s varighed.


Egon Vendelboes erindringer - og sognehistorie om Glæde og Lild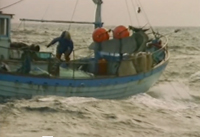 Film om fiskeriet fra Lildstrand i 1981
I to timelange film baseret på filmoptagelser foretaget af Nordsømuseet kommenterer fiskerne Tage G. Nielsen og Bjarne Holmgaard fiskerlivet på Lildstrand omkrign 1981.
Film fra Lildstrand
En byhistorisk vandring i Lildstrand - anno 2019 - ved Christen Axelsson og Ellen Margrethe Thomsen.
Christen Axelsson har interviewet 5 ældre fiskere fra Lildstrand. Det er der kommet to små film ud af.
Filmene kan ses her: