Skalpejagten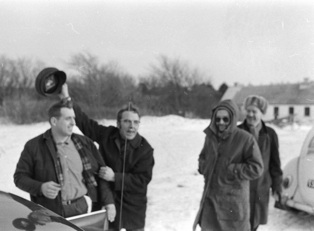 John Lennon og Yoko Ono var ikke nem at komme i kontakt med for pressefotografer og reportere, der flokkedes omkring ejendommen i Vust. Men Aage Rosendal fra Verdensuniversitetet i Skyum dukkede altid op. Her med bemærkningen: "Det var et billede, I ville ha`´ - her er ét!"
The Beatles ændrede musikhistorien. Med deres hårlængde vakte de opsigt blandt unge og forargelse i forældre-generationen. Det kan være svært at forstå i dag - dét med håret. For det var jo nærmest et pænt pandehår. Men der var ikke fedt i håret. Og det var opsigtsvækkende på et tidspunkt, hvor en tube Brylcreme var med i den potente udrustning hos enhver ung mand! Det lange hår blev et symbol ligesom blomsten, da hippierne - blomsterbørnene - dukkede op i 1960´erne. "Make love, not war". Vietnam-krigen var et symbol for det onde. Og det lange hår en opposition til de karseklædte amerikanske soldater.
I Danmark kom hårets længde hos en ung mand også til at skrive historie. Hans navn var Amdi Petersen, grundlægger m.m. af Tvind-imperiet. Han var i 1965 lærer på en skole ved Odense. Da han søgte om fastansættelse, blev det et nej. Skolekommissionens formand, en malermester, motiverede afslaget: "Vi kan ikke tolerere en lærer, der er langhåret og fuldskægget. Man forventer da, at en lærer ligner almindelige mennesker".
Thy og Han Herred kunne også være med, når det gjaldt hår og skæg. Og blå briller kunne man tilføje. For der var (næsten) ikke det middel eller den metode, der ikke blev taget i brug for at få et billede af John Lennon & Yoko Ono (og hendes datter Kyoko), da det rygtedes, at de havde haft besøg af frisøren. Hvad man blev vidne til, var det nærmeste, man på disse kanter er kommet en regulær skalpejagt.
Berlingske Tidende berettede torsdag 22. januar 1970:
"Jagten på kejserens skæg er gået ind. Over 100 pressefolk - især fotografer - fra Danmark, Tyskland og England har i de sidste 24 timer belejret den lille gård i Vust i Hanherred, hvor de nyklippede Lennon´er holder til, men ingen af dem har fået så meget som en lok.
I går eftermiddags måtte familien Lennons trofaste beskytter Anthony Cox tilkalde politiassistance fra Fjerritslev for at få fotograferne på afstand fra gården. Tidligt i går morges forsøgte en ihærdig fotograf at nærme sig gården, men han blev gennet væk af Cox, som meget bestemt forsvarede gården – kun iført underbenklæder", skrev den københavnske avis.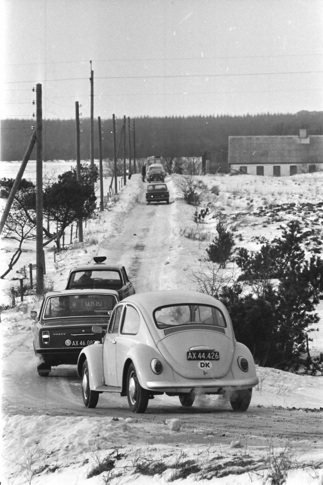 Den lille landejendom i Vust var udsat for en regulær belejring i slutningen af januar 1970, da det rygtedes, at John Lennon havde ladet det lange hår falde. Klipningen gav genlyd i verdenspressen. Lennon var en af igangsætterne af den såkaldte hippiebevægelse, hvis symbol var det lange hår. Han opgav hippie-attituderne og blev politisk aktivist. Ifølge oplysninger i aviserne i januar-dagene 1970 var der omkring 100 pressefolk fra flere lande i Thy og Hanherred for at dække begivenheden.Det må have været en kold omgang for Cox: Danmark lå kappet ind af den strengeste isvinter i mands minde.
Berlingske Tidende fortsatte:
"En anden fotograf forsøgte sig forklædt som postbud med anbefalet brev til Lennon. Hans nødtørftige forklædning blev straks gennemskuet. To fotografer havde lejet en mejetærsker og kørte ind på gården under påskud af at ville bede om mekanisk assistance. Men Cox vidste nok om landbrug til at vide, at de var for tidligt ude.
John Lennon er selv kede af det skete.
"Det var netop for at undgå publicity, at vi lod os klippe", sagde han i går. "Men vi altså forregnet os", slutter avisen.
Rygter på egnen ville vide, at Lennon & Co. senere agtede at vise sig offentligt, således at de kunne fotograferes "forfra, bagfra, fra siden og i farver", som det hed. Så kunne freden måske genoprettes, som det var tilfældet efter det første pressemøde i Skyum Bjerge.
Nye billeder af Lennons nye look skulle ikke i kastes i gram for en tilfældig fotograf. Måske var det hele ikke så uskyldigt, som det kan tage sig ud. Måske var frisørbesøget led i det projekt – kald det kunstværk – som de to verdensberømtheder allerede havde gjort deres liv og færden til. I en god sags tjeneste: Fredens sag!
Under alle omstændigheder dukkede det officielle billede af de nyklippede hurtigt op og kan i dag ses i bøger og opslagsværker og ikke mindst på nettet, hvor Lennon og Yoko Ono lever i bedste velgående.
I øvrigt var det en kvindelig frisør fra Aalborg, der var blevet kaldt til Vust, skulle det senere vise sig. Klipperiet fandt sted i laden til landejendommen. Frisøren fik ikke lov til at feje berømthedernes hår op. Det blev – efter ordre – samlet i en plasticpose.
"Lokkerne kunne utvivlsomt have indbragt frisøren en mindre formue, hvis de var blevet solgt i totter til Beatles-fans", noterede Thisted Dagblad.
Det lange hår, som Lennon selv samlede i en papirspose, blev et par uger efter byttet for et par af Muhammed Alis blodplettede boksershorts og siden solgt på en auktion til fordel for en engelsk Black Power organisation.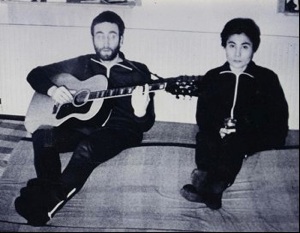 Der blev af pressefolkene foran ejendommen i Vust udvist stor opfindsomhed for at få et billede den klippede Lennon-familie. Men den mest opfindsomme var en lokal fotograf, Jørgen Kjær. Han ventede til de øvrige fotografer havde forladt Vust i baghjulet af den bil, der skulle fragte negativerne til de officielle billeder til Aalborg Lufthavn og derfra videre til København for at blive fremkaldt og solgt til højestbydende. Overskuddet skulle gå til fredscentret i Kettrup. Fotoet, hvor John og Yoko sidder på en sofa og spiller guitar, blev fremkaldt på - og bragt i - Fjerritslev Avis.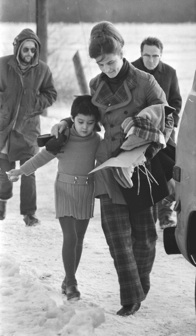 Dette var det tætteste, pressefotograferne kom på Lennon-familien i Vust. Et billede af den nyklippede Kyoko. . .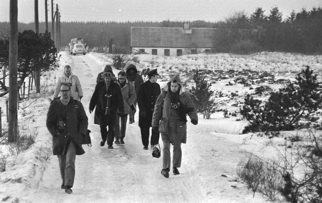 Vinteren 1969-1970 var streng, og pressefotograferne kom på lidt af en prøve på de glatte veje. Her bliver de – i ro og orden – eskorteret væk fra ejendommen i Vust af den tilkaldte Fjerritslev-betjent.