Konspirationsteorien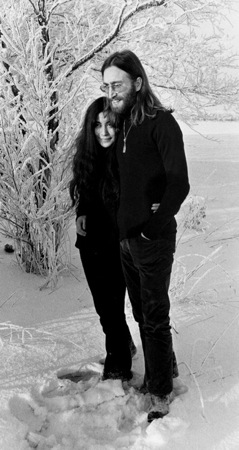 Efter mødet med avantgardekunstneren Yoko Ono sprang John Lennon ud som krigsmodstander og fredsaktivist. Han fastholdt dog selv, at han først og fremmest var kunstner.Da John Lennon fandt Yoko Ono, fandt han resten af sin stemme. Sådan er det formuleret af en af de mange forskere, der over hele verden beskæftiger sig med fænomenet Lennon & Ono.
Sandt er det, at John Lennon efter mødet med avantgardekunstneren Yoko Ono bosatte sig i New York og sprang ud som krigsmodstander og fredsaktivist. Han fastholdt dog selv, at han først og fremmest var kunstner og med enkle budskaber som "All we saying/Is give peace a chance" og "War is over" fik John Lennon så stor en gennemslagskraft, at han under Vietnam-krigen blev opfattet som en trussel mod den siddende præsident Richard Nixon. Både FBI og CIA havde mapper på John Lennon med overskriften "Sikkerhed. Revolutionære aktiviteter". De store folkemængder, som Lennons musik og enkle budskaber kunne mobilisere, blev efterhånden nærmest et vågent mareridt for den paranoide præsident med det store militær apparat og den tvivlsomme succes på slagmarken. Han vendte sig derfor - sammen med den magtfulde John Edgar Hoover, chefen for det amerikanske forbundspoliti FBI - mod borgerrettigheds- og fredsbevægelserne. De var en trussel en trussel mod den sociale orden. Efter at have gjort tjeneste under otte præsidenter havde Hoover en næsten urørlig position i det amerikanske magtapparat.
Og var det i virkeligheden det amerikanske sikkerhedspoliti, altså CIA, der beordrede mordet på John Lennon december 1980 i New York?
Teorien om, at den morddømte Mark Chapman i virkeligheden blot var en "nyttig idiot" for magtapparatet i USA, som jo ikke brød sig om eks-beatlen på grund af hans engagement i fredssagen, de politiske sange og det mere eller mindre erkendte narkomisbrug, dukkede op i timerne efter mordet. Den er siden blevet fastholdt bl. a. af sangerens søn Sean Lennon, der i 1998 i et interview sagde: "Det var helt klart i USA´s interesse, at min far blev dræbt ... disse pacifistiske revolutionære bliver dræbt af regeringen, det viser historien".
Selv sagde John Lennon allerede i 1972 til en ven: "Hvis der sker noget med Yoko og mig, er det ikke en ulykke". Og i "The Ballad of John and Yoko" sang han om sin egen korsfæstelse.
Det skal understreges - også her - at denne konspirationsteori aldrig er blevet bevist.
Tilbage i arkiverne står de mange sagsmapper med registreringerne af John Lenons gøren og laden gennem flere år og med indholdet af de aflyttede telefonsamtaler omhyggeligt noteret ned.
Præsidentens mænd ville vide besked, men hvad de fandt ud af og hvad de traf af beslutninger, beholdt de for sig selv.
Og måske kunne de også læse om et mærkeligt universitet i et fjernt land og en lokalitet kaldet Skyum Bjerge. Det får vi aldrig at vide.
Det var midt i det hele, at John Lennon og Yoko Ono besluttede at rejse fra USA til Thy og Hanherred, hvor den samlede verdenspresse - den lokale medregnet - var klar med blitz, papir og kuglepen og en helt anden indstilling end de amerikanske efterretningsvæsener.