Når historien trodser tidens tand
GAMLE DAGE: Ukendt fotograf og københavnsk forfatter i Thy
Af Flemming Skipper, Lokalhistorisk Arkiv for Thisted Kommune
HANSTHOLM: Det er i begyndelsen af 1890´erne, vi første gang støder på oplysningen om, at der er en kro i Hansted. Senere hører vi om et badehotel. Det er den oplysning, der har fulgt med tiden bag på billedet fra 1908. Her ser vi Marius Edvardsen med frue og gæster en sommerdag. Og med mig, sagde hunden! Billedet er mærket af en af tidens tænder, der også har taget det nederste højre hjørne med. Det forhindrer os dog ikke i at fornemme stemningen i krostuen på badehotellet.Trods de mange års afstand er der et nærvær i situationen - som ridserne i billedet ikke modsiger. Tværtimod!
Ved folketællingen i 1880 blev Hansted Sogns befolkning opgjort til 192 mennesker fordelt på ni gårde og 34 huse ifølge 'Fyrmesteren', Ruth Selmers bog om fyrmester Chr. Heering på Hanstholm Fyr. En bog der kan anbefales, hvis man vil undgå at løbe med en halv vestenvind om Hansted 'i gamle dage'.
Staten var repræsenteret på fyret og ved den lokale toldembedsmand. Præsten boede i læ nogle kilometer inde i landet tæt op ad kirken i Ræhr. Hansted var blot et annekssogn.
En lærer var der dog derude, hvor det virkelig blæste.
I de kommende ti år voksede befolkningen med 50 personer. Og ved indgangen til 1890´erne kunne Hansted som nævnt mønstre en kromand. Der var også en musiker, to købmænd, en væverske og to tømrere. Resten var beskæftiget ved enten fiskeri eller lidt landbrug.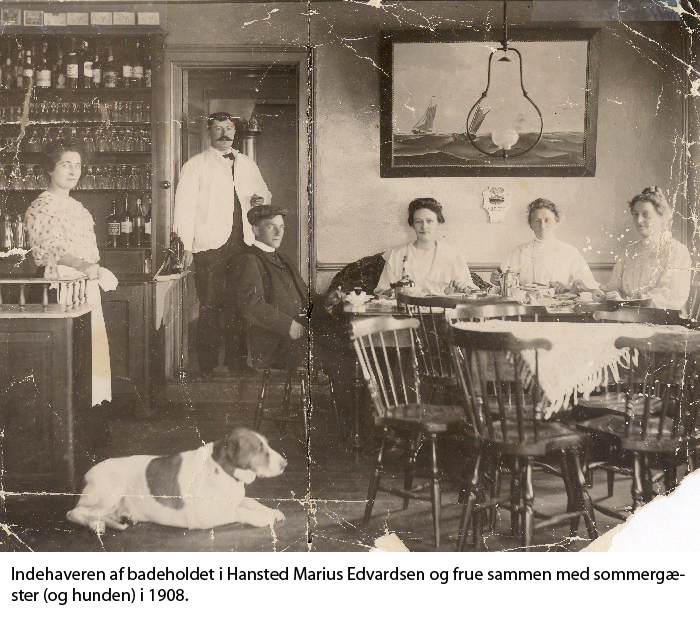 'Eksotisk' sted
Springer vi op i det nye århundrede og lander i 1964 i dét, der blev kaldt både Hansted og Hanstholm, kan vi nu tælle os frem til 1503 indbyggere . Men ingen havn. Den kommer tre år senere – som bekendt. I 1969 er der 3287 indbyggere, nu med havn; der er en voksende fiskerflåde og en industri, der ekspanderer. Alt er nøje planlagt. Skræddersyet til 30.000 indbyggere. Stramme rammer. Beboelse i et kvarter, håndværksvirksomheder i et andet, industri i et tredje, forretningsliv i et fjerde. En idealby. Sådan ligger hanstholmen i planlæggernes kort. En by med staten som eneste grundejer. Et nyt samfund skyder op. Men – der er stadig langt til de 30.000 indbyggere.
Den ukendte fotograf bag billedet fra badehotellet i Hansted i 1908 har placeret sig i den lange række af mennesker, der har efterladt spor, som udforskningen af den lokale historie dette særlige sted på vestkysten langt senere kan følge. Det har også været opfattet som et ligefrem 'eksotisk' sted – langt fra alfarvej. I al fald hvis man bor i Købehavn. Som nu Erik Skram.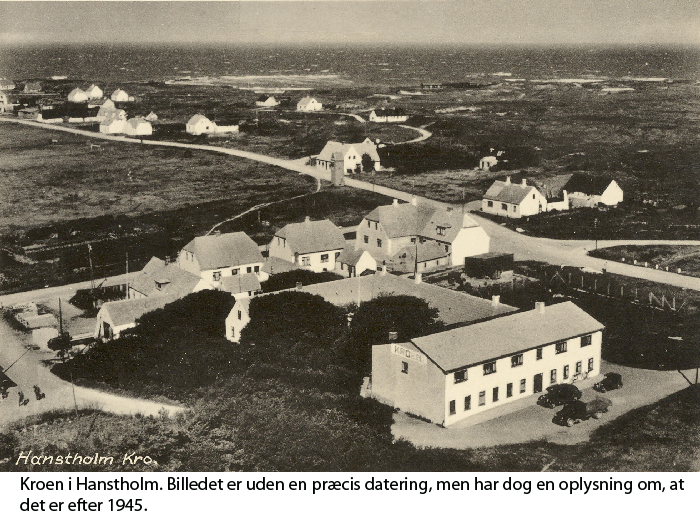 Tilbage til 1864
Erik Skram er for længst draget til de døde poeters klub, han levede fra 1847 til 1923, men har stadig et liv i den del af litteraturhistorien, der handler om det såkaldte 'moderne gennembrud'. Det er også her, man finder thyboen J. P. Jacobsen, der dog aldrig gik af mode og fortsat har sine læsere.
Når Erik Skrams navn alligevel siger en nutidslæser noget, skal vi søge et helt andet sted – nemlig i Tom Buk-Swientys bestsellere om krigen i 1864.
Erik Skram var 17 år, da han meldte sig som frivillig under de danske faner, og det er hans grønne skæbne, der rulles ud i indledningsscenerne i 'Dommedag Als', det andet bind i det dansk-preussiske krigsdrama, det dystre kapitel i Danmarkshistorien, der får så store konsekvenser for Danmark helt frem til vore dage. Han kommer ud i nogle af de mest forbitrede kamp omkring landsbyen Kær. "Med stor begejstring går han i kamp, men han opdager hurtigt, at slagmarken er den rene rædsel", hedder det hos Tom Buk-Swienty.
Det er denne Erik Skram, den senere forfatter og Rigsdagsstenograf, der bliver tilskyndet til en rejse til det fjerne Thy, som han i 1880´erne skildrer i 'Gennem Hanherrederne og Thy'. En reportage om egnen i en periode med voksende befolkningstal:
"Paa Hanstholmen ligger Byerne Rær, Nytorp, Hansted, Nørby, Febersted og Vigsø, og fra dem alle drives et betydeligt Fiskeri. Man har Dæksbaade her, med hvilke man gaar 5,6,7 Mil ud paa Søen for at fange Kabliau (store torsk, red.), desuden fanges Sild, Makrel, Flynder, Hornfisk, Kuller og Hummer, og Afsætningen til Thisted er bedre end nogen Sinde ved Jærnbaneforbindelsen syd paa."
Kanalen
Erik Skram bevæger sig ind i fremtiden for denne egn og dens natur, der for en københavner kan virke både overvældende og skræmmende, så voldsom den er, og med et fyr, der som et fremmed væsen sender et lys langt ud i natten og over havet, som øjet ikke kan nå, men også pludselig lyser klitterne op og får den mindste mønt til at blinke i marehalmen. Var der ikke noget med en kanal?
"Febersted paa Nordsiden ligger i Læ af det 200 Fod høje Hjærtebjerg, og en kvart Mil østligere gemmer Vigsø sig i en Dal paa Holmen. Ved den sidste By er der fra Skrænten en temmelig bred Forstrand; der ligger ude et Stationshus for Raketapparatet og et anseligt Pakhus, hvor Regeringen i Aarhundredets begyndelse lod samle Korn til Norges Forsyning under Krigen med England. Her ved Vigsø har der været paatænkt et Havneanlæg - som for øvrigt saa mange andre Steder paa den nordlige del af Jyllands Vestkyst - og det har da samtidig været paa Bane at grave en Kanal herfra gennem Lavningen langs Østholmen ud i Limfjorden. Det sidste vilde muligvis blive den lettest udførlige Del af Planen, skønt Forholdene her i Vigsø Bugten synes særlig gunstige for et Havneanlæg paa Vestkysten, man er jo her beskyttet imod Vestenvinden" ... kan man læse i Erik Skrams reportage fra Thy i 1880´erne.
Beretningen i 'Gennem Hanherrederne og Thy' indeholder sammen med det krakelerede billede fra badehotellet i Hansted i 1908 stikord til en større historie – når man begynder at kigge sig om i landskabet.