En konge og en havneingeniør
KONGELIGT: Kong Christian X og Jørgen Fibiger mødte hinanden som gamle bekendte - og det var de også
Af Flemming Skipper. Lokalhistorisk Arkiv for Thisted Kommune
THY: Der er mennesker, som ved deres blotte tilstedeværelse kan stjæle billedet. Et sådant menneske var Jørgen Fibiger, ingeniøren bag det første havnebyggeri i Hanstholm. Og det var sådan, thistedboerne oplevede ham under kongebesøget i juni 1931. Men det er nu ikke af den grund, at de lokale aviser først dagen efter kunne bringe billedet.
Dengang var det både dyrt og ofte en besværlig proces at få billeder i avisen. Når det færdige billede forelå, skulle det sendes til enten Aalborg eller Aarhus for at blive omdannet til den 'kliche', der kunne bringe papirbilledet over i avisens trykmaskiner - og derfra videre ud til læserne.
Derfor må vi i første omgang nøjes med ordene, som de er noteret i avisen på selve dagen onsdag 3. juni, da kong Christian X og dronning Alexandrine ankommer til havnen i Thisted på et besøg med 'Dannebrog'. Det varer i tre dage, hvor de kommer vidt omkring i Thy.
"De slipper aldrig af med mig", er kongen refereret for at sige til havnefoged Madsen. Det udlægger denne som en tilkendegivelse af, at majestæten befinder sig godt i Thy. "Det er vist også ret enestående, at kongen under sin sommerrejse har beæret en by med et ophold på ikke mindre end tre dage", tilføjer avisen.
Ankomsten skal efter planen finde sted kl. 13.30, og kl. 13 har byens honoratiores taget opstilling. Embedsmændene i gallauniformer med amtmanden og borgmesteren i spidsen. Det samlede byråd og to gamle krigsveteraner. Garderforeningen og forsvarsbrødrene. De er der alle sammen.
Og så ingeniør Fibiger, ikke at forglemme.
I sit bedste sæt tøj og med nypudsede sko, der skinner om kap med kongens. Oven på den hvide hårmanke har den 64-årige Fibiger en hat, som mange finder 'karakteristisk'. I sammenligning med de fremmødte høje hatte skiller den sig da også ud. Hat og hårmanke er de to ord, der følger beskrivelsen af Fibiger i datidens aviser. Noget skal aviserne have at hænge deres hatte på. Men man kan også se hårpragten beskrevet som 'digterhår'. Det er vist digteren Holger Drachmann, der er på spil. Længere op i det 20. århundrede lægges der nye streger på Fibiger-billedet. Nu er det blevet til 'polkahår'. Og den krøllede længde til 'en provokerende herrefrisure'.
Sådan er der så meget.
Bekendte
Kongeparret hilser på de fremmødte herrer og damer. Kongen underholder sig særlig længe med Fibiger, og nogle af de thistedboer, der står tæt pakket bag en afspærring, får den tanke, at de kender hinanden.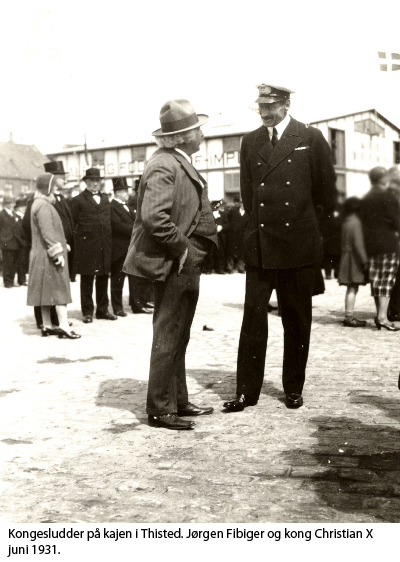 "Jeg mener", som en af dem skal forklare, da han senere bliver bedt om at uddybe oplevelsen ... "jeg mener den måde de står på, Fibiger og kongen, så afslappet, Fibiger med hænderne i lommen og så den her hat".
Det lyder ikke usandsynligt. Fibiger har sin gang blandt ministre og andre politikere, de øverste embedsmænd i ministeriet, når han er i København - hvorfor så ikke også kontakt til kongehuset?
'Ingeniøren' er en helt i samtiden, ikke kun Fibiger, 'ingeniøren' er fremskridtets repræsentant, fremtidens mand, Fibiger desuden lidt af en 'myte' - hvorfor skulle han så ikke have opbakning i kongehuset til de utraditionelle idéer med havnebyggeri på vestkysten?
Forklaringen er mere enkel. Kongen har allerede i 1917 belønnet Fibiger med fortjenestmedaljen i guld. Siden har han fulgt havnebyggeriet i Hirtshals. Nu er han kommet til Thy.
"Er det godt at komme til Hanstholm i dag", hører avisens udsendte kongen sige til Fibiger. Han hører Fibiger svare "Ja!"
Og ikke nok med dét:
"Der blæser frisk derude", siger kongen. "Ja, ja!", svarer Fibiger.
Ikke mere.
Man står jo ikke sådan direkte og aflytter samtalerne. Det er kun, hvad der falder avisens medarbejder i ørene på hans vej rundt på kajen.
Så går der et kvarters tid med samtale med forskellige og atter igen med Fibiger. Ham vender kongen tilbage til, mens byens fotografer og amatørfotografer har travlt.
Thisted Amts Tidende fortsætter:
"Der blev bestilt endnu en bil. I forvejen var mødt vognmand Vangsgaard med sin Rolls Royce og sin anden bil, og da kongeparret havde været om bord for at få noget mere tøj på, fandt bortkørslen til Hanstholm sted under tilskuernes hurraråb. Amtmanden og kongens følge medfulgte. Kongeparret kørte naturligvis i Rolls Royce - de ynder som bekendt at køre i åben bil, men en sådan kan vanskeligt skaffes nu, og i dag blæste det også for stærkt dertil".
Vejret giver kongeparret tydeligt bevis for, at det - som kongen bemærker på havnen - ikke er nogen overdrivelse, når aviserne skriver, at det er koldere i Thy end på øerne. Og på køreturen til Hanstholm får de syn for sagn om det barske klima. Vel skinner solen, og landskabet ud gennem Skinnerup og Nors ser smukt ud med de grønne frodige marker og hist og her vajende flag. Men da kongebilerne når ud til Tved, bliver man vidne til en veritabel sandflugt fra de lette marker. Sandet fyger tværs over landevejen og lejrer sig i driver på den anden side.
I Hanstholm
Besøget i Hanstholm varer et par timer.
Det er næsten livsfarligt at vove sig ud på den lange molebro. Havet skummer og mægtige brådsøer vælter ind over molebygningen, men den trodser de kraftige angreb og står urokket tilbage.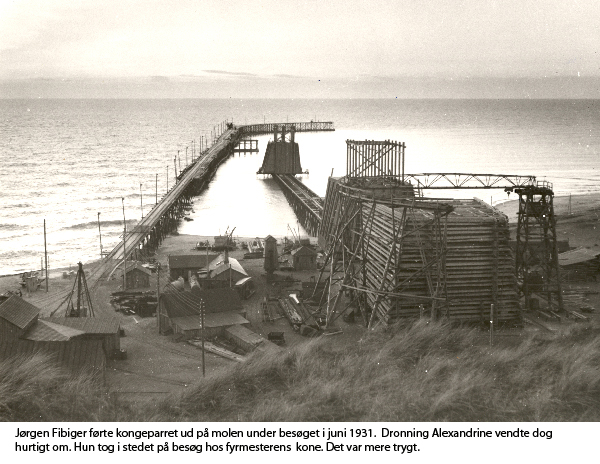 Ledsaget af Fibiger går kongeparret ud på broen. Dronningen vender dog kort efter tilbage. Det bliver alligevel for meget. Så er det mere hyggeligt hos fyrmesterens kone.
"Som vi meddelte i går, gik kongen helt ud på molen sammen med ingeniør Fibiger og betragtede anlægget samt det storslåede syn, som det oprørte hav frembød", skriver Thisted Amts Tidende dagen efter, torsdag 4. juni.
Det er her, læserne kan se de første billeder fra kongeparrets ankomst til Thisted Havn.
Og med Fibiger i samtale med majestæten.
Havneingeniøren står placeret i midten af begivenhederne. Sådan kan man tolke billederne så mange år efter. Måske er det en gammel samtale ført et andet sted, der bliver genoptaget denne halvkolde og lettere blæsende junidag i 1931 på havnen i Thisted.
På de mange års afstand ser man mere og 'hører' mere end de få sætninger, som den lokale avisskribent er i stand til at opfange og bringe videre i 1931. Det er de forestillinger, en nutidslæser mener at kunne gøre sig.
Jørgen Fibiger førte kongeparret ud på molen under besøget i juni 1931.
Dronning Alexandrine vendte dog hurtigt om. Hun tog i stedet på besøg hos fyrmesterens
kone. Det var mere trygt.
Den franske forbindelse
Agnete Fibiger, 82 år og enke efter Jørgen Fibiger, kommer i et interview med Vendsyssel Tidende i 1967 med en overraskende oplysning, der pludselig flytter en nutidslæser tilbage til 1931. Til den blæsende sommerdag på Thisted Havn.
"Kong Christian X sagde, at min mand lignede den franske politiker Briand", husker Agnete Fibiger få dage før havnens indvielse i Hanstholm, hvor hun var den selvskrevne æresgæst. Det var det billede, kongen havde fundet mest dækkende til at beskrive Jørgen Fibiger, som andre gjorde til en 'myte'.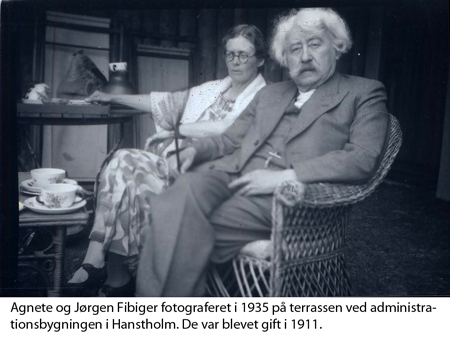 Hvis man slår op i Nationalencyklopædien, vil man konstatere, at Aristide Briand (1862-1932) havde en ydre fremtoning, der minder ikke så lidt om Jørgen Fibigers i det høje nord. Det er som at opleve Fibiger træde ud af det franske deputeretkammer! Uden sammenligning i øvrigt - den franske politiker og den danske havneingeniør satte deres spor i tiden. Det må være dét, den danske konge havde haft i tankerne. Jørgen Fibiger døde i 1936 - 69 år gammel.
Agnete og Jørgen Fibiger fotograferet i 1935 på terrassen ved administrationsbygningen
i Hanstholm. De var blevet gift i 1911.