En provokatør til hest
Hvis der er nogen, der har været på kant med Hanstholm, så er det Inge-Lise Wagner
Af Flemming Skipper. Lokalhistorisk Arkiv for Thisted Kommune
HANSTHOLM: Hvis man siger Hanstholm "ude i landet", er der stadig mange, der også siger: Inge-Lise Wagner. Og sætter et udråbstegn! Mindre kan nemlig ikke gøre det. Og sandt er det da, at præsten Inge-Lise Wagner - i medielandskabet og de kirkelige kredse - på det nærmeste blev identisk med havnebyen i de turbulente år i 1980´erne.
Historierne om den omstridte præst er i dag gået over i historien - sådan som det afspejles i citatet fra 'Illustreret Tidende'. Og kan følges på nettet.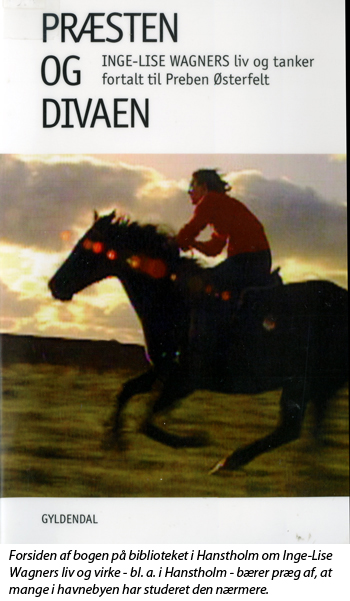 Den i dag 61-årige præst er ikke for fastholdere. Hun er ikke som folk - og præster - er flest. Hyldet - og hadet - for sine kontante meninger uden mellemregninger.
Inge-Lise Wagner blev i 1988 fyret som følge af meget omtalte "uoverensstemmelser" med menighedsrådene i Hansted-Klitmøller og Ræhr-Vigsø pastorater. Hun var oprindeligt kommet til Hanstholm som hjælpepræst for sognepræst Hans Aage Linde. Kemien var mildt sagt ikke den bedste mellem de to præster. Menighedsrådene ville af med hende. Efter et par år blev hendes stilling slået op som et "rigtigt" embede. Hun søgte embedet med henvisning til en sjælden brugt regel, der giver mulighed for, at stillingsbesættelse kan afgøres ved urafstemning. Og her fik hun 82,5 pct. af de afgivne stemmer. Dét gjorde jo ikke forholdet til menighedsrådene ligefrem bedre.
Andre brugte ordet "krig", for det var, hvad det i virkeligheden var – sådan blev der argumenteret. En overgang blev Inge-Lise Wagner forment adgang til kirkerne i Ræhr og Vigsø.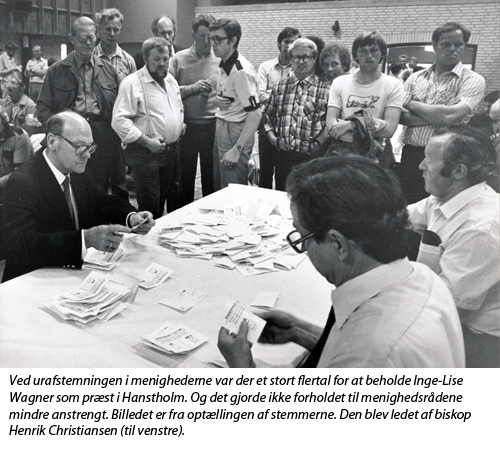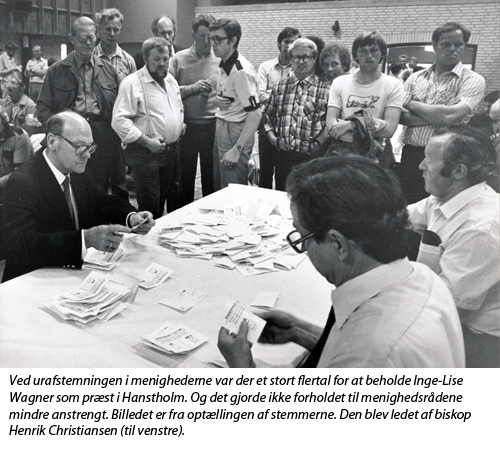 Afstemningsresultatet er interessant i mere end én forstand. Det fortæller om brydninger og modsætninger i et forholdsvis lille samfund, der er præget af både traditioner og den baggrund, som nytilflyttere har bragt med sig.
Provsteret
To gange måtte en provsteret træde i funktion og karakter.
Det var der ikke nogen anden præst i Danmark, der nogensinde havde været udsat for.
Der var dog intet grundlag for at fratage Inge-Lise Wagner embedet, skulle det vise sig. Det kostede dog en bøde at blande det danske politi ind i en prædiken om barnemordet i Betlehem.
Aalborg-biskoppen Henrik Christiansen gjorde, hvad han kunne for at bringe parterne i nærheden af en talefod, de kunne stå på. Det var ikke nok.
"Uden for sognet havde hun en stor og farverig menighed", kan man læse i 'Illustreret Tidende' 12 år senere. "Hun blev udnævnt til "officiel" dansk cirkuspræst. Hun prædikede på markeder og for landevejens riddere. Og hun indviede rottekongen Cibrinos dyrekirkegård i Vorbasse".
Efter Hanstholm flyttede hun tilbage til sit stråtækte barndomshjem på Sjælland og lever her omgivet af sine heste, katte, hunde og talrige norske kaniner.
Og i en længere periode i strid med myndighederne i en sag om ulovlig beboelse af sommerhuse. Hun vil ikke bede om lov - om dispensation - til at bo i sit eget barndomshjem.
Jobbet som kirkesanger giver brødet på bordet, hvis hun da ikke vikarierer for præstekolleger.
Inge-Lise Wagner blev forfatter af en rost biografi om idealet og lidenskaben - operasangerinden Maria Callas. Hun har fortalt om sit liv og mangeartede virke, om tro og tvivl - og selvfølgelig også om Hanstholm - i en af tidens populære samtalebøger: Preben Østerfelts 'Præsten og Divaen' fra 1999. Her har hun (mildt sagt) ikke meget til overs for begivenheder og modstandere fra dengang. Nej, der var virkelig ikke noget at råbe hurra for! Mere respekt har hun for naturen: "Naturen var imponerende; men også skræmmende. Jeg blev aldrig fortrolig med det hav, det var så voldsomt".
Ævl
Til en avis erklærede Inge-Lise Wagner i 2010: "Jeg fortalte min historie for at blive fri for at ævle videre om den. Den sag var jo bare et lille sidespring. Min identitet ligger ikke dér".
Inge-Lise Wagner-dramaet er blevet dokumenteret i 1997 i filmen 'Man brænder da ikke Præster'. Den dramadokumentariske film har vundet priser rundt om i Europa. Da den blev vist på tv, gjorde den stort indtryk og havde 800.000 seere. Anmelderne spærrede også øjnene op, da de så præsten galoppere over land.
Den sag, Inge-Lise Wagner ikke længere gider ævle om, dukker op med henvisninger i medierne, når der er konflikter i folkekirkens rækker.
Og det er der jo jævnligt.
Tiden er en anden, og der kan i dag læses nye vinkler ind i 'Wagner-sagen'.
Den unge - og nu også halvgamle - motorcykelpræst, der ragede uklar med sine menighedsråd i Thy, er stadig en god historie. Og hun er selv en god historiefortæller, der bygger videre på myten Inge-Lise Wagner.
"Jeg vil ikke spilde resten af mit liv på at snakke om nogle mennesker, som er nul og niks", kan man læse i en avis, der vil høre om Hanstholm-striden - endnu en gang. Så bløder hun det alligevel lidt op: "Sagen understreger præsternes manglende retssikkerhed. Folkekirken styres af magtfulde biskopper, som kendetegnes ved, at de helst handler i flok".
Mange aviser med præstesyge mellem linjerne har svært ved at afgøre, om den tidligere Hanstholm-præst både er sin egen værste fjende og en anfægtelse for omgivelserne.
I Hanstholm er meningerne delte, og der er mange, der helst ser hele affæren fjernet med den blæst fra Vesterhavet, som Inge-Lise Wagner ikke nåede at forlige sig med. Sådan for alvor.
Men at hun er blevet en historie i historien om Hanstholm er en kendsgerning, som man ikke passerer uantastet - mere eller mindre.