Hunden hed Jens Emil
LOKALHISTORIE: Mange forlis og redningsaktioner har der været. Her en af de mere usædvanlige med skibshunden i en vigtig rolle.
Af Flemming Skipper, Lokalhistorisk Arkiv

HANSTHOLM: Hanstholm har oplevet mange forlis - flere med tragiske forløb - og de har alle skrevet sig ind i den lokale historie. Adskillige familier er blevet berørte af det barske naboskab til det store hav. I enkelte tilfælde har faren ligget på lur ved indsejlingen til havnen efter ellers vellykkede dage og uger på havet – langt fra den jyske vestkyst.
Men der er andre forlis, der har fundet plads i den fælles erindring. Et af dem, der endte lykkeligt. Og her var Jens Emil, boxeren med det blide gemyt, dagens hund, der efterfølgende med rette kunne kalde sig fuldbefaren søhund. Når den kunne byde ham dét, skæbnen, så er der intet at frygte. Heller ikke derhjemme - hjemme på landjorden.
Jens Emil måtte sammen med sine fem gode venner, besætningen om bord på Hanstholm-kutteren T 220 'E.N. Christiansen', gå i redningsflåden en tidlig martsdag i marts 1972 og senere på dagen skifte skib i hård sø ved Hanstholm Havn.
'Hiv nu!' Jens Emil hænger på spring mellem de to skibssider. Marts 1972.
Jens Emil var den første
Jens Emil var den første, der kom i redningsflåden, og fiskeskipper Kaj Christiansen den sidste, da den synkende kutter måtte forlades. Alle blev reddet af det tyske marinefartøj 'Freiburg', som sidst på eftermiddagen afleverede de reddede til Hanstholm-kutteren 'South Sea' under vanskelige omstændigheder tæt ved havnen.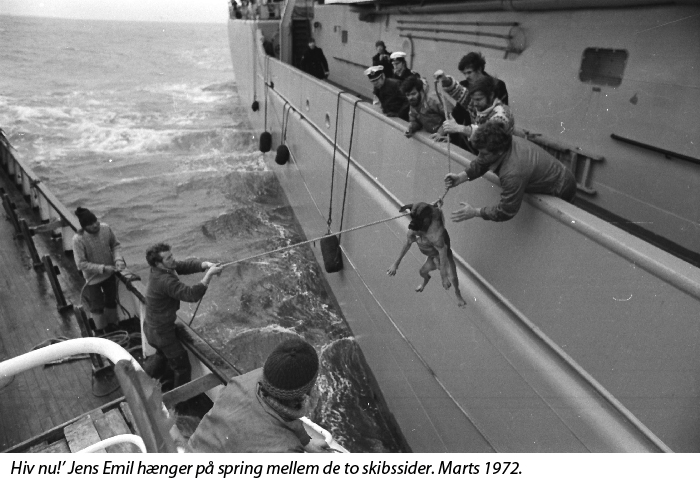 Thisted Dagblads allestedsnærværende pressefotograf Tage Jensen tog billedet fra bakken på 'South Sea'. Jens Emil hænger i et tov på vej ned i kutteren. Og det er fiskeskipper Kaj Christiansen, der personligt sørger for, at hans og besætningens firbenede ven kommer helskindet fra borde og om bord i Hanstholm-kutteren med fast bund under poterne.
Det er fem år siden, den nye havn blev taget i brug, og der blev udfoldet store anstrengelser for at bringe havnebyen på det senere så berømte landkort. Al omtale var på det nærmeste god omtale, når det gjaldt om at profilere Hanstholm, der var under fortsat udbygning. Og Jens Emil gav et nap med på mediefronten. Billedet af ham hængende dér mellem de to fartøjer gik viden om. Boxeren med det blide gemyt gjorde sit til at bringe Hanstholm på vandkortet. Men lidt bekymret for situationen har man alligevel lov til at give udtryk for. Og der er vel heller ikke noget at sige til, at Jens Emil stadig var lidt forknyt, da han gik i land på pier 4 i Hanstholm sidst på eftermiddagen.
Uroligt vejr
To besætningsmedlemmer på det tyske marinefartøj blev kvæstet i maskinrummet, da skibet var på vej til Hanstholm med de reddede fiskere.
I det urolige vejr var der vanskeligheder med at få flyttet dem over i et andet skib og videre til Centralsygehuset i Thisted. En tredje tysker lå kvæstet efter en ulykke på et andet tysk marinefartøj i området.
Det blæste med vindstyrke 6 inde under land, og fartøjerne skulle forholdsvis tæt på land for at få tilstrækkelig rolig sø til at manøvrere i.
Da Hanstholm-besætningen havde fået land under fødderne, fortalte fiskeskipper Kaj Christiansen, at forliset skete som afslutningen på en 14 dage lang rejse til Doggerbanke sammen med 'South Sea'. De var på vej hjem – 'E.N. Christiansen' med 130 tons industrifisk i lasten til en værdi af 40.000 kr.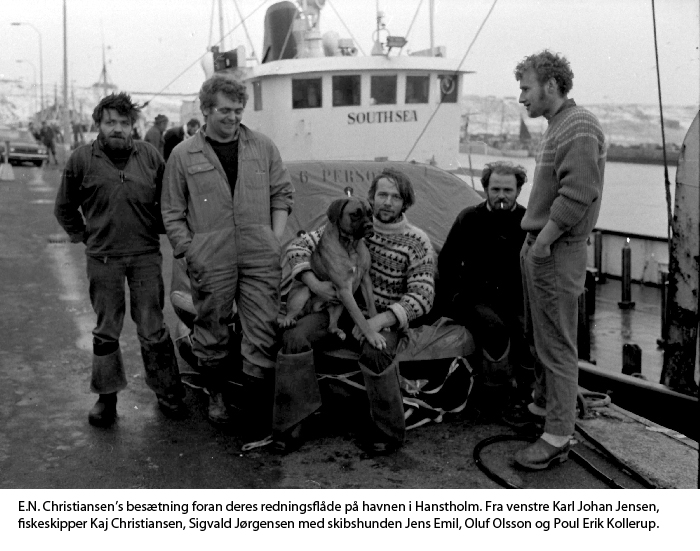 Besætningen på 'E.N. Christiansen' havde haft god tid at forberede sig på at gå i redningsflåden. Den første var som nævnt Jens Emil, skibshunden. Han blev lukket ind i redningsflåden, før den blev skubbet ud. Derefter fulgte så besætningsmedlemmerne. Et af dem, Sigvald Jørgensen, faldt udenbords, men blev halet ind i flåden af de andre. Og få minutter senere så de 'E.N. Christiansen' gå i dybet med stævnen først.
'E.N. Christiansen's besætning foran deres redningsflåde på havnen i Hanstholm. Fra venstre Karl Johan Jensen, fiskeskipper Kaj Christiansen, Sigvald Jørgensen med skibshunden Jens Emil, Oluf Olsson og Poul Erik Kollerup.