Hanstholm-fisker Margrethe
Da en havn fyldt med selvbevidsthed og optimisme fylder 10 år
Af Flemming Skipper, Lokalhistorisk Arkiv
HANSTHOLM: Da Hanstholm Havn torsdag 8. september 1977 kunne fejre de første 10 år, bar 126 fiskekuttere Hanstholms navn. Nr. 126 blev netop søsat på dagen, men selv om den blev hjemskreven i Hanstholm, skulle den have fast base på Marselisborg Slot og besætningsmedlemmerne være prinser af blodet: Frederik og Joachim.
Som tak for klokkeklemt i auktionshallen og velmente ønsker for fremtiden modtog den unge dronning af havnens fiskeriforening en flot trawler-model. Og i aviser landet over noteredes det, at den hverken var behæftet med schweizerlån eller anden tyngende gæld, der uforvarende 'afslørede' en anden side af hverdagslivet i havnebyen. Det kunne dog ikke overskygge den optimisme, selvbevidsthed og den tro på fremtiden, der prægede nybyggersamfundet bag havnen. Og som bredte sig som en god stemning om søndagen over det lange bord med alt godt fra havet i auktionshallen - 'Danmarks længste' med 161,28 m. og større end dét i Esbjerg med sølle 140,88 m. Ingen tilfældig kappestrid. Esbjerg gav dog ikke op og trak det sidste kort: Hanstholm-rekorden kunne ikke anerkendes, da bordet var opbygget i en firkant og ikke som ét langt bord.
For de mange gæster i auktionshallen var det mere de lækre retter på bordet, der interesserede - hvis man ellers kunne finde en plads.
Der gik 50 år fra det første projekt om en havn ved Hanstholm blev vedtaget, til havnen kunne indvies, og da det skete i 1967, fulgtes indvielsestalerne af mange skeptiske ord om, at Hanstholm Havn ikke ville få den succes, planlæggerne ventede.
Munden blev 'lukket'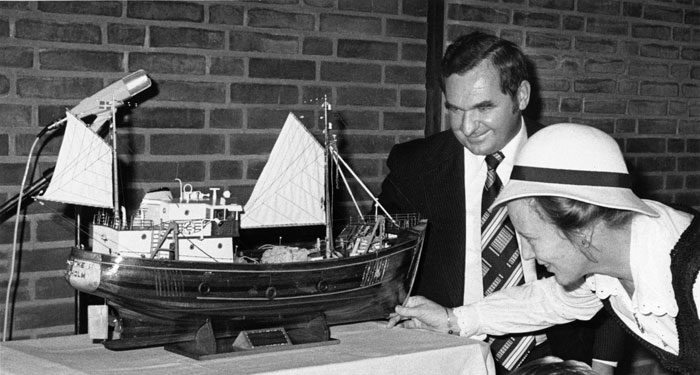 I 1977 kunne det nøgternt konstateres, at Hanstholm havde brugt de 10 år til at 'lukke' munden på skeptikerne og omvende dem. Hanstholm Havn var en succes; det kunne ingen være i tvivl om. Havnen var en travl arbejdsplads i de år. Hollandske kuttere var med til at sætte deres præg med de karakteristiske bomme til bomtrawleren.
Hanstholm var en by, der var kommet i havn. Men en by og et samfund, der vokser op tæt bag en havn, er et følsomt samfund. Under en krise to år tidligere var det hurtigt slået igennem. Fiskeriet kunne ikke stå alene - det var en af fremtidens udfordringer.
Men 8. september 1977 var en festdag.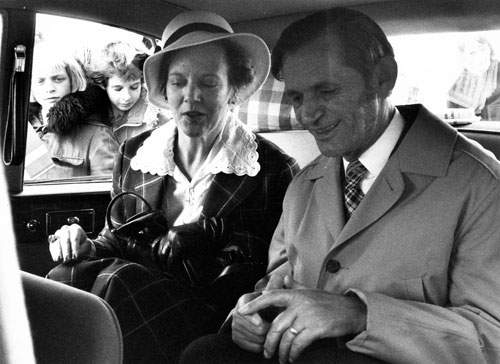 Med et slag af dronning Margrethe på auktionsklokken blev et nyt trafikbassin indviet. Det var den samme klokke, som hendes far, kong Frederik, benyttede ved havneindvielsen 10 år tidligere.
Dronningen var synligt overrasket - og begejstret - da hun under frokosten på Hotel Limfjorden fik trawler-modellen T1 'Margrethe II' af Hanstholm. Og imponeret da hun fik at vide, at trawleren var sejlklar og fyldt op med 'olie'. Det ville glæde de små prinser. Den var udlosset for fisk; de var sendt pr. bil til Marselisborg Slot. Det ville især glæde prinsgemalen.
Glad blev dronningen også - endda i flere aviser og fjernsynet - for de hjemmestrikkede sokker til prinserne, som beboerne på plejehjemmet i Klitmøller havde lavet i anledning af havnejubilæet. Og de blev glade for dronningens besøg.
'Hvilken størrelse passer prinserne bedst?' Det var Inger Børsting, leder af plejehjemmet, der spurgte. Der var mange sokker at vælge mellem. Og forskellige farver. Også den kongeblå, naturligvis.
Således blev torsdag 8. september en god dag for både Hanstholm og Klitmøller.