Hanstholm – byen på kanten
Visionernes havn
Af Knud Holch Andersen, Lokalhistorisk Arkiv for Thisted Kommune

LOKALHISTORIE: Hanstholm Havn blev anlagt både som fiskerihavn og trafikhavn. Som fiskerihavn er havnen blevet Danmarks førende. Trafikhavnen er fortsat en stor udfordring. Uden visioner går det ikke. Allerede da ingeniør Jørgen Fibiger var i gang med at anlægge den planlagte havns vestmole i 1920erne, blev der tænkt store tanker. En stor velplanlagt by med jernbane og alle moderne faciliteter skulle vokse frem på holmen. Alt dette forblev på drømmestadiet. Bevillingerne tørrede ind og en verdenskrig kom i vejen.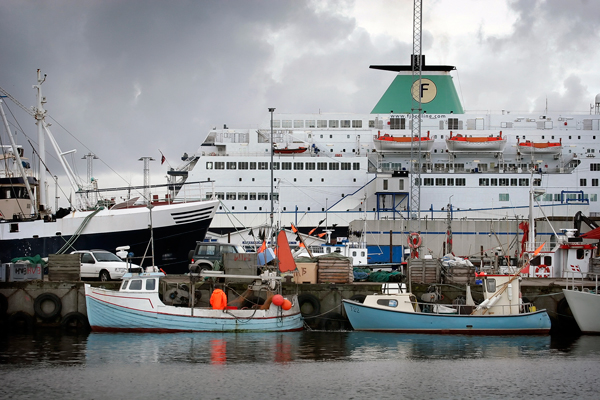 Den ny lov fra 1960 om Hanstholm Havn pointerede, at det skulle være en kombineret fiskeri- og trafikhavn med en besejlingsdybde på 8,5 m. Det afgørende politiske argument bag denne beslutning var ønsket om at styrke erhvervsudvikling og beskæftigelse i det daværende Thisted Amt. Også her blev der tænkt langt og stort. I betænkningen bag lovforslaget beregnede eksperter, at alene fiskerihavnens effekt ville være et bysamfund på mindst 4.500 mennesker. På det grundlag blev der udarbejdet en moderne byplan, hvor første etape ville give plads til 5.000 mennesker og hvor der ville være udvidelsesmuligheder op til 20.000 beboere. Det blev igen svært at leve op til visionen. I 1976 havde den ny havneby 2.200 indbyggere.
Efter havnens åbning i 1967 var det som forventeligt udviklingen af fiskerierhvervet der stod i centrum. Og her begyndte det specielt omkring 1969/70 at gå stærkt. Men trafikhavnen var ikke så let at løbe i gang. Kritiske røster i den danske presse talte om "en kæmpemæssig fejlinvestering", og i det unge Hanstholm-samfund var der en tydelig interessemodsætning mellem fiskerierhvervet, der gerne ville have havnen "i fred" og så de kræfter, herunder SiD, der gerne så en mere differentieret samfundsudvikling med færgeruter og erhverv, uafhængige af fiskeriet.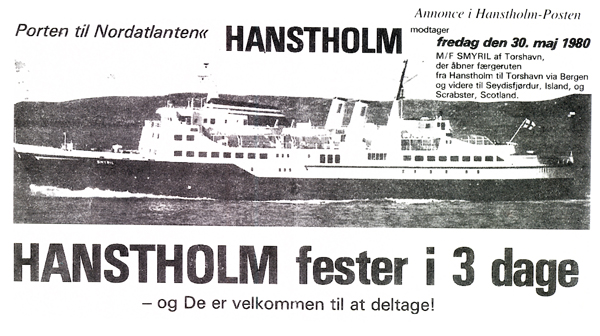 Men der blev fortsat tænkt store tanker. Med åbningen af Sallingsundbroen pegede handelsstandsforeningens formand, Svend Poulsen, på den store sammenhæng, hvor "det dygtigt producerende Aarhus" befandt sig i den ene ende og Hanstholm som "porten mod Atlanterhavet" i den anden ende. Også den gamle vision om en jernbaneforbindelse til Hanstholm levede endnu sit liv i 1970erne.
Færgeruter blev betragtet som en afgørende nøgle til den eftertragtede udvikling. Problemet var imidlertid, at nabohavnen – Hirtshals – allerede for mange år siden havde etableret sig i denne trafik. En undersøgelse i 1976, gennemført af direktør Rudolf Bier, påviste, at den kortere sejltid fra Hanstholm til Kristianssand – 63 sømil mod 72 fra Hirtshals – ville give en konkurrencefordel. Man kunne næppe skabe forøget trafik over Skagerak og en ny rutes overlevelsesevne ville afhænge af dens evne til at "hugge" kunder fra de eksisterende trafikruter til Norge.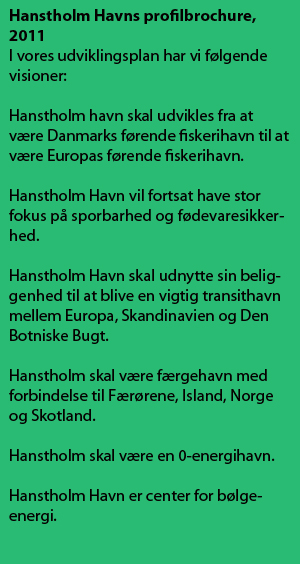 I sommeren 1979 lykkedes det så langt om længe. I et samarbejde mellem Mosvold Shipping i Kristianssand og Erhvervsrådet i Hanstholm blev der etableret en færgerute til Kristianssand. Den blev indviet under store festligheder i Hanstholm. Hornmusik, flag og fridag til skolebørnene. Kommunen støttede ruten ved at tilbyde alle indbyggere en gratis færgetur til Kristianssand. Efter en god sommer fik færgeruten imidlertid økonomisk åndenød og havde kun økonomi til at fortsætte til julen 1979. Den følgende sommer blev ruten overtaget af Hirtshals-konkurrenten, Fred. Olsen Line.
"Hanstholm – Porten til Nordatlanten" blev i maj 1980 lanceret som det ny slogan til markedsføring af byen. Og det havde faktisk hold i virkeligheden. Det lykkedes at få et samarbejde i stand med det færøske landsstyre om at lade M/F Smyril anløbe Hanstholm på sin rute mellem Vestnorge, Skotland, Island og Færøerne. Sommerforsøget blev en succes og fra efteråret 1980 blev Hanstholm udgangspunkt for to ruter: Hanstholm-Aberdeen-Thorshavn og Hanstholm-Stavanger-Bergen.
Visionen havde vist sin bærekraft. Trods havneudvidelser og bygning af en række faciliteter blev det imidlertid ikke helt let at fastholde Hanstholm som andet og mere end en dynamisk fiskerihavn.
Lukningen af Kristianssand-ruten i 2008 og indskrænkningen af Smyril Line's anløb til Hanstholm har været noget af en nedtur.
Men evnen til at tænke stort og den navnkundige Hanstholm optimisme fornægter sig ikke. Men en investering på 700 mio. kr. i en storslået havneudvidelse er man klar til endnu en satsning. Det er visionerne, der viser vej til fremtiden.