Der er i Hanstholms historie
Det er hårde vilkår for fiskeriet, og nye arbejdspladser hænger ikke på træerne. Men nu skal historien om nybyggersamfundet fortælles - af de medvirkende selv. Det første af to bind om Hanstholms historie udkom i 2013. Det næste bind blev udgivet i november 2017 ...
(HANSTHOLM) To billeder fra samme sted. To forskellige virkeligheder. Og så alligevel den samme - i hvert fald geografisk set. Det er Hansted - eller Hanstholm - der er i fokus med en tidsforskydning på ca. 100 år. Engang en stormomsust knude med et fyrtårn på Jyllands skulder.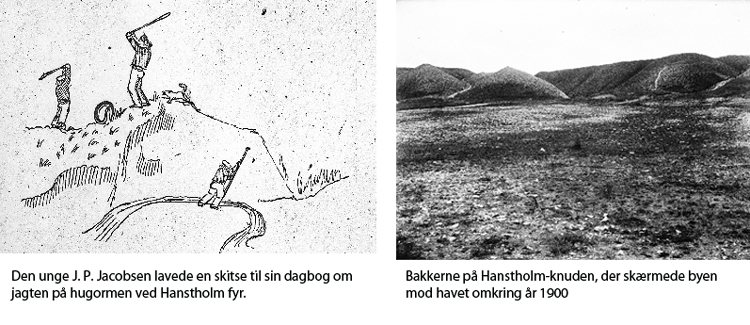 De første billeder
Det første billede er et kig på overfladen af et lille og isoleret fiskerleje på kanten mellem hav og enorme klitarealer. Men også et ferieparadis for en ung naturinteresseret J. P. Jacobsen, der sammen med sin legekammerat Viggo, fyrmesterens søn, fornøjede sig med at skrive dagbog og tegne, hvad han oplevede i Hansted i påsken 1860.
Langfredag noterede Jens Peter blandt andet: "Vi så en flok ørne om formiddagen. Vi gik ned i klitten til sandbakken for at se efter hugorm. Vi kom, vi så og vi vandt, vi fandt dem øverst oppe i risene. "Den er så stor!" råbte Viggo og straks efter var vi alle i færd. "Lån mig din stok - tak - Nu skal den få det den har godt af," råbte Viggo ...." Og hændelsen blev omsat til en tegning i dagbogen.
Fordi den unge Jacobsen gemte sine tegninger - og fordi han senere blev en verdensberømt digter, blev tegningerne sikret for eftertiden på Det kongelige Bibliotek. Og derfor er vi nu i stand til at fortælle historien om hugormejagten ved Hanstholm fyr.
Alt har en historie, men historien skal fortælles for at blive til Historie. Og som sådan er den fortalte historie altid vokset ud af den tid, hvor den fortælles. Vi ville næppe interesse os for, hvad en 13-årig Thisted-dreng lavede i Hanstholm dengang, hvis ikke det var fordi, han senere blev berømt.
Sådan er det også med Hanstholm.

Det andet billede
Bassiner med kuttere, færge og fragtskibe favnet af en havn, der langt om længe blev bygget færdig og indviet i 1967, er det andet billede af Hanstholm, der langt om længe blev fremkaldt. Fra begyndelsen af 1900-tallet var kraner og halvfærdige sænkekasser fast inventar på stranden ved Hanstholm. Flere generationer af fiskere ventede forgæves på, at det politiske spil om bygningen af en vestkysthavn blev afsluttet. I mellemtiden kom en verdenskrig på tværs og bogstaveligt talt nulstillede fiskerlejet, der blev evakueret og omdannet til en nazistisk fæstning.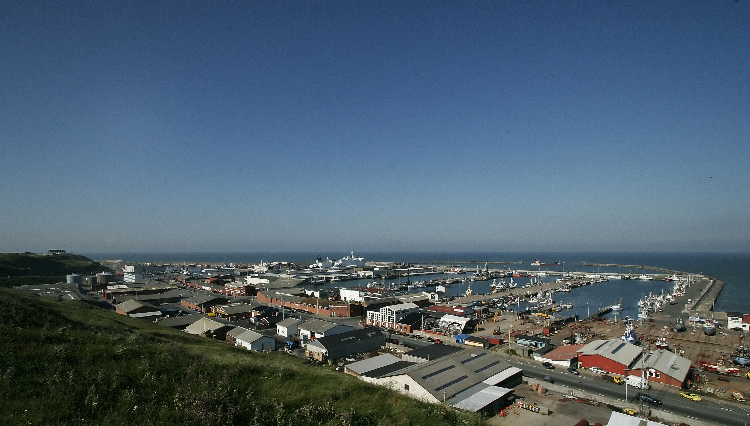 Da beslutningen om at bygge en statshavn endelig blev truffet, blev Hanstholm til et ambitiøst projekt for datidens planlæggere, der midt under højkonjunkturen i 1960erne så uanede vækstmuligheder i den havn, de gik i gang med at realisere. For at kickstarte tilflytningen til havnen inviterede ledende statslige embedsmænd bag havneprojektet en fiskeskipper fra Agger på betalt week-end ophold på det nye præsentable Hotel Hanstholm. Det var sådan, Svend Heiselberg - for ham var det - gjorde sin entré i det nybyggersamfund, han blev håndplukket til at virke for. Hvad der videre skete i den historie, fortæller Svend Heiselberg selv om i en lille film, der findes på Lokalhistorisk Arkivs hjemmeside. Denne film er een blandt flere beretninger og artikler om det planlagte nybyggersamfund Hanstholm, som i de næste par år er genstand for en større historisk undersøgelse foretaget af Lokalhistorisk Arkiv for Thisted Kommune i samarbejde med Museet for Thy og Vester Hanherred og Museumscenter Hanstholm.