Lokalhistoriske film fra Sydthy
Ti ture fra tårnet
"10 ture fra tårnet" er forslag til naturoplevelser for både børnefamilier, ældre , skoleklasser og andre grupper. Med vejledning fra Limfjordscentret eller på egen hånd kan man forsybe sig i Sydthys afvekslende natur mellem Limfjorden og Nordsøen. Søge ny viden til fods eller på cykel om planter og geologi. Dykke eller sejle i havkajak. Opsøge fugle i skoven eller på strandengen. Udvide kendskabet til den lokale kulturhistorie. "10 ture fra tånet" giver ideer og kan ses i sammenhæmg eller som 10 små appetitvækkende minifilm.
33. min./2006
Produktion; JV film & TV for Limfjordscentret.
Manus og instruktion: Jørgen Vestergaard.
Fotograf: Orla Nielsen. Lyd: Erik Olsen.
Klip: Henrik Jørgensen. Stills: Knud E. Jensen.
Grafik: Thomas K. Vestergaard. Musik: Torben Westergaard.
Sydthy i 1960erne - film 1
Indleveret af Leo Pedersen, Brønderslev
Byfest – 1964-1965, Høstarbejde, Byfest med udklædning, Tankbil, Vinter 1965, Vinterbilleder, Snefygning, Flytning af lade med falckbil – politi til stede, Dyrskue 1965 (?) Foldboldkamp.
Sydthy i 1960erne - film 2
Indleveret af Leo Pedersen, Brønderslev
1963-1965, Falck, Falck ved købmand, Mølle oplyst – muligvis Refs Mølle, Færgeleje og kro, Privat – juleaften, Billeder af beboelseskvarter, Fra København (Solrød), Fra Faxe, Byfest i Hurup (?)
Sydthy i 1960erne - film 3
Indleveret af Leo Pedersen, Brønderslev
Byfest 1966, Bygning/opførelse af hallen , Ridning, Byfest – Falck udspring, Flyver, Optræden af blandt andet en kvinde og The Spoons , Byggearbejde, Folketingsvalg, Jul i Hurup, Juleoptog, Byggeri (Kran), Hurup Kirke (måske konfirmation), Huruphallens indvielse, Byfest – pigegarde, Gymnastik i Hurup Hallen, Udstilling af biler, Cirkus
Sydthy i 1960erne - film 4
Indleveret af Leo Pedersen, Brønderslev
Høstarbejde, Byfest – live musik og dans, Pengeoptælling, Bredgade, Gymnastikopvisning, Modeopvisning i Huruphallen, Esso-udstilling (messe), Dagligvarebutik (Brugsen) julehandel, Nytårsaften – Møllen, Spejderlejr/cirkus, Gymnastikopvisning/dans, Vejarbejde, Dyrskue, Hurup Kirke, Brandøvelse, Høstarbejde med le og radrenser, Stranding af kutter, Brand i hus
Sydthy i 1960erne - film 5
Indleveret af Leo Pedersen, Brønderslev
Byfest, Høstarbejde, Byggeri – måske af Hurup Hallen, Rejsegilde, Juleoptog og juletræsfest, Snerydning, Sydthy Landboauktion, Billeder fra Slagter, NPK – kontor, Huma (?), Bål, Brand, Falck-øvelse, Cirkus Moreno, Valg/afstemning, Udgravning (Vestervig Kirke), Hurup Hallen
Hans Bakgaard og Ræven fra Boddum Bæk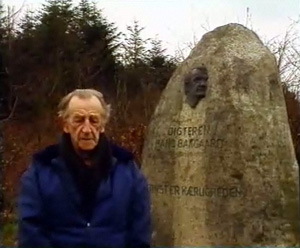 Film af sydthy-digteren
Hans Bakgaard.
Varighed: 58 min.
På hajfiskeri med kutteren Slavensky af Agger

Varighed: 29:00

Film fra Forsvarsbrødrenes arkiv:

Udflugter til Agger, Vestervig, Morup Mølle. Klip fra Thisted. 1959.

Varighed 6:28

Missionsuge i Agger 1975

Spilletid 45 min.

Sydthy Kavalkade

Film med klip fra Sydthy i gamle dage. Videoen er et resultat af den indsamling af videofilm, der fandt sted i begyndelsen af 1990´erne. Det blev til mange hundrede spoler film med en samlet spilletid på over 30 timer. Videoskolen i Viborg 1993. Samlet spilletid 57 min.




"Det blæser op til storm"

Filmen er tilstræbt spillefilmsagtig og handler om fiskersamfundet i Agger. Handlingen sættes i gang af to brødre, der driver til havs i en jolle, mens

faderen er på havet. Drengene bjerges af en lystfisker, og der antydes en redníng gennem forbøn. Handlingen foregår ved havet i Agger og i Agger by. De medvirkende i filmen er lokale folk fra Agger. Scenen med den gamle mand, er fra den gamle havn i Agger kaldet "Æ Æwer".
Varighed: 20 min.


Læs mere om Felix Film her

En tur til Thy


Helmer Homgaard fra Brande tager os med på en kommenteret rundtur til Sydthys landskab og byer. Filmen, der fra 1995, opbevares ligesom de øvrige film på dette site, på Lokalhistorisk Arkiv for Thisted Kommune.